Karol G's Net Worth: The Colombian Singer Is Worth More Than You Think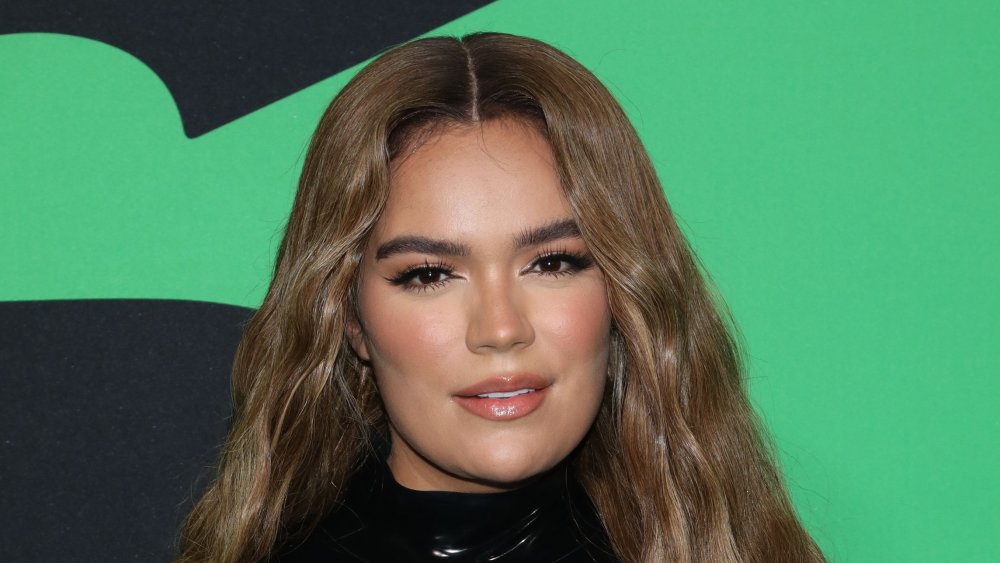 Victor Chavez/Getty Images
Carolina Giraldo Navarro, professionally known as Karol G, has been on an astronomical upward trajectory since 2018. However, she's nowhere near a newcomer to the music industry. According to a November 2019 Paper Magazine interview, the Colombian singer has been working to make her stardom dreams "since childhood, from schooling to small-club touring to a 2010 stint on Colombia's X Factor."
The "Culpables" singer is single-handedly creating a new lane in reggaeton — the Latin and hip-hop hybrid genre — as the style of music has historically been dominated only by men in the likes of J Balvin, Daddy Yankee, and Don Omar. However, Karol G's self-proclaimed workaholic status pushed her in the right directions. So much so that she landed her 2017 breakout hit "Ahora Me Llama" featuring Bad Bunny for her debut album Unstoppable. As of September 2020, the music video has over 820 million views on YouTube. 
Since then, Karol's chart-topping hits continued to roll through, earning her many awards and accolades, including six songs on Billboard charts. Do all those wins come with the big bucks? Keep scrolling to see if Karol G is raking in the dough. 
Karol G's fortune comes from her authenticity
Karol G made it her mission to give more Latinx women a voice in reggaeton. In a March 2020 interview with VIBE, she said, "There's things I hope to evolve a little more, but I feel like we knocked over the door. That we've come through and people are hearing us. People are coming to our concerts. Artists are inviting us to their shows. We're here. I try to stick up for myself more as a human being."
Karol G demonstrated this sentiment when it came to a potential feature on singer Becky G's song "Sin Pijama" alongside Natti Natasha. According to an interview with Primer Impacto conducted in Spanish (which was reported on by Paper Magazine), the sex-positive song had a lyric about smoking marijuana, which Karol G does not partake in. To be true to her audience, Karol declined the song and released her own similarly provocative song "Mi Cama" the following month. Both songs became major hits. However, one of them gave Karol the honesty that she aimed to keep in her music. 
Karol G is already worth millions as her spotlight continues to grow
Though Karol G is focused on a Latinx audience, she's also working diligently to cross over into the mainstream markets in the States and Canada, also known as "Anglo markets." And who's more mainstream than hip-hop artist Nicki Minaj? The two women collaborated on Karol's hit 2019 single "Tusa," which has over 980 million views on YouTube. In a 2020 VIBE interview, she said she's "collaborating with artists in the Latin and Anglo markets."
Karol G continued, "There are songs that are coming out very soon. It's a year for expanding and globalizing my name. We have a tour in Latin America and one in Europe again. We're going to end the second semester of the tour in the US with the release of my next album." As of September 2020, the "Secreto" singer is worth $8 million, according to Celebrity Net Worth, and it seems like she's going to keep adding to her millions with her major push for globalization underway.