This X Factor Judge Killed Her Career On Live TV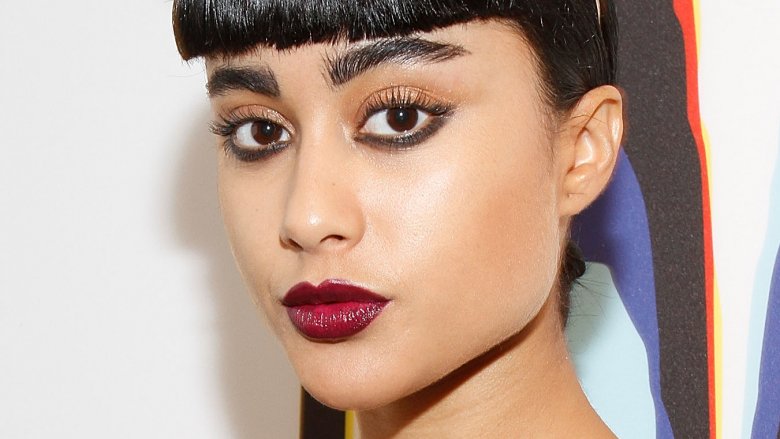 Mireya Acierto/Getty Images
If you don't follow New Zealand's version of The X Factor, then you might have missed the scandal surrounding former judges Natalia Kills, and her husband, Willy Moon.
New Zealand-born singer Moon gained worldwide notoriety when his song "Yeah Yeah" was used by Apple in its iPod advertisements in 2012. Meanwhile, his British wife, who is now known as Teddy Sinclair (according to legal documents reviewed by Paper, her legal name is Teddy Natalia Noemi Sinclair), was going by the stage name Natalia Kills during her stint on The X-Factor.
Kills had a lot of early success in the music industry. She told W in 2011, "I put a demo on Myspace in 2008, and Perez Hilton found it and blogged about it. Then suddenly I had 2 million plays and got to number 1 on Myspace's unsigned artist charts." She moved to Los Angeles and ended up getting introduced to will.i.am. When the Black Eyed Peas icon signed Kills to his record label, collaborated with her on the single "Free", and helped her release two albums, it seemed as though she was destined for super-stardom. However, her short stint as an X Factor judge changed all that.
On the first live show of Season 2 of New Zealand's The X Factor, which originally aired on March 15, 2015, Kills and Moon were seemingly offended when one of the contestants performed a big band number while dressed in a suit. Joe Irvine, who was being mentored by All Saints singer Melanie Blatt, performed "Cry Me a River," which has been recorded by everyone from Michael Bublé, to Barbra Streisand, to Shirley Bassey. While judge Stan Walker was fairly positive about Irvine's rendition, Kills was visibly agitated throughout and didn't hold back in her feedback saying, "Ladies and gentlemen, I'm just going to state the obvious. We have a doppelgänger in our midst."
Kills alleged, "I am disgusted at how much you have copied my husband. From the hair to the suit, do you not have any value or respect for originality?" And to make matters worse, the singer-songwriter told the contestant, "You're a laughing stock. It's cheesy. It's disgusting." When Irvine tried to stick up for himself, interjecting, "But don't you copy Cleopatra?" in reference to Kills' iconic wig, the singer was less than pleased about it. She cut back in saying, "I personally found it absolutely artistically atrocious. I am embarrassed to be sitting here in your presence having to even dignify you with an answer of my opinion." All Saints star Blatt tried to stop the mean criticism, while Irvine took the high road and simply said, "Thank you, Natalia. You're beautiful."
However, the bad feedback didn't end there, with Moon telling Irvine, "it just feels a little bit cheap and absurd." He even went as far as to compare the contestant to "Norman Bates dressing up in his mother's clothing," suggesting that the performer was "going to stitch someone's skin to your face and then kill everybody in the audience." And even though the damage to her career was already done, Kills hadn't finished yet. Instead, she continued, "I'm gonna say it. It's disgusting. You make me sick. It's absolutely disgusting. You have absolutely no identity. I can't stand it. I'm ashamed to be here." When Irvine responded saying, "I think I look really good," Kills retorted, "I think you look good because you're dressed as my husband." Needless to say, the extremely personal, and seemingly unwarranted harsh feedback from the judges created a media frenzy.
Kills and Moon were fired from the show within 24 hours, with the TV network responsible for the series posting on Facebook (via Billboard), "We have decided Natalia Kills and Willy Moon are no longer suitable to judge The X Factor NZ and have been removed from the show."
According to The Independent, Louis Walsh, a music manager and long-serving judge on the British version of The X Factor, told Irish radio station RTE2fm, "She obviously has no class, no taste, she'll never work again I reckon, honestly." He continued, "I mean, who's going to hire her? Nobody." And the show's creator, Simon Cowell, called the entire outburst "hateful," in an interview with the Daily Mail. However, when speaking to Billboard in 2015, Kills explained, "Obviously sometimes TV producers plan drama for ratings and it totally back fire[s] on them. But if that was another stunt then it was badly..," suggesting that the infamous segment was actually staged. 
As for her music career, Kills co-wrote the song "Holy Water" for Madonna's Rebel Heart album, and she even received a Grammy nomination for co-writing Rihanna's track, "Kiss It Better," under the name Natalia Noemi. But when it comes to her solo career as an artist, her performance on The X Factor continues to overshadow the music.