What Hailey And Justin Bieber's 'Exclusive' LA Neighborhood Is Really Like, According To A Real Estate Expert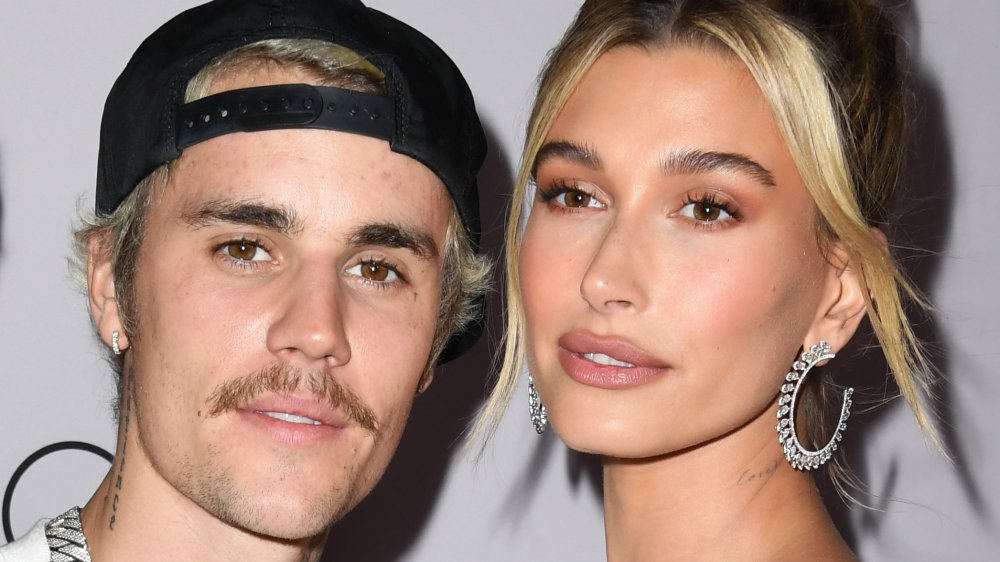 Jon Kopaloff/Getty Images
Justin and Hailey Bieber (née Baldwin) have an unusual relationship, which includes their incredibly lavish lifestyle and the $25.8 million home they bought in August 2020. "Sited high in the mountains above Beverly Hills, the Biebers' new estate lies within the illustrious Beverly Park, the guard-gated community known for its enormous mansions and famous residents," per Variety. Among the the couple's famous neighbors are Sofia Vergara, Denzel Washington, Sylvester Stallone, and Eddie Murphy, just to name a few.
As for the Biebers, they've picked up an 11,145-square-foot residence that features 7 bedrooms, 10 bathrooms, and sits on 2.5-acres. Originally on the market for $42 million — meaning that they scored a serious deal — the abode boasts a "two-story grand foyer," a "family room that opens to the chef's kitchen," and a library with "French doors that open directly to various parts of the gardens."
The master suite offers "views over the surrounding mountains" through "floor-to-ceiling walls of glass that open to a slim patio." And when they take a bath in the spa-like space, they can enjoy a chandelier that hangs above. The couple can also relax in the home's movie theater and "infinity-edged swimming pool," or get active in the gym and on the tennis court.
While the house sounds amazing, what about the neighborhood? Yawar Charlie – director of estates division at Aaron Kirman Group, Compass, and a series regular on CNBC's latest real estate show, Listing Impossible – gave Nicki Swift some exclusive insight into the Bieber's new area.
Beverly Park offers celebrities exactly what 'they crave'
"If I were advising Hailey and Justin Bieber on where to buy their dream home, the Beverly Park neighborhood would most definitely be on my list," real estate expert Yawar Charlie told Nicki Swift. "Imagine if the Desperate Housewives all won the lottery 10 times over, that describes the ambiance of Beverly Park accurately. All the lawns are beautifully manicured, there are large sprawling estates, multiple security and bodyguard gates, [and] each home in the gated community is custom-built."
Although it costs a lot of money to enjoy Beverly Park — "houses ... typically range from $20-$80 million depending on the lot size" (which means that the Biebers' $25.8 million home is actually on the cheaper side) — Charlie explained that the area "offers celebrities the amenities they crave the most in Los Angeles, which are anonymity, privacy, and security." These aspects of the Biebers' new neighborhood "are important needs for the young couple, especially if they plan on expanding their family in the future with children."
While it seems obvious why Beverly Park would appeal to the Biebers, Charlie also revealed why it might be the very best place for the celebrity couple to settle down for the long term.
This is why Justin and Hailey Bieber may stay in Beverly Park
Justin and Hailey Bieber's new neighborhood is a hotspot for "celebrities, ultra-high net worth individuals, royalty from around the world, and foreign dignitaries," according to Listing Impossible series regular Yawar Charlie, because, "Hands-down, Beverly Park is the premier gated community in Los Angeles." That's why the rich and famous not only buy houses in the area, but "many of them have had their homes for many years." While stars often "move around to different neighborhoods within Los Angeles, Beverly Hills, Bel Air, etc.," Charlie says that "[i]f their finances allow them to, most of them end up staying in Beverly Park."
Why do they tend to make Beverly Park their permanent home? Well, Charlie told Nicki Swift that in the exclusive area, "well-known celebrities are free to live among their peers without worrying that paparazzi and stalkers are following them. They have peace of mind knowing that no one is trying to creep over their bushes for a photo or worse."
Frankly, Charlie noted that "[t]here is no other gated community that checks all the boxes needed for a celebrity home. No neighborhoods compare to Beverly Park." No doubt that's why the Biebers might be the area's newest long-term residents.