The Real Meaning Behind Jane Fonda's Red Coat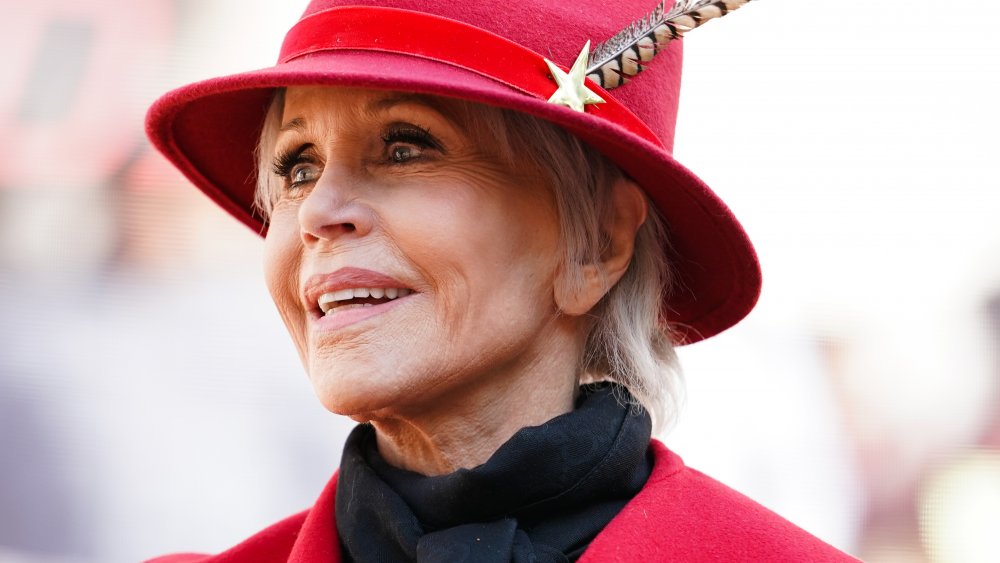 Rachel Luna/Getty Images
Asking what Jane Fonda is known for is no simple task. Fonda is something of a Jane of all trades, with all of her different passions informing her work. In her 80-plus years in Hollywood, the actress has drawn attention not just for her performances, for which she's received two Academy Awards, but also for her activism, her position among Hollywood royalty, and her trailblazing exercise videos. There's another field, however, that Fonda has dominated: her style.
But of all the iconic Fonda looks, from the space-age Barbarella to the leg warmers of Jane Fonda's Workout, there's one look that has become instantly recognizable since her 2019 protests for climate justice: her red coat, often accompanied by a jaunty hat and a set of zip-tied handcuffs. The outfit is immediately iconic and grabs the exact kind of attention Fonda is hoping to court with her weekly protests. But more than just being good-looking and attention-grabbing, there is a deeper meaning to the red coat.
Jane Fonda is sending a message about climate change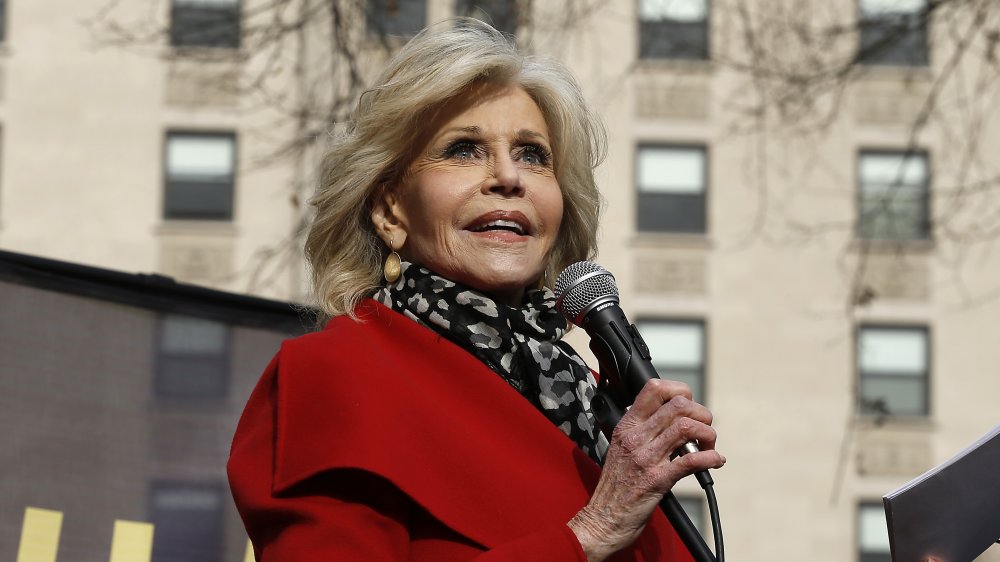 John Lamparski/Getty Images
Jane Fonda is no stranger to sending messages with her clothes, and her red coat is no different. Not only does Jane Fonda's red coat rank close to the top of her list of iconic looks, but it will also be the final thing she ever buys. She explained her reasoning to The New York Times, "I have two closets full of clothes. I have clothes that I wore 30 years ago. I can still wear them." Fonda's frank description is not just an acknowledgment that she doesn't actually need any more clothes, but part of a larger message she hopes to send.
Fonda has decided to stop shopping in order to benefit the environment, the same reason she protested every Friday outside the U.S. Capitol building before the COVID-19 Pandemic. Fonda calls these weekly protests "Fire Drill Fridays," a project she says was inspired by the work of teen climate activist Greta Thunberg and the advocacy of Naomi Klein's Green New Deal, per the Times.
The work of these other two women inspired Fonda to move to Washington, D.C. for a year and make as much noise about climate change as possible. The name behind "Fire Drill Fridays" comes directly from Thunberg's call for people to act like "our house is on fire" in our efforts to counteract global warming. Though Fonda looks good in her red coat, she also looks smart — in every sense of the word.