Katy Perry Offers To Collaborate With Taylor Swift If She Apologizes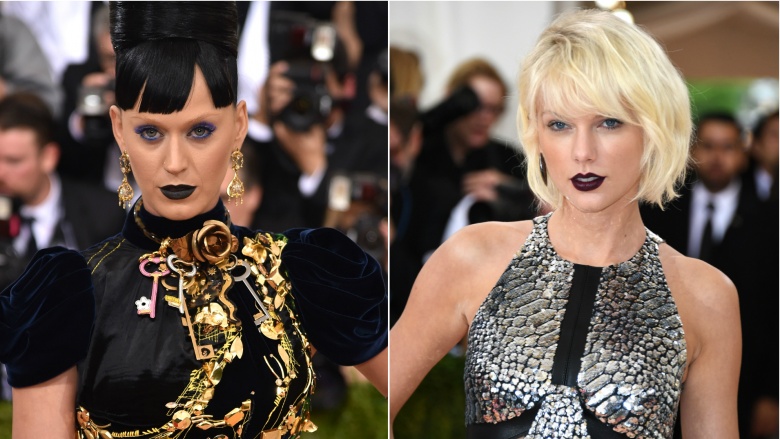 Getty Images
It sounds like there's still bad blood between Katy Perry and Taylor Swift.
Perry went on a Twitter spree over the weekend, responding to fans and trolls alike. One particular exchange sent the internet into a tizzy: when a fan asked Perry if she'd be willing to collaborate with Swift, the "Firework" singer replied, "If she says sorry, sure!"
That remark comes after more than two years of feuding between the songstresses. The battle began in 2014 when Swift told Rolling Stone about an anonymous female pop star who inspired "Bad Blood." In Swift's words: "For years, I was never sure if we were friends or not. She would come up to me at awards shows and say something and walk away, and I would think, 'Are we friends, or did she just give me the harshest insult of my life?'" Swift said that pop star later eventually crossed a line. "She did something so horrible, I was like, 'Oh, we're just straight-up enemies.' And it wasn't even about a guy! It had to do with business. She basically tried to sabotage an entire arena tour. She tried to hire a bunch of people out from under me." Swift later admitted there was a "personal element" to the beef, but added, "I don't think there would be any personal problem if she weren't competitive."
The day after that Rolling Stone interview ran, Perry tweeted, "Watch out for the Regina George in sheep's clothing."
The "business" element of the feud allegedly stemmed from Perry hiring some backup dancers who were on tour with Swift. The dancers had danced for Perry previously and left on their own free will, but the "personal element" is what may have spawned the bulk of the drama: Perry was dating John Mayer at the time, who infamously broke Swift's heart and inspired her song "Dear John." Sources told Page Six that after Mayer announced he'd been "really humiliated" by Swift's supposed ode to him, Perry "started making digs at her."
Though Swift is reportedly in the studio working on her followup to the massively successful 1989, it doesn't seem like a duet with Perry is likely. A music insider told Page Six that Swift is "obsessed" with surpassing Perry on the pop charts. That said, Swift did apologize to former foe Nicki Minaj in 2015, so maybe there's hope for these two ladies after all.