The Untold Truth Of Rick Moranis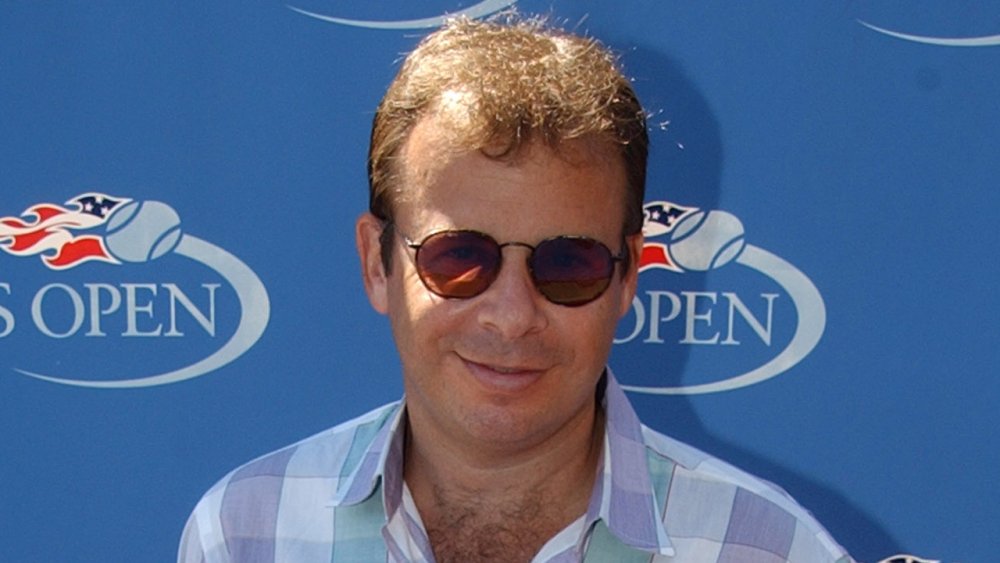 Dimitrios Kambouris/Getty Images
While actor Rick Moranis will always be known for his starring roles in Honey, I Shrunk the Kids and its sequel Honey, We Shrunk Ourselves, the comedian is making a comeback. And for his first order of business? A cameo in Ryan Reynolds' latest Mint Mobile commercial, of course! But if you're confused as to why Moranis made an appearance in an ad for the carrier's new unlimited plan, you're in good company — Moranis has no clue what he's doing there either.
Mint Mobile's commercial starts with Reynolds introducing Moranis and describing him as "an actor we've all gone too long without." Moranis then walks into the shot and immediately starts quizzing Reynolds on what he wants him to do. "So, what do you want me to do? You want me to say something about Mint?" Then, out of sheer confusion and exasperation, Moranis follows up by saying, "I've really got to get a phone." Reynolds finally admits that he actually only included him in the project because he's "a huge fan." Moranis then shoots Reynolds a bewildered look before exiting stage left.
And, while it may have been an interesting choice to bring him into wireless plan's commercial, Reynolds is not wrong in pointing out that Moranis has been sorely missed by his fans. Luckily Moranis has concrete plans to take his rightful place back in the spotlight in Disney's new Honey, I Shrunk the Kids reboot. But why exactly did Moranis opt to step away from showbiz? Keep reading to find out!
Rick Moranis left Hollywood after his wife's death
In 2015, Little Shop of Horrors star Rick Moranis spoke candidly about his decision to step away from the spotlight during an interview with The Hollywood Reporter. Moranis took a 24-year-long hiatus to focus on rearing his two children after he tragically lost his wife Ann to breast cancer in February 1991. Moranis maintained that he never planned to be gone from acting for that long, but rather, that's just how things turned out. 
"I took a break, which turned into a longer break," Moranis acknowledged. He was also adamant that he was more than willing to come back, but only for the right gigs. "I'm interested in anything that I would find interesting. I still get the occasional query about a film or television role and as soon as one comes along that piques my interest, I'll probably do it. [But Ghostbusters] didn't appeal to me." Who ya gonna call? Not Moranis, apparently... Well, at least not for the Ghostbusters reboot, that is. 
It appears, however, that Disney's Honey, I Shrunk the Kids reboot was just the right ticket to reel Moranis back into the fold. Per People, the reboot entitled Shrunk will see the original film's director Joe Johnston back at the helm, too. Unless you grew up under a rock, you'll recall that Moranis played nutty scientist Wayne Szalinski who — you guessed it! — accidentally shrank his kids. And it's safe to say that Moranis' biggest fan, Ryan Reynolds, will be tuning into the next installment the moment it's released!