Why Cher Isn't A Fan Of Ellen DeGeneres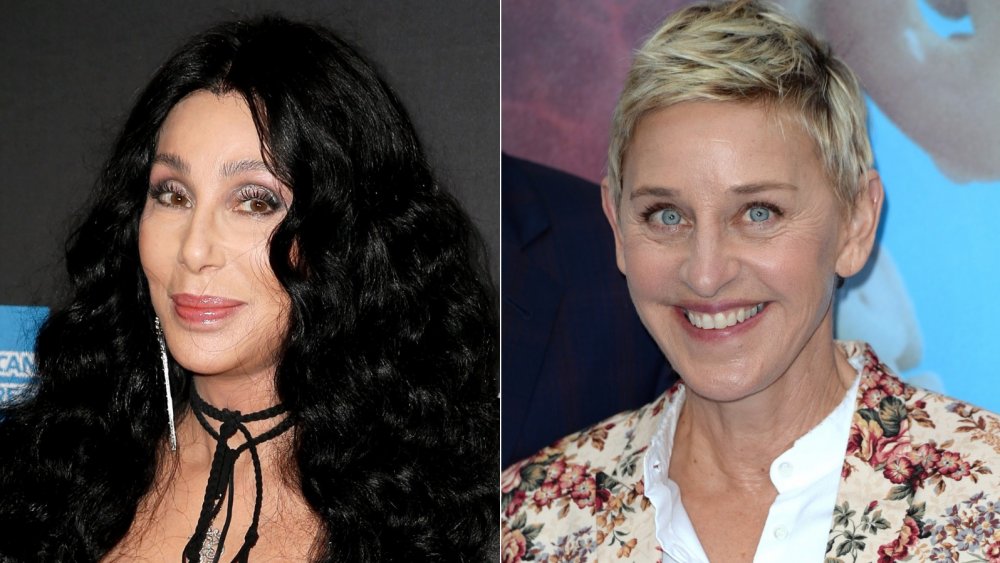 Dominik Bindl, Anthony Harvey/Getty Images
The Ellen DeGeneres Show continues to face an internal workplace investigation after former employees claimed that the talk show's top executives engaged in sexual misconduct and harassment, made racist comments, and more. According to BuzzFeed, one such staffer called the talk show's company culture the "definition of a toxic work environment." Another former employee added, "They definitely don't practice what they preach with the 'be kind' mantra."
With these allegations brought to light — and DeGeneres promising she will address the issue on the upcoming season premiere of her show — it's no surprise that fans and journalists alike have been taking a deep dive into past Ellen moments that once seemed light-hearted and funny, but now take on a different tone. One such example is Cher's time on the show. The legendary singer has always been boldly outspoken, unapologetic, and firm in her opinions. And DeGeneres has always tried to present her segments, no matter how uncomfortable, as a humorous give-and-take between celeb and host. However, with Cher in the hot seat, DeGeneres found herself under fire.
Cher called Ellen DeGeneres a 'b***h' — twice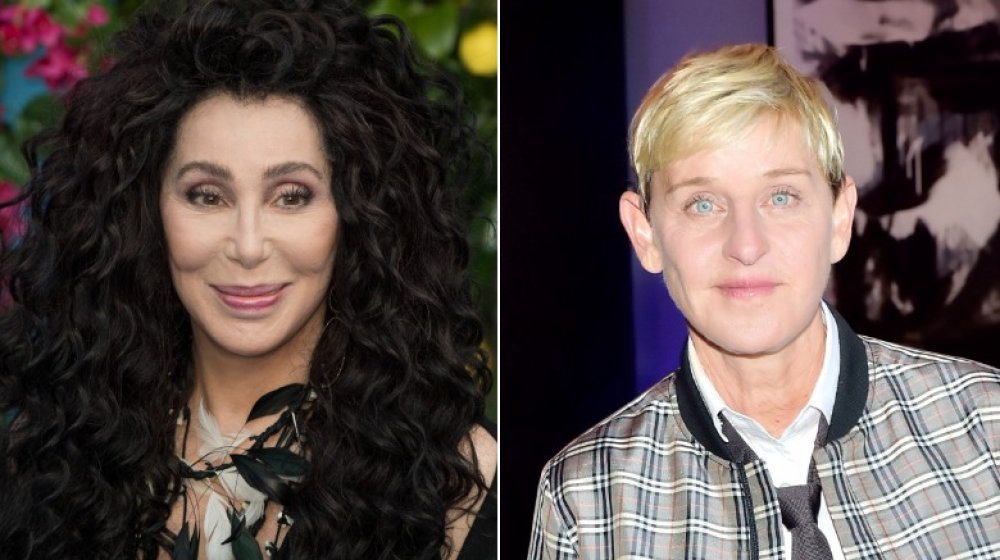 Jeff Spicer, Stefanie Keenan/Getty Images
Ellen DeGeneres is known for making her celebrity guests perform pranks on an unsuspecting audience out in the real world. In one segment from 2018, she and Cher went to a hair salon and took over styling customers' hair. Cher was clearly annoyed from the get-go, wanting to get her client's hair just right, while DeGeneres kept messing it up on purpose. Throughout the clip, Cher tried to maintain a cheery facade, but every now and then, viewers could see the cracks in Cher's metaphorical veneer — and her frustration came through loud and clear.
At one point, DeGeneres criticized the lyrics in "If I Could Turn Back Time" — Cher's biggest hit — telling the iconic singer that their two clients "know me better than they know you!" Cher shook her head and laughed, retorting: "You're such a b***h!"
Cher and DeGeneres got into it once again in a different segment, this time in a game that turned awkward and passive-aggressive real quick. The "I Got You Babe" singer discussed her love of chocolate, prompting DeGeneres to ask if it gets her in the mood. "No, it doesn't turn me on! I didn't mean it in that way — b***h," Cher cried, emphasizing the insult. These interactions may initially seem like jokes, but watching the pair's interactions leaves no room for doubt — only a whole lot of cringe.