Inside The Big Brother: All-Stars House
Every season, Big Brother viewers tune in to watch the houseguests scheme against each other. But the house design is also always a draw and the 2020 Big Brother: All-Stars house does not disappoint. Just in case you don't know, the Big Brother house isn't a real house, but instead an elaborately decorated soundstage. It looks comfortable, but it is just a set, where the houseguests pass time while making the $1,000 stipend that CBS pays them each week, per Insider.
Season 4 guest Erika Landin told HuffPost, "It doesn't really feel like a house. It actually feels you're living on a set. The whole ceiling is television lights." The cameras can't help either — there is literally no privacy in the "house." Host Julie Chen Moonves once told Entertainment Tonight that there are 87 cameras and 110 microphones on the contestants at all times. Even in the bathroom, as viewers found out in Season 2.
This is what you need to know about all of the touches on the 2020 Big Brother: All-Stars house. 
The house is filled with small touches and callbacks to past 'Big Brother' seasons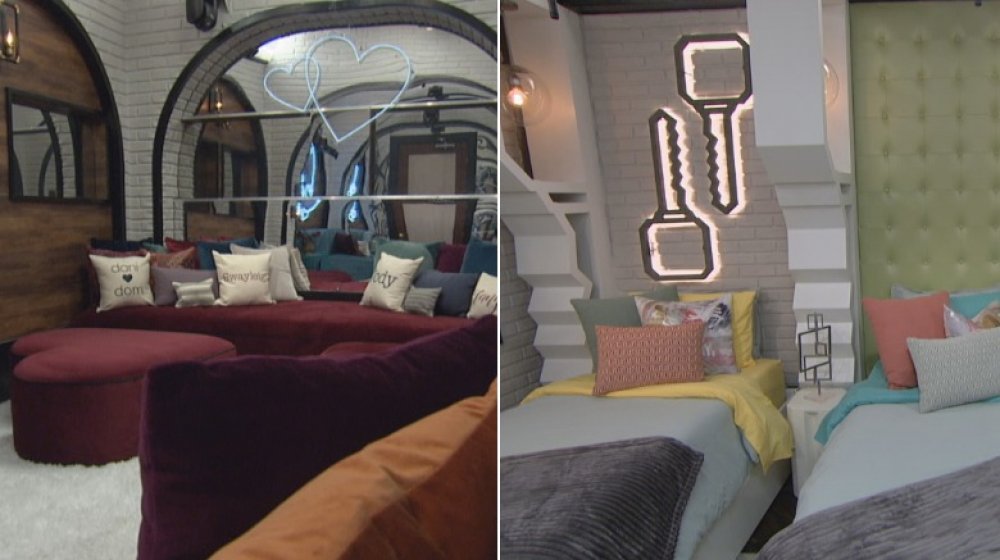 CBS
The house for the 2020 Big Brother: All-Stars season, which premiered in August, is full of flashy colors and meaningful symbols. Take, for example, one of the side bedrooms, pictured above, where the columns are designed to look like house keys and there are over 40 framed keys in the room, per CinemaBlend. Cute, right? In the kitchen (seen up top) the walls are painted with iconic Big Brother moments, and given that this is the All-Star season, some of the houseguests might even recognize some of their own moments while they sit at the massive dining table.
There's also a room with BB Comics art from the show's previous seasons, per the same outlet. Other features? A rubber ducky bathroom, a room for those in a "showmance" to cuddle up in (seen above), a huge day bed in the lounge area, and a Head of Household room that looks elegant AF. In all, it's a pretty great redesign. Even if it's not exactly a house, it doesn't look like a bad place to plot out how to take home the prize money.