Steve Martin Is Making Sure Fans Still Recognize Him With His Mask On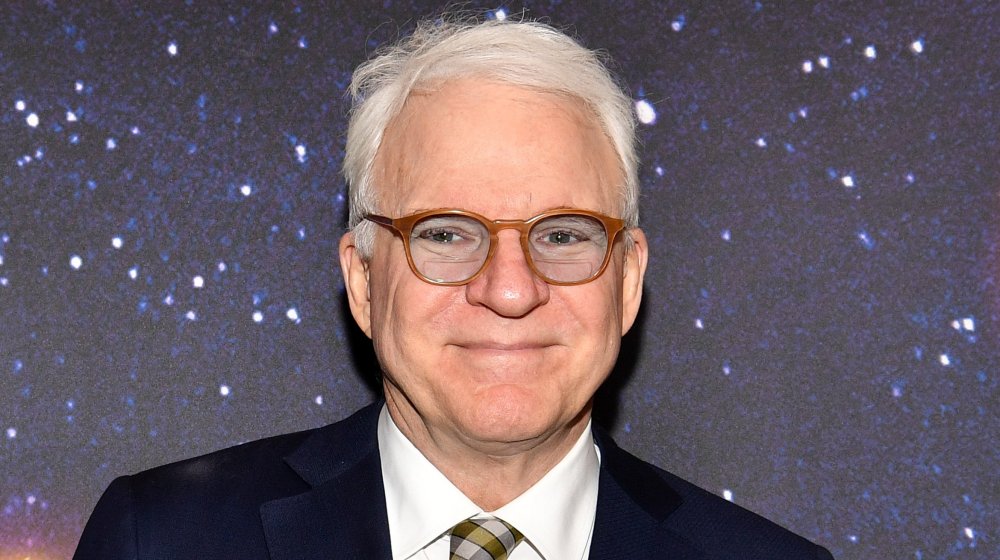 Dia Dipasupil/Getty Images
You can always count on Steve Martin for a laugh. The funnyman has been bringing smiles to faces for decades and not even the novel coronavirus can slow him down. Instead of complaining about wearing a face mask to protect and show courtesy to those around him, he made a joke about how bummed he is that no one can tell it's him! It's understandable — everyone should know when Steve Martin is nearby.
Martin took to Twitter on Sept. 12, 2020 to show off a selfie of how he's combatting this problem of people not knowing it's him beneath his mask. He tweeted, "I always wear a mask when I go outside. But something about it was leaving me anxious and unsettled. I thought about the problem, addressed it, and here is the solution." Alongside his caption, he shared a photo of himself wearing his mask, sunglasses, and a giant sign on his head with his name on it and an arrow pointing downward.
Excellent work! Now people will, without a doubt, know it's Martin if they see him on the street. But what's maybe even more excellent than Martin's over-the-top sign is the response he got from fellow tweeters.
Steve Martin's sign is a sweet throwback to his arrow-through-the-head bit
Fellow funnyman Jimmy Kimmel quickly replied to Steve Martin's photo to highlight the old "arrow-through-the-head" look, a bit that was heavily present in Martin's standup comedy. We can't help but see the similarity, too! Another person chimed in to say they were going to also try this sign-with-an-arrow trick, but their sign would say "Steve Martin" as well.
Actor Kevin Bacon also threw in a reply, using a play on the "I'm With" phrase, that includes an arrow. His tweet reads, "I'm with [up arrow emoji]," which is short, to the point, and his own brand of funny. Several other people also replied and paid homage to Martin's arrow through the head by photoshopping his photo to change the arrow around or mentioning some of their favorite parts of his standup routines.
Though COVID-19 is obviously not a laughing matter, things like Martin's small bit of fun — while acknowledging that he's consistently wearing his mask — can at least bring a smile to the faces of his fans and everyone else on Twitter. Sometimes when tough times are upon us, these nuggets of joy are just what we need.