The Truth About Tim McGraw And Nelly's Relationship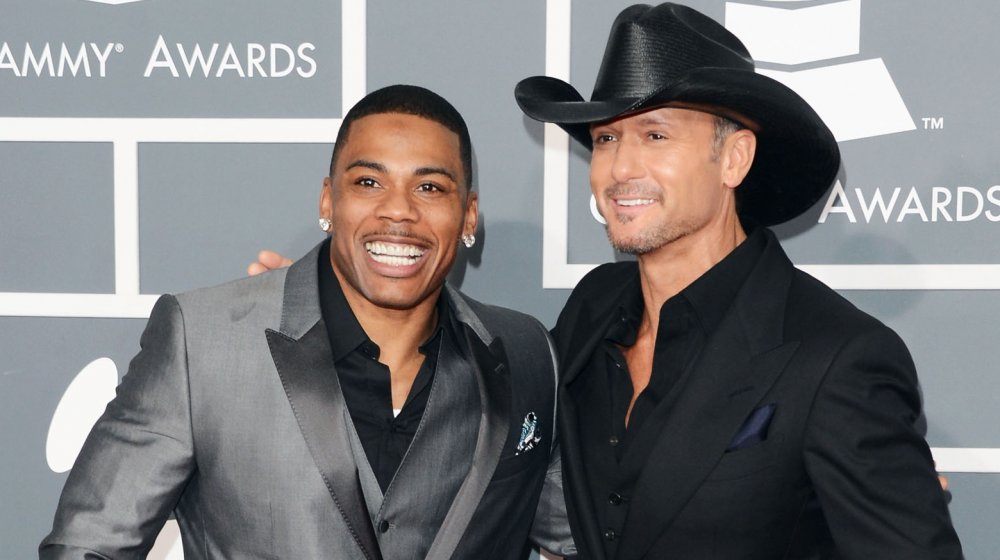 Jason Merritt/term/Getty Images
In 2004, rapper Nelly and country artist Tim McGraw broke boundaries when they collaborated on the hit song "Over and Over," combining elements from both genres. Nelly reportedly waned to sync up with McGraw because "he's a bada**, he's got game, and he's got a fine b***h!," per One Country, in reference to the singer's wife, Faith Hill. The artist took no issue with the rapper's comment about his wife, stating, according to MTV News, "That's what Nelly said, and I had to respect him for that." He also declared, "I love Nelly."
The country crooner recalled, "The first time I met him was when we played in a basketball game together in Atlanta a couple of years ago — when I smoked him pretty good." He shared, "We always enjoyed each other and talked about working together. So he'd written this song and the first thing Nelly did was tell his manager to call me. If you know Nelly, he's such a great guy, I couldn't wait to work with him."
However, McGraw maintained that "Over and Over" is not a country music song. The country singer shared, "I get in there and say, 'It ain't nothin' country about this song.'" Even so, the singer said, "It was fun to get in there and sing with him. People are really liking the song, so we'll see what happens." What ended up happening was a hit song that resonated with fans of all musical genres and a long-lasting friendship between the two artists — let's take a look back at this fun bond.
Nelly got Tim McGraw to rap in the studio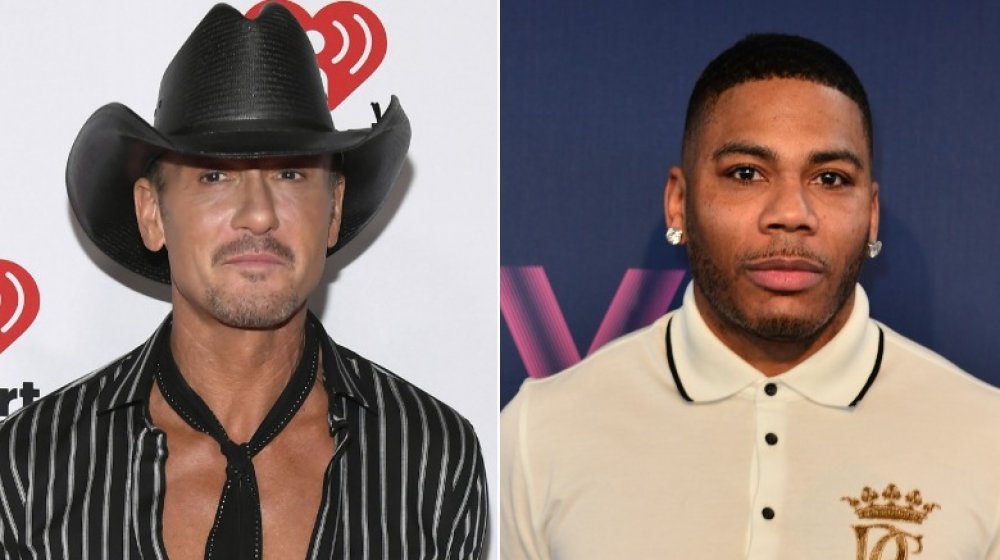 Bryan Steffy, Johnny Louis/Getty Images
The success of "Over and Over" shocked Nelly, who told Entertainment Weekly, "Honestly, I thought the song was gonna be one of the best songs that I've — or we've — ever done, or one of the worst. I didn't think anything in between." Tim McGraw chimed in again to say, "there ain't nothing country about" the song until he "started singing on it."
During that 2004 interview, Nelly told McGraw, "Tim, you gotta run for office." In response, he said, "Nelly, that would be a good ticket, you and me..." The "Hot in Here" rapper was down for that plan with one small tweak, joking, "If you let me handle the paper. Let me be secretary of the treasury."
Neither made a career change to politics, but Nelly discussed the possibility of switching up the genre for a future album during a 2013 Larry King interview. Nelly said, "I respect other forms of music." He continued, "I've collaborated with a number of people, country artists. Tim McGraw and obviously the Florida Georgia Line song ["Cruise"] has been real big." Nelly explained, "I respect it enough to know that I can't do a whole country album because I'm not a country artist."
He also ruled out the possibility of McGraw dropping a rap record, sharing, "He did some rapping in the studio that night when we recorded because we were having a little fun, but I promised him I won't play that."
Tim McGraw might collaborate with Nelly again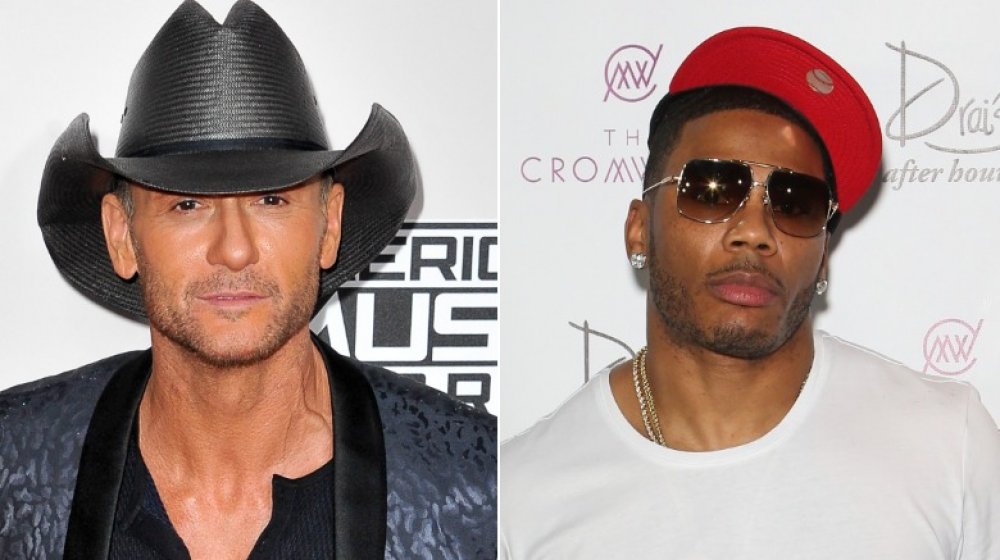 During his talk with Larry King, Nelly said he liked working with Tim McGraw "because he brought [his wife] Faith [Hill] to the studio. It was just awesome." He shared, "I love collaborating." The St. Louis rapper explained, "I love to be involved with other artists that take music as serious as I take it. I love to combine and I think the best thing about being an artist is to make people like what they don't think that they would like if they heard the suggestion. Like, if I suggested to you 'I'm gonna go do a record with Tim McGraw,' your first instinct is like 'What?'" Nelly concluded, "But, then when you hear the record and you're like 'Wow.' You see, that's what I think being creative is. I think that's what really being an artist is."
During a 2019 radio show, Bobby Bones talked about the success of Lil Nas X and Billy Ray Cyrus' song "Old Town Road" and its praise as the first song that combined rap and country. Bones asked McGraw what he thought about some people overlooking the song "Over and Over." Thankfully, McGraw was not miffed about it, even calling "Old Town Road" as "a pretty cool record."
He said listening to that song made him "want to call up Nelly and hit that song again because that song was a lot of fun." That's something fans would likely support — let's make it happen!