The Truth About Dan Levy's Relationship With His Famous Dad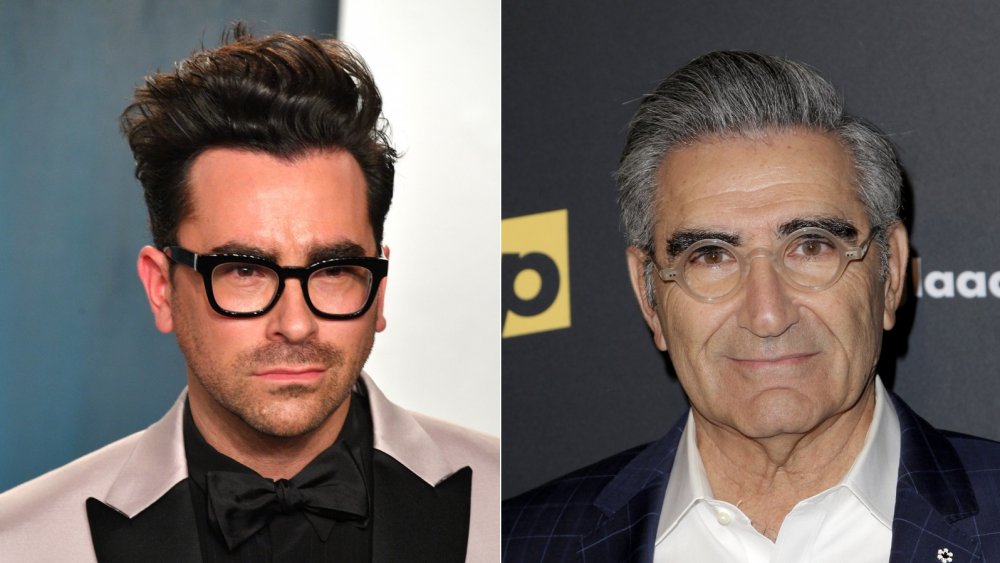 George Pimentel, Tibrina Hobson/Getty Images
Dan Levy burst on the scene in 2015 with the premiere of the critically acclaimed Schitt's Creek. Dan plays David, a spoiled man-child with a penchant for haute couture, and he serves as the show's producer, writer, and co-creator with his real-life father, Eugene Levy. The award-winning actor plays Dan's on-screen father — down-on-his luck entrepreneur, Johnny. Hollywood is full of stories of famous families who fell apart under the spotlight (looking at you, Lohans) or grew closer through work (hello, Kardashians). Thankfully, the Levys seem to be the latter.
Dan and Eugene spent hours on set together, and the dad has nothing but respect for his son's work ethic. "It's almost like he's been doing this for years and years before we started the show," Eugene told GQ in 2019. "In the beginning, I just felt that I had to mentor him," the veteran actor explained, "but over the first season, I found myself going 'Wait a minute, I don't have to be here, he's got a pretty strong handle on what he's doing.'"
On the show, Dan and Eugene play a father-son pair that often struggles to connect or bond in a meaningful way, but in real life, they're incredibly close. Here's everything you need to know about one of TV's favorite father-son duos.
Dan Levy was nervous to work with Eugene Levy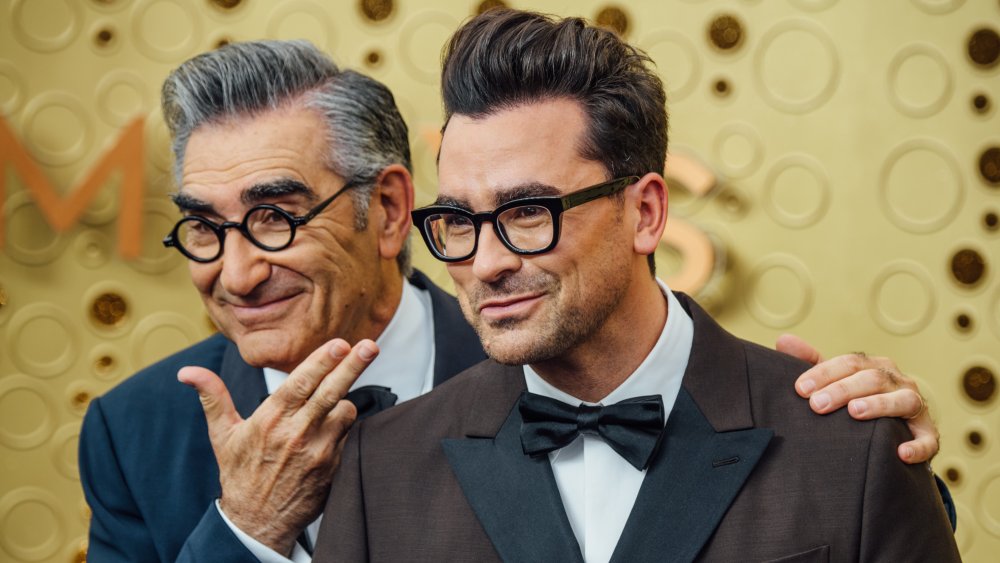 Emma Mcintyre/Getty Images
Dan Levy landed his first job in the industry, answering phones at a London talent agency, according to GQ. He worked his way up from there until he felt confident enough to pitch Schitt's Creek. Throughout the years, though, he avoided associating with Eugene Levy. "For a long time, I avoided any kind of association with him," Dan said in a May 2020 interview with the SAG-AFTRA Foundation (per Cheat Sheet), "I feel like this industry is incredibly unforgiving when it comes to nepotism."
It was important to Dan that he succeed based on merit rather than his last name. He eventually changed his mind and pitched the idea to Eugene, who was all too happy to finally work with his son. Thank goodness, too, because Eugene and costar Catherine O'Hara's easygoing attitudes created a safe space for Dan to create. The warmth and kindness the storied actors showed the newbies were paramount to the show's early success. It "made us feel like it's OK to make mistakes," Dan told Variety in April 2020.
As for working with dad on-screen, Dan was in awe of Eugene's talent from day one. "I mean, you want to have him on set," the actor admitted, "It's certainly set the bar high for me in terms of what I hope to achieve and the reputation I hope to uphold." If Schitt's Creek's massive fan base is any indication, we'd say he's well on his way.
Dan Levy's family was super supportive of him coming out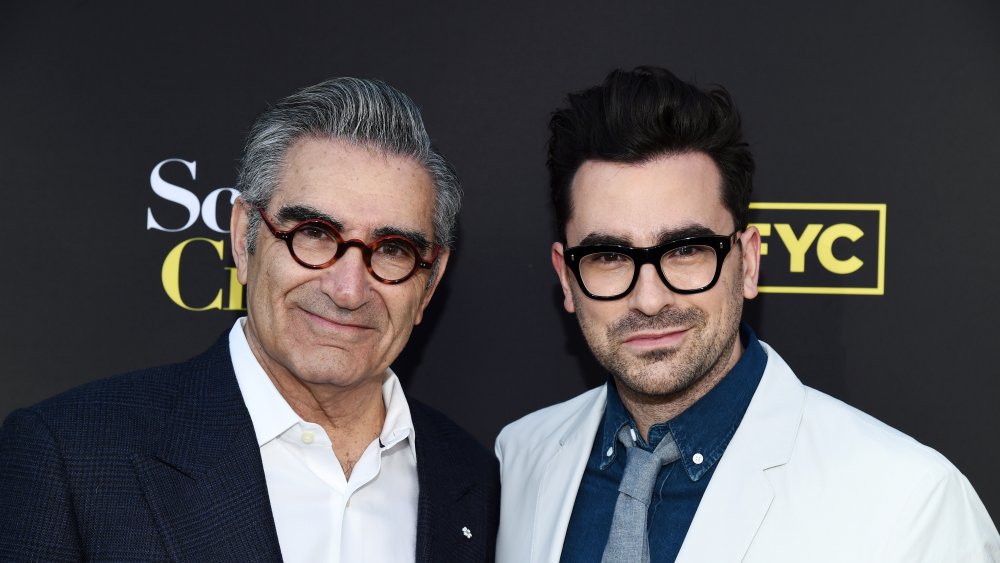 Amanda Edwards/Getty Images
Schitt's Creek is widely celebrated for its nuanced portrayal of queer issues. Dan Levy's character, David, identifies as pansexual and has relationships with both men and women. But the show doesn't make an issue out of his queerness, and David's family is fully accepting of his sexuality. Turns out, the safe space that Johnny and Moira Rose create for their son was at least partially based on Dan's own experience coming out to his parents as a teen.
The cast appeared on Watch What Happens Live in January 2020, and Eugene and Dan opened up about the emotional conversation. "We knew for the longest time," Eugene told Andy Cohen. Turning to Dan, he added, "I believe it was mom who just actually said, 'OK, are you gay?'" To which Dan elaborated, "My mom asked me over for lunch one day and I said, 'Yes.'"
"We were waiting and then mom couldn't wait any longer," Eugene joked. Eugene has always been his son's biggest advocate and is proud he found a way to incorporate his own experiences into the show. Case in point: Eugene's favorite episode is when David's love interest comes out to his parents.