Surprising Rules The Kardashians Made For Their Kids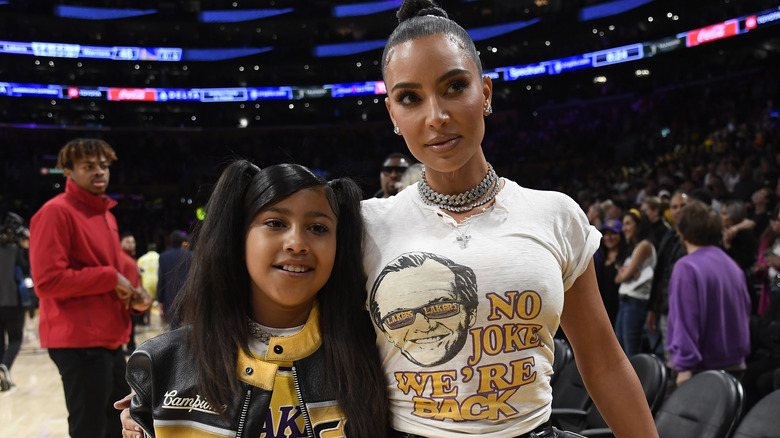 Kevork Djansezian/Getty Images
If you've been keeping up with the Kardashians, you might be convinced that there's absolutely nothing normal about the famous TV family. Since their show "Keeping Up With The Kardashians" aired in 2007, there's been practically nothing but wild antics, from Kris Jenner renting a chimpanzee to keep her company when all of her kids were gone to the sisters sharing breast milk to treat Kim Kardashian's psoriasis. (And no, we're not making that up. We couldn't if we wanted to.)
With that, you might be surprised to know that the cast actually enforces some strict — and even traditional — rules with the Kardashian and Jenner babies. Of course, there are some bizarre ones in the mix, but there are others that prove the Calabasas, California-based family is just like the rest of us. From restrictions on visitors to constant surveillance, keep reading for the surprising rules the Kardashians made their kids follow.
Filming always comes first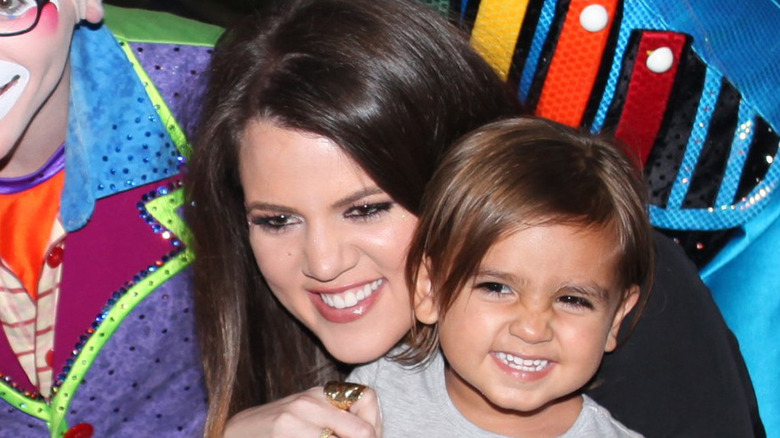 Handout/Getty Images
Considering the Kardashians have built their fame and fortune from simply sharing their daily lives with the world, it might not be surprising that filming is the No. 1 priority of some Kardashian kids. It's apparently so important that Kourtney Kardashian's eldest son, Mason Disick, reportedly had his entire schedule shifted around in 2015 so he could spend more time in front of "KUWTK" cameras. A family friend told Radar that rather than enrolling him in kindergarten, the then-6-year-old was being homeschooled. The insider added, "It has to be this way. He is shooting Season 11 of the show."
While he might not get to live the classroom life, there's no question that he still gets to go on exciting field trips. In 2018, when Kardashian was still dating her model beau Younes Bendjima, the group enjoyed a vacation on the Amalfi coast, and the same year, he spent some time in Bali with his mom and dad, Scott Disick.
They can be on KUWTK, but they can't watch it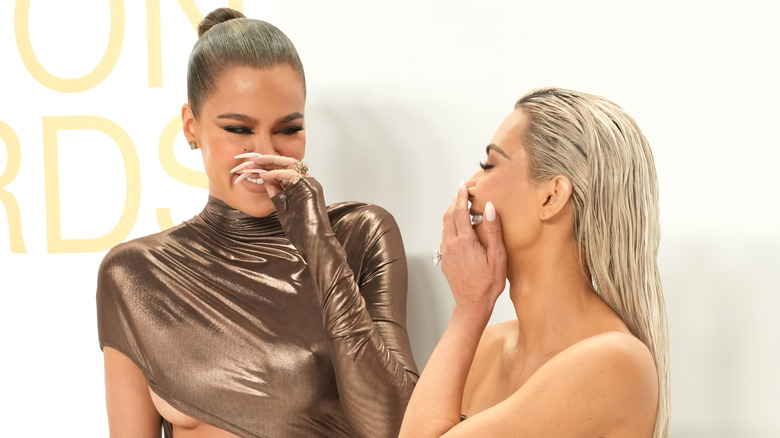 Kevin Mazur/Getty Images
Khloé Kardashian's children won't be watching their famous family on the small screen any time soon. In a post shared to her since-defunct app in 2018, she laid out all her dreams and rules for her daughter, True, whom she shares with NBA baller Tristan Thompson. There, the Good American founder wrote that it will be years before her little one is able to watch the hit E! series. "My child will be 13 when they watch their first episode of 'KUWTK'," she declared.
And she didn't stop there — Kardashian has even got rules about the music her daughter can listen to. In the same post, she laid out that True would be raised on some solid soul and R&B classics. "All Anita Baker, Michael McDonald, Marvin Gaye, Patti LaBelle, Michael Jackson ... real music!" she wrote. Sorry, Aunty Kim and Uncle Kanye, there will be no "Jam" or "Bound 2" played in Khlo's house.
Was pink once a banned color?
With a few rare exceptions, it was once unusual for fans to ever glimpse a young North West wearing anything pink, and that's apparently for a reason. In 2015, a source told Radar that her fashion designer dad Kanye West absolutely hates the color on women. "Kim had always loved wearing pink before meeting Kanye, but he hates the color. Kanye thinks it's just cliche for women to wear pink," the insider dished. "Kanye doesn't want their daughter dressed in pink, ever."
He reportedly takes this rule to such extremes that North's nanny has to take pictures of the child's outfits for approval when Kanye and Kardashian are out of town. "The nanny has been tasked with making sure that North is never in pink, and don't want Kim's mom, Kris, or sisters to put her in the dreaded color," the source continued. All this from the guy who helped popularize pink sweaters and turtlenecks and is known to have rocked pink hair himself? Um, okay.
So it stands to reason that in 2022, in the midst of Kanye and Kardashian's contentious public divorce, the mom-and-daughter duo stepped out in a striking — and certainly rare — matching pink look for Valentine's Day that year. Given that West had sent her a literal truckload of roses that very same day in a failed attempt to win Kardashian back, we can't imagine that seeing his daughter and ex-wife in the forbidden color went down too well with Ye. Notably, the color has since been restored as a staple of Kardashian and her kid's wardrobe.
Endless selfies and Netflix binges will have to wait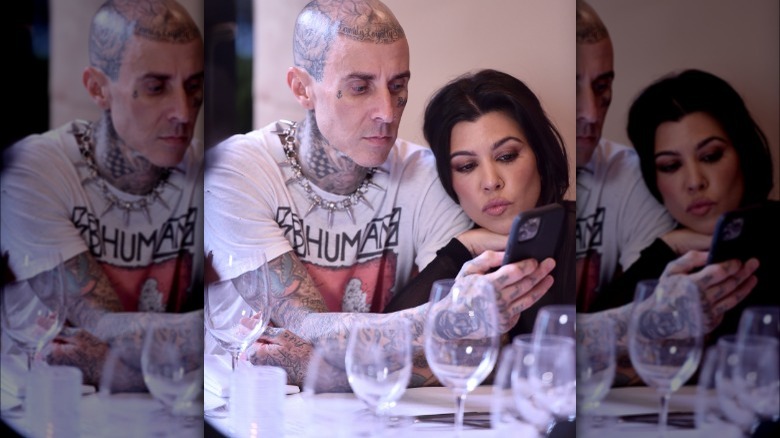 Alberto E. Rodriguez/Getty Images
Kourtney Kardashian runs a really tight ship when it comes to technology. In a post uploaded to her now-shuttered app, titled "How I Feel About Technology for My Kids," the reality star revealed that she has limits on the amount of time her children can spend on devices. "It's tough to know what's best for our kids when it comes to technology," she wrote. "Now that all my kids are over the age of two, I do allow them limited time to play video games and watch television. We have a game room, so I allow 30 minutes of video game time during the week and an hour on the weekends."
Kim Kardashian has also enforced rules on technology, though she seems to be a bit more flexible than her big sis. During a panel at Beautycon 2018 (via People), the model said she believes in cell phone hours. "[For kids], maybe the phones are in the kitchen so that when they wake up they have breakfast with the family and then they get their phones," she explained.
TVs are off in the Jenner-Webster household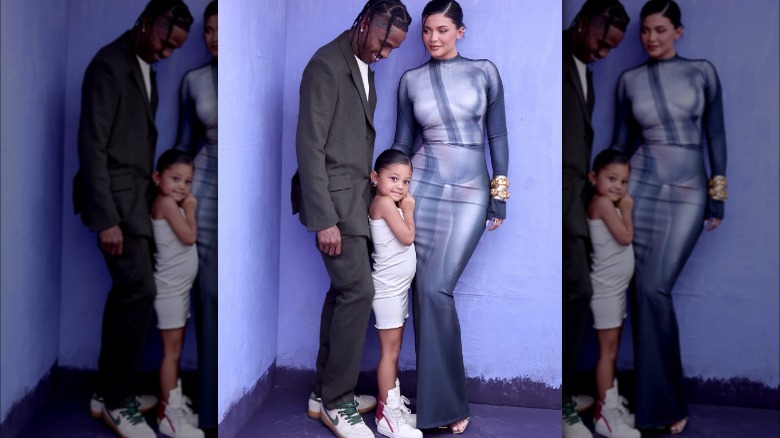 Matt Winkelmeyer/Getty Images
There will be no "Bubble Guppies," "Sesame Street," "The Kardashians," or anything else for any child of Kylie Jenner or Travis Scott. Speaking to Rolling Stone in 2018, the "Sicko Mode" rapper revealed that he and his baby mama aren't allowing their first-born, Stormi Webster, to watch television at all. "Today's kids are on iPads. There's so much technology, they don't play outside anymore," he explained to the publication. "That's why, with Stormi — no TV. That TV s*** is out." 
But Stormi appeared to be doing fine without it — according to Scott, she's got toys to keep her busy (although her favorite gadget, he says, is a thermostat) and she's always traveling with him — even on his tours. "She got more stamps on her passport than a lot of motherf***er," he added.
However, it's unknown how strict the on-again-off-again couple is in maintaining this particular rule — particularly as their kids get older. After all, just a year after Scott told Rolling Stone that TV was off-limits for Stormi, Jenner uploaded a cute video to her Instagram Stories showing her eldest child transfixed by a blaring television set while using her mom as a seat. The caption? "Just disrespectful." Indeed — somebody get that kid a bean bag and some potato chips pronto so she can binge-watch her faves properly. 
North West has to keep it natural
North West can wear her natural tresses however she wants, whether in braids or updos. But she has limits on how often she can straighten her hair. This revelation came on Twitter in 2018, when Kim Kardashian posted a photo of West with noticeably sleek hair to which a fan responded, "Don't straighten her hair too much it'll ruin her curls." The beauty mogul tweeted back, "[North] is allowed twice a year, on her birthday and birthday party! This pic was taken back in June on her bday."
Despite the backlash, Kardashian has tried to help her daughter embrace her curly hair. During an episode of "KUWTK," she took classes to learn how to style her daughter's hair, and in a 2018 chat with Interview magazine, Kardashian said she and her mini-me have open conversations about it. "She's obsessed with her curly hair, and if she finds someone who has the same hair, she runs to them and is like, 'You have curly hair like me?' And we get to talk about it," she told the magazine.
Is this gluten-free?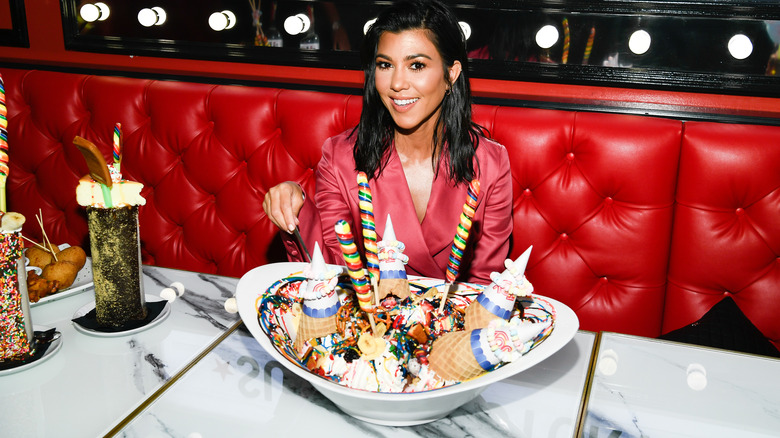 Dave Kotinsky/Getty Images
Even casual "KUWTK" fans know that Kourtney Kardashian is an organic-loving, donut-sniffing-because-she-can't-eat-them health nut. But she also makes her children follow a similar lifestyle. In 2016, Kardashian revealed on her (now-shuttered) app that she'd dropped dairy and gluten from her children's diets, citing the positive effects the restrictions have had on her own lifestyle. 
"I kept battling with myself back and forth — like, why am I doing this diet? I have always felt fine before when eating dairy and gluten, but I do believe that we have one life to live and I would like to live it feeling my best," Kardashian wrote. "I have noticed a great positive change in behavior with my children when we stick to a gluten-free and dairy-free diet. I don't think everyone needs to eat this way but we had muscle testing done, which showed we all have sensitivities to corn, gluten, and dairy."
While she wrote that she avoids foods with artificial dyes and food coloring — in other words, the fun stuff like candy and cupcakes — she added that sometimes she allows for the occasional treat. "I do let the kids have popcorn at the movies and a churro at Disneyland," she added. So, that's something, at least. Still, her strict food rules have nonetheless received criticism for being too radical. In 2022, Kardashian received backlash from anti-diet groups after she told The Wall Street Journal that her son, Mason, hadn't eaten a french fry for a year.
No microwaves, like, ever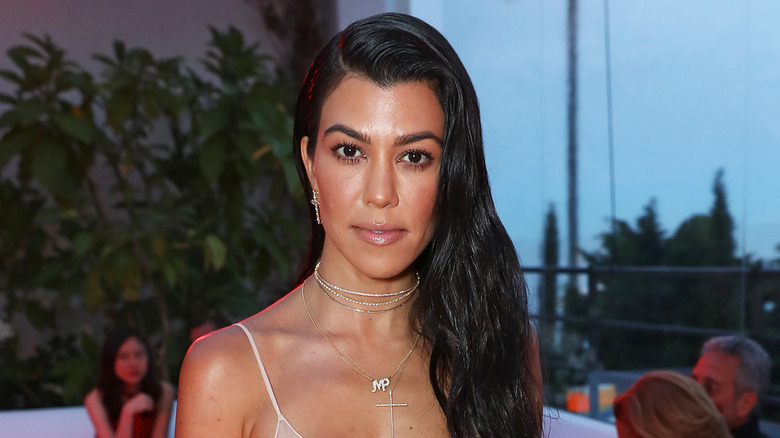 David M. Benett/Getty Images
Kourtney Kardashian has always been open about what her kids can and can't eat, but apparently, the way the food is cooked is important too. In 2017, Kourtney wrote on her now-defunct app, "One kitchen appliance I never use is a microwave ... If anything needs to be heated up, I prefer to use the oven, stovetop, or toaster oven instead." 
As for why she's not a fan of microwaves, Kourtney continued, "When I had Mason, I did a lot of health-related research and decided to get rid of my microwave when I read that toxins from plastic containers can be transferred to food when reheated (this applies to BPA-free plastic containers too)." She then went on to explain that using a toaster oven to heat food was just as or even more efficient than using a microwave, and meant that she could ensure everything was cooked to a safe temperature. While the Poosh founder didn't back up her statements with links to any actual science, the reality TV star revealed that she likes to exercise caution when it comes to her children, which is fair enough. Just don't expect any TV dinners in Kourtney's house.
Kim's kids roll with protection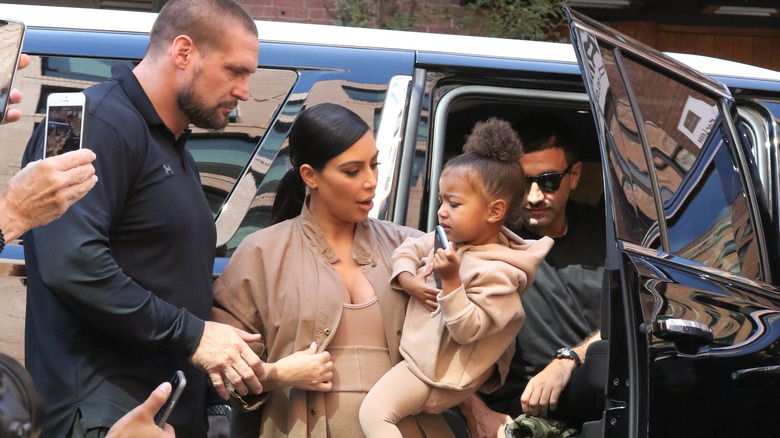 Gotpap/bauer-griffin/Getty Images
How scary was it to find out that Kim Kardashian had been tied up, gagged, and robbed in Paris in October 2016? She was so shaken up after the incident that she started taking some serious safety precautions. Not only did she reportedly ramp up her own security, but she also got each of her children around-the-clock security. Explaining the reported decision to Page Six, a source said, "The kids being kidnapped is Kim's biggest fear. She previously didn't want to shell out for armed security, but now she realizes the family needs 24-hour protection."
Kardashian opened up about this in a later interview on "The Alec Baldwin Show," telling the host that she and her family are constantly surrounded by bodyguards. "Now my life is six security [guards] outside of our house at all times, and a few security when I travel, always 24/7 outside my door," she explained (via Entertainment Tonight). "I just move totally differently now."
In 2022, Kardashian reportedly stayed true to her word when she paid for increased security at her kid's school after her ex-husband, and their father, Kanye West, publicly named the facility during several rants on social media. Sources told TMZ that the purported increased security paid for by the SKIMS founder was purely precautionary and was put into place to protect the safety of all the school's students, not just her own children. 
Don't say 'fat' around Kourtney's kids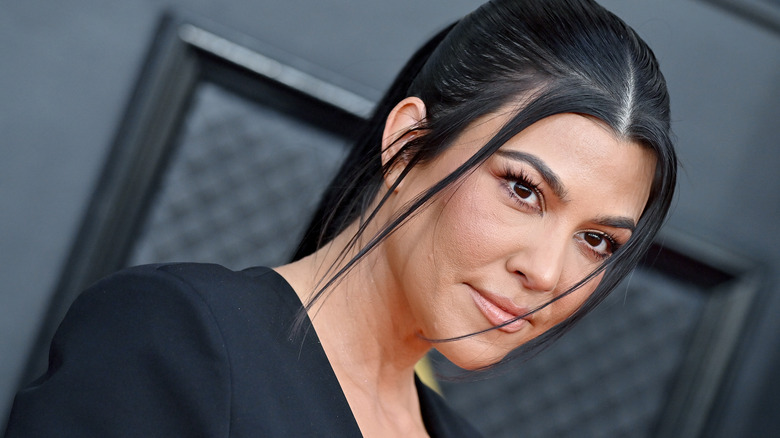 Axelle/bauer-griffin/Getty Images
There's nothing wrong with discussing healthy eating habits and positive body image with your kids, but has Kourtney Kardashian taken this approach a step too far? For example, in an episode of her family's show, which aired in June 2016, Kardashian objected to momager Kris Jenner's use of "the f-word — "fat," that is — in front of her daughter, Penelope. It reportedly started with Jenner asking Kardashian, "Do I look fat?" in the middle of their conversation. Kardashian, between bites of salad, declared, "Don't use that word in front of my daughter, please."
While Jenner seemed to be a bit perplexed by the response, Kourt might actually be on to something. Not only does science suggest healthier alternatives to talking about weight with children, but she also knows what it's like to struggle with weight gain and body-shaming. So we can't say we blame her for being proactive and protecting her daughter in such a manner.
A super strict schedule
You could be forgiven for thinking that the Kardashian-Jenner kids have free rein when it comes to their day-to-day lives, but that simply isn't the case. In fact, when it comes to her daughter's schedule, Khloé Kardashian is extremely regimented. During an appearance on "The Ellen DeGeneres Show," Khloé revealed, "I am really strict. I have a schedule. I'm very militant with how I parent True [Thompson] and I believe that a schedule saves everything, and not all of my siblings are the same. I will not tell you which ones." 
In December 2022, Kourtney Kardashian tried to gather more information on her sister's strict parenting style during an interview with Vanity Fair. Diving straight in at the deep end, she asked her sister, "Are you ever going to let True sleepover at my house?" Khloé simply replied, "Probably not." While she refused to divulge why she wouldn't let True enjoy a sleepover at her aunt's place, Khloé tried to emphasize, "I don't hate sleepovers." With Kourtney implying that her younger sis may have been worried True would have too much fun at such a slumber soiree, it may be likely that Khloé didn't want her daughter staying up all night partying with her cousins, Mason, Penelope, and Reign. Whatever the real reason is, Khloé's refusal to let her daughter go to a sleepover is another indication of the strict schedule that True has to deal with.
A professional stylist is essential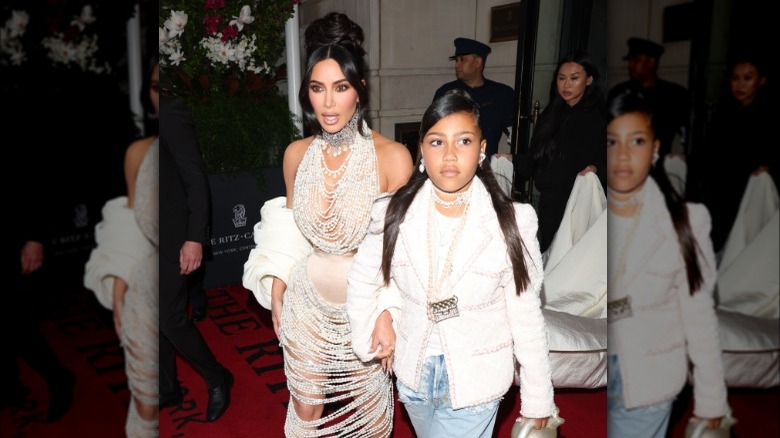 Mega/Getty Images
As some of the most famous children in the world, the Kardashian-Jenner children live ritzy lives in front of the camera. Much like their parents, looking good has become somewhat of a job for the children of Kim, Kourtney, Khloé, and Kylie. As a result, it's perhaps not surprising that Kim Kardashian's daughter North West is rumored to have her own team of stylists and beauty experts in place to ensure she's keeping up with the Kardashians in the aesthetics department.
In 2016, Life & Style reported that Kim was spending as much as $5,000 per week on a glam squad for her then-3-year-old daughter. A source suggested to the tabloid that North's wardrobe included everything from Hermès handbags to Balmain dresses, which puts our own collections of moth-eaten T-shirts to shame. Given that she's the daughter of occasional fashion designer Kanye West, it makes sense that Kim's eldest child has also dabbled with being a member of a glam squad — not just the recipient of one. 
In 2022, Kim revealed on Twitter that her eldest daughter had styled her younger siblings, Saint, Chicago, and Psalm, as part of a photoshoot for Vogue magazine. North has seemingly already learned a lot from years of working with professional stylists and glam teams, and she now feels confident enough to put together outfits for the rest of her family.
The nannies rule the roost
The social media accounts of Kim Kardashian and her sisters suggest that they're all raising their own families while running successful businesses and filming Hulu's "The Kardashians." However, much like other celebrities, the Kardashian and Jenner clans reportedly have teams of nannies helping them look after the kids on a daily basis. For instance, in 2016, a source claimed to Heat Magazine (via The Mirror) that Kim Kardashian and Kanye West had a whole staff of nannies who were responsible for keeping the children organized, and allegedly taking them away if they started crying too much.
Meanwhile, as of 2023, Khloé Kardashian employs two nannies, Andreza Cooper, and Monica Longanbach. Unlike her sisters, she has even shared photos of them on social media. Cooper gave an interview about her role working for the Good American co-founder, telling Papo de Mãe (translated by Google), "In my current job, I'm babysitting for sure, but I started out as a 'newborn care specialist.'" She continued, "As we travel a lot internationally, I also monitor her sleep, because there are a lot of time zones, so, to change, I always travel with her when she is international." Basically, it sounds as though the nannies are on hand 24/7 for the Kardashian kids, which probably means they can't get up to too much mischief, wherever they are in the world.
TikTok is strictly monitored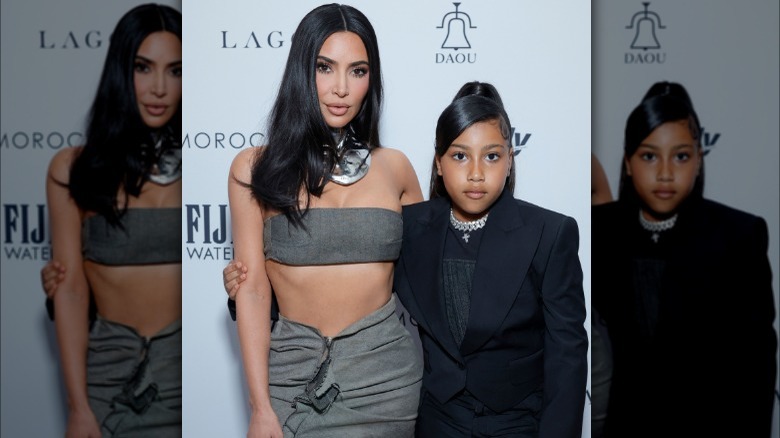 Stefanie Keenan/Getty Images
TikTok's popularity continues to grow, and even the Kardashian kids are enamored with the social media platform. In fact, North West shares a TikTok profile with her mom, and is apparently a huge fan of posting new content. However, Kim Kardashian has made sure that her daughter's social media presence is constantly monitored, which is why North doesn't have her own personal account on the service. During an interview on Gwyneth Paltrow's "The Goop Podcast," Kim revealed, "[TikTok] can only be on my own phone." She continued, "It's not something where she can scroll and look at things." 
Kim also explained that they never comment on any TikTok videos, but simply use the account so that North can express herself creatively. "She loves to do it and it makes her so happy. She's so innocent in so many ways," the mom of four told Paltrow. While much of Kim's business is based around her own social media output, it sounds as though she's being extremely careful with how her children are introduced to the internet, which is admirable.