The Untold Truth Of Andrew Gillum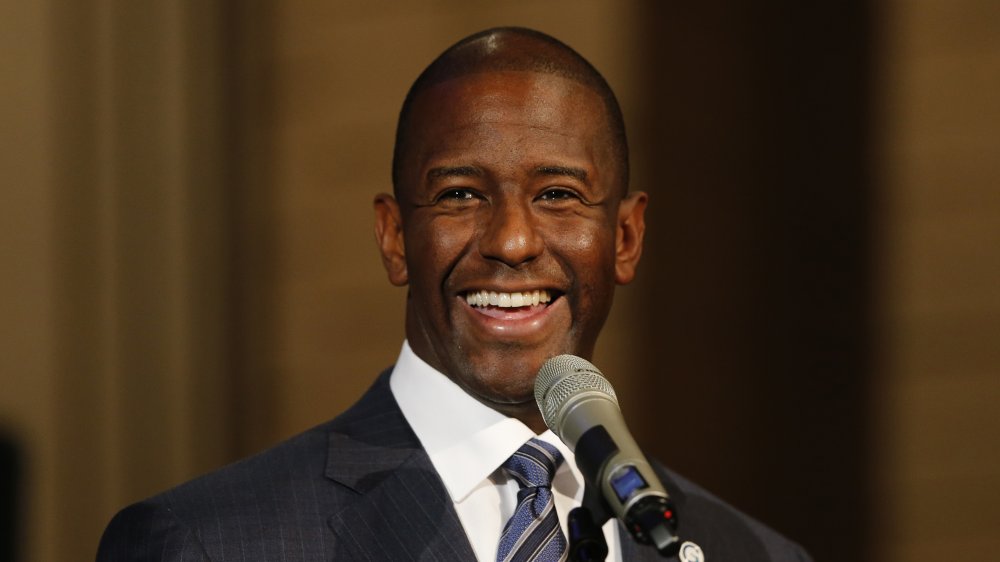 Joe Skipper/Getty Images
Andrew Gillum was long considered a rising star in the Democratic party. The Florida native began his political career at just 23, eventually becoming mayor of Tallahassee in 2014. Gillum then gained national attention when he became the Democratic nominee in the 2018 Florida governor's race, positioning him to become the first Black governor in the state, per The New York Times. 
Though he ultimately lost to Republican governor Ron DeSantis, Gillum was just getting started. As he was not even 40 years old when he ran for governor, many assumed he still had a long and impressive career in his future.
That all changed in February 2020, when Gillum was caught in an embarrassing incident involving the Miami police. According to CNN, police were called to a Miami hotel room, and once there found the former mayor in a very "inebriated" state. Gillum was accompanied by two men, one of whom was treated for a possible overdose. Police reports stated that officers found "three small clear baggies containing suspected crystal meth on both the bed and floor of the hotel room." 
Gillum adamantly denied the implication that he'd used drugs. "While I had too much to drink, I want to be clear that I have never used methamphetamines," he told reporters, per CNN. He later revealed that he began struggling with substance abuse and depression after his loss in the 2018 race. Gillum sought treatment for alcohol dependency, but the controversy was far from over. The February 2020 incident was just the tip of the iceberg in Gillum's closely-guarded private life.
Andrew Gillum came out as bisexual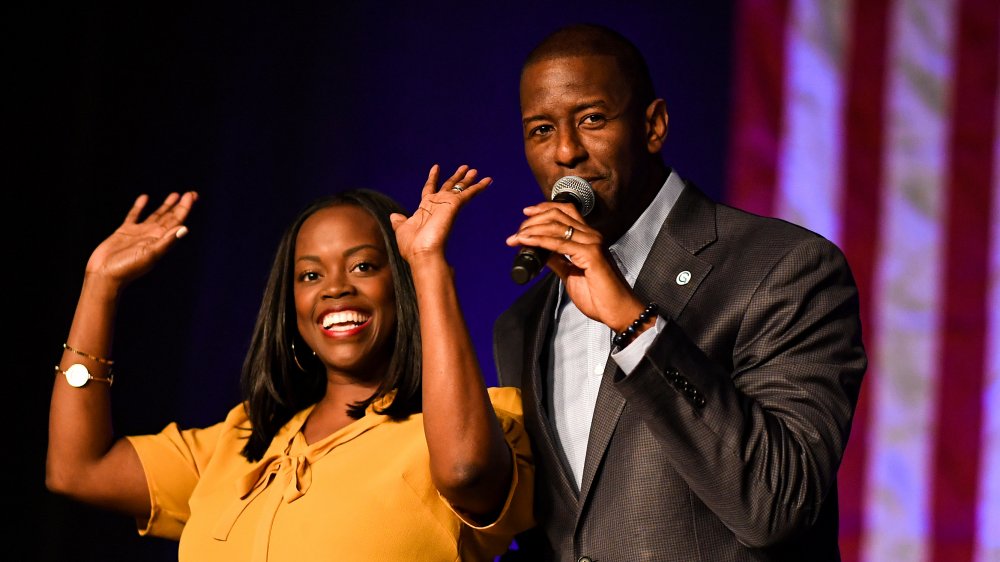 Jeff J Mitchell/Getty Images
Andrew Gillum made history when he came out as bisexual in a September 2020 interview with Tamron Hall. Gillum hoped to clear up inaccuracies surrounding the February 2020 incident in Miami.
Rumors about Gillum's sexuality began to swirl when one of the two other men in the hotel was identified as an escort by the press, as reported by People. A photo also leaked that showed Gillum naked on the floor, per Tallahassee Democrat. 
The rumors became too much for Gillum, and he decided to address them head-on. He told Hall that he got "to the place where I wasn't even sure that I wanted to live — not because of what I had done, but because of everything that was being said about me."
"I don't identify as gay, but I do identify as bisexual," he explained. "And that is something that I have never shared publicly before."
Gillum's wife, R. Jai (pictured above), was by his side through the whole thing. "I don't think it's anyone's business," R. Jai admitted, adding that she views sexuality as a spectrum. She said all that matters "is what's between us and what agreement do we make to be in a relationship with each other."
Hall also asked Gillum if he'd consider another run for office in the future. Gillum said he might, though he realized it would be challenging to overcome his scandalous past. "But," he joked, "Donald Trump is president." Well, if you can't laugh at yourself.