The Real Reason The Rock Divorced His First Wife
Rich Fury/Getty Images
Dwayne "The Rock" Johnson has been at the top of his game for more than a few decades now. He's one of the highest-paid actors on the planet, and he married his longtime partner, Lauren Hashian, in 2019. And although Johnson and his family battled COVID-19 in 2020, everything seems to be going great for the actor overall. Just one example? In August 2020, Johnson and his business partner, Dany Garcia, purchased the struggling football league, The XFL, for $15 million, according to CBS Sports. The Rock and Garcia also co-founded the production group, Seven Bucks Companies, and it developed the Baywatch remake, Jumanji: The Next Level, as well as Jungle Cruise, according to Newsweek.
But wait — that's not all. Garcia (pictured above) and The Rock collaborated on another significant project when they welcomed their daughter, Simone, in 2001. Yep, you read that right — the California native's ex-wife and college sweetheart is also his business partner. The couple split in 2007 (the divorce got finalized a year later) after 10 years of marriage, and Garcia has been Johnson's manager and business partner since 2008, according to Newsweek.
So if Johnson and Garcia work together well, why did they split in the first place? Let's take a closer look at the reason for their divorce. 
The Rock and Dany Garcia put their differences aside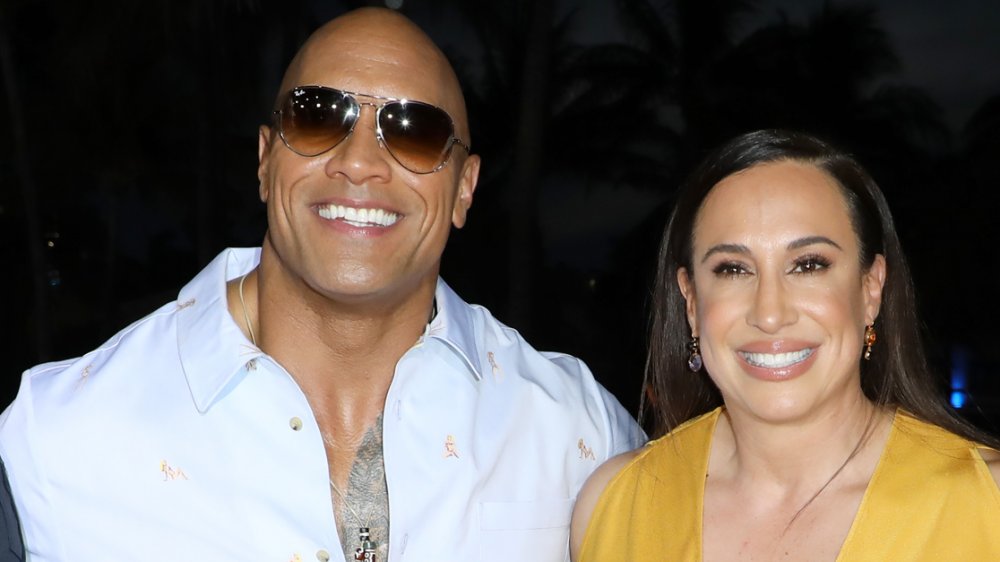 Alexander Tamargo/Getty Images
Hollywood divorces barely make headlines these days, as sadly, famous people splitting up is not unusual. But what is arguably rare? For famous exes to build a thriving business together. However, the arrangement seems to work pretty well for Dany Garcia and Dwayne "The Rock" Johnson. Garcia told Marie Claire in 2017, "Some people go through a separation, and there's no conversation, and it's a dark time, and one person goes off, but that was never us. We went on this journey together. We were going to change the manner of the relationship together. We spoke every day, and multiple times a day—not only on business but on what was happening personally."
Especially in the entertainment business, divorces can devastate careers and finances, so it's pretty cool these two were able to work it out. Although Garcia didn't reveal what broke up the marriage, it appears they've been able to put whatever went down in the past. However, their maturity didn't cancel out the pain of divorce. Johnson explained to The Wall Street Journal that his first divorce "did a number" him, adding, "I wasn't fearful of getting married again; there was just some hesitancy."
Garcia summed up the exes' complicated relationship well, telling espnW, "We have so much history. We were so broke together. We've always had respect for each other, and that respect allows a friendship to continue."