Why Brad Pitt And Jennifer Aniston's Reunion Has People Talking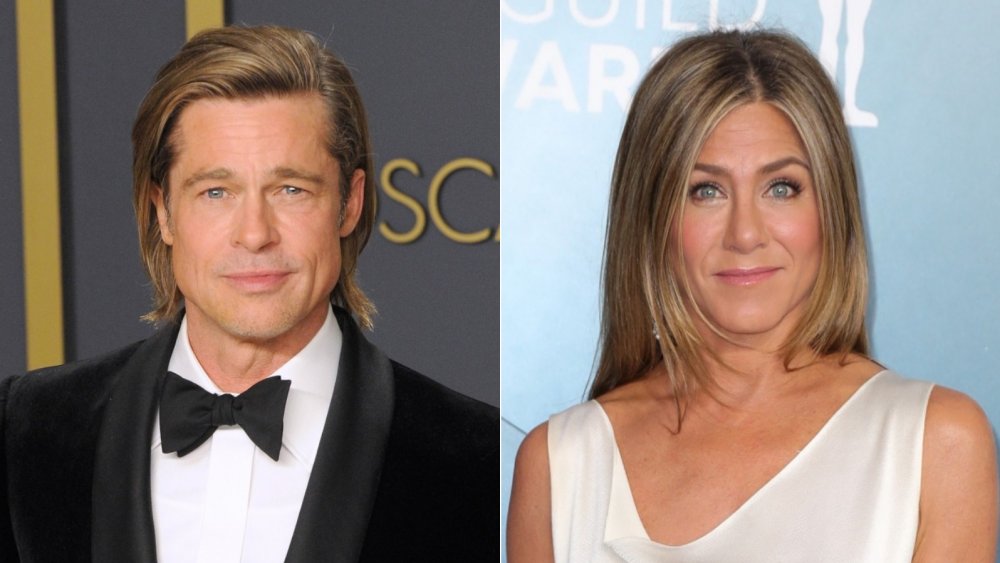 Albert L. Ortega, Leon Bennett/Getty Images
A decade and a half later, people are still not over Brad Pitt and Jennifer Aniston's relationship. The details of their marriage and divorce are infamous. The couple wed in 2000 and split in 2005. Pitt quickly began dating (and raising a family with) his Mr. and Mrs. Smith co-star, Angelina Jolie. Brangelina finally tied the knot in 2014. Aniston remarried actor Justin Theroux in 2014. By 2019, however, both Aniston and Pitt's second marriages had ended. While Pitt does have a new flame in the form of a much-younger model named Nicole Poturalski, there are still those hoping for a romantic reunion between Brad and Jen. 
A (platonic) reunion between the actors did manifest in September 2020. Pitt and Aniston were among the A-list actors assembled for a table read of Fast Times at Ridgemont High to raise money for Sean Penn's CORE charity, as well as the REFORM alliance for criminal justice reform. Penn, Julia Roberts, and Matthew McConauhey rounded out the cast, but all eyes were focused on Pitt and Aniston when things got ... flirty. Let's talk about the moment that's got people talking.
Jennifer Aniston made Brad Pitt blush during their reunion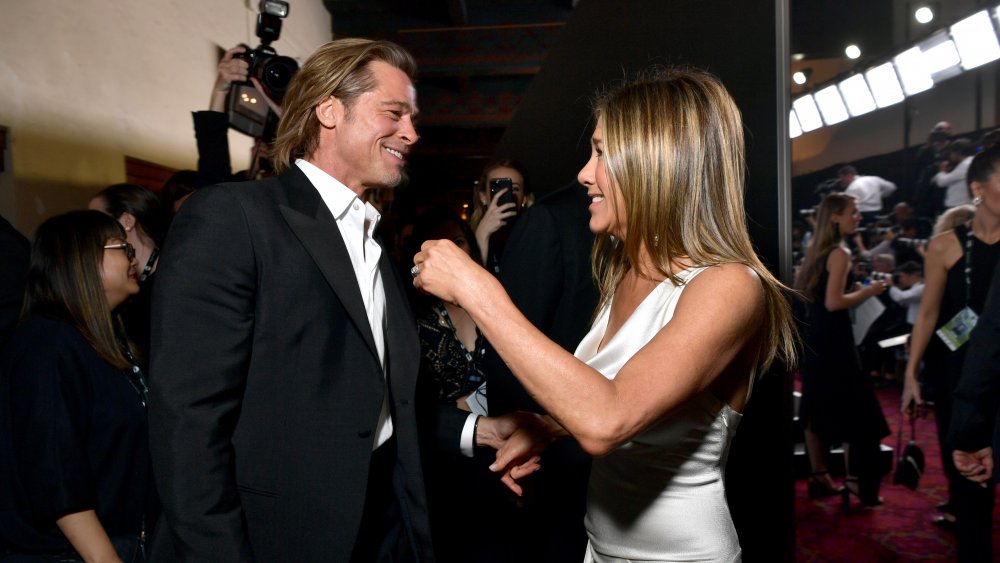 Emma Mcintyre/Getty Images
At the aforementioned table read for Fast Times at Ridgemont High, Jennifer Aniston stepped into the role of Linda Barrett, played in the original film by Phoebe Cates, while Brad Pitt filled in for Judge Reinhold as Brad Hamilton, a high school senior who lusts after Linda. This leads to a dream sequence where she seduces him. That moment certainly got people talking during the zoom reunion.
"Hi Brad," Aniston says (via Us Weekly). "You know how cute I always thought you were. I think you're so sexy. Will you come to me?" Though Aniston was in character as Linda, Pitt ever-so-slightly broke, his face growing red. 
Sure, this just a bit of fun to help out a good cause, but the history between these two added a playful subtext to the interaction, especially given that Aniston was addressing "Brad" — which could be construed as a reference to either character Brad Hamilton or Brad Pitt himself. The coincidence was just too much for fans who still ship these two.
Any bad blood that may or may not have existed between the exes after their breakup is definitely a thing of the past at this point. Earlier in 2020, a photo of the two reuniting backstage at the SAG Awards (pictured) was widely circulated, prompting fans to speculate (or hope) that the reunion was more romantic than friendly. Given that Pitt is believed to have been with Nicole Poturalski since late 2019, it's more likely that Brad and Jenn are just friends — friends who know each other very, very well.