The Truth About Ruth Bader Ginsburg's Late Husband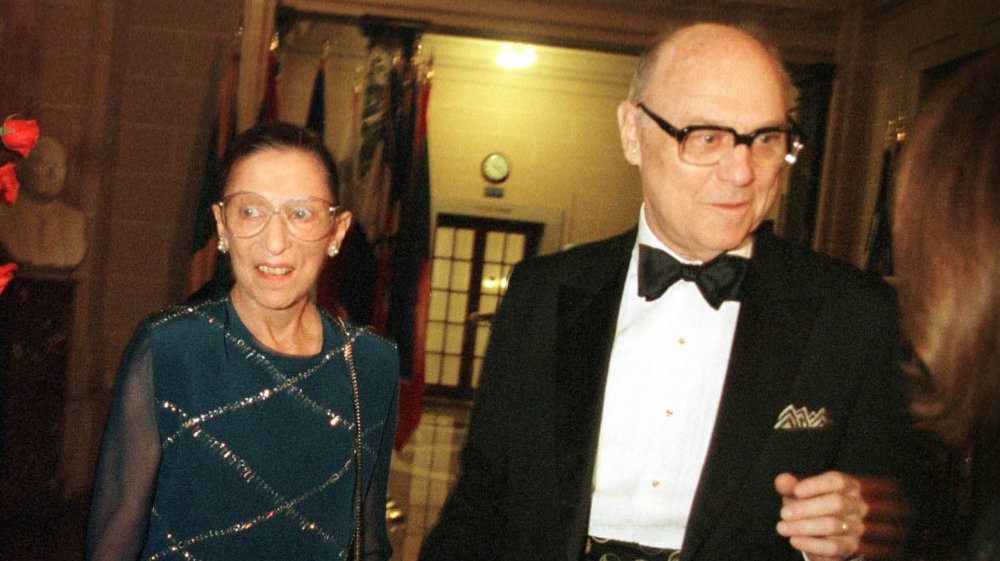 Karin Cooper/Getty Images
On September 18th, 2020, the Supreme Court announced that Justice Ruth Bader Ginsburg died at the age of 87. A stalwart of women's rights, Ginsburg was not only the highest court's second female justice, but she also served as a "shero" to her fan base — who, in the last few years of her tenure, nicknamed her "The Notorious RBG" for her steadfast commitment to advancing gender equality. 
Before joining the Supreme Court in 1993, Ginsburg was a powerful litigator who argued six cases in front of the Supreme Court, of which she won five, per USA Today. She also taught at various law schools and founded the ACLU's Women's Rights Project. Ginsburg has long paved her own path — as a young aspiring lawyer, she graduated from Harvard Law School as one of eight women in a class of 500, per History.
After Ginsburg became an icon in her later years as a women's rights warrior, Hulu's 2018 documentary RBG captured her ascent to and success on the bench. But the documentary also revealed that Ginsburg and others gave much credit to her husband, Martin Ginsburg, for her trajectory that landed her on the highest court of the land. While it's obvious that Ginsburg won her victorious career on her own wits and talents, it was not without her husband's support. 
Ahead of their time, they had an equal marriage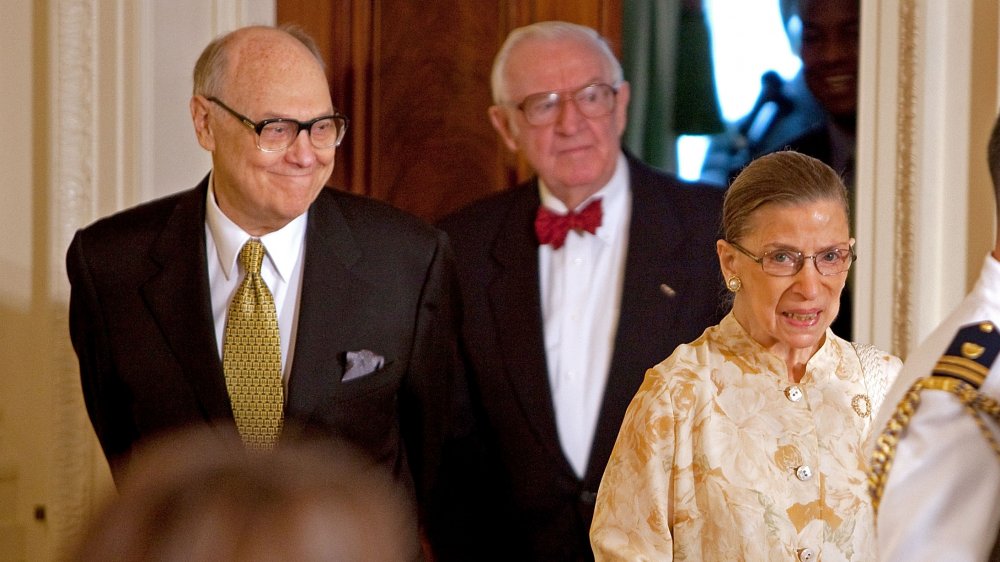 Chip Somodevilla/Getty Images
In the documentary RBG, Ruth Bader Ginsburg and various colleagues recall her and husband Martin "Marty" Ginsburg as sweethearts from college. Ruth, who was overall a reserved person, made an imprint on Marty, who was immediately smitten by her "cute" looks and intellect, as their son James told People in 2018. Meanwhile, Ruth said Marty was "the only young man I dated who cared that I had a brain."
Later, Marty would go on to be Ruth's biggest supporter and advocate. They were both successful lawyers — Ruth in constitutional law and Martin in tax — who equally split their domestic duties and bolstered each other's career. "In the course of a marriage, one accommodates the other," Ruth on the Rachel Maddow Show. "So, for example, when Marty was intent on becoming a partner in a New York law firm in five years, during that time, I was the major caretaker of our home and child. But when I started up the ACLU Women's Rights Project, Marty realized how important that work was."
Marty also took care of other home responsibilities. "I learned very early on in our marriage that Ruth was a fairly terrible cook and, for lack of interest, unlikely to improve," Marty joked. "Out of self-preservation, I decided I had better learn to cook because Ruth, to quote her precisely, was expelled from the kitchen by her food-loving children nearly a quarter-century ago."
He played a role in her Supreme Court nomination
Kevork Djansezian/Getty Images
Not only did Martin Ginsburg support Ruth Bader Ginsburg in her career at the ACLU, but he actually had a huge hand in her ascent to the Supreme Court. Ginsburg, by nature, was a reserved and humble lawyer, least likely to brag about herself, according to the RBG documentary. And so Marty, with his jovial and outgoing nature, pushed publicly to his colleagues about her potential, making calls to get her name on Clinton's nominee list, according to The New York Times.
"I have been supportive of my wife since the beginning of time, and she has been supportive of me. It's not sacrifice; it's family," Martin told the paper in 1993. 
"I betray no secret in reporting that, without him, I would not have gained a seat on the Supreme Court," Ruth wrote in a NYT op-ed in 2016. Ron Klain, associate White House counsel in 1993, agreed, telling her: "I would say definitely and for the record, though Ruth Bader Ginsburg should have been picked for the Supreme Court anyway, she would not have been picked for the Supreme Court if her husband had not done everything he did to make it happen."
Martin Ginsburg died of cancer in 2010, per History, 10 years before Ruth passed also of cancer. They were married for 56 years.