The Truth About Denise Richards And Lisa Rinna's Feud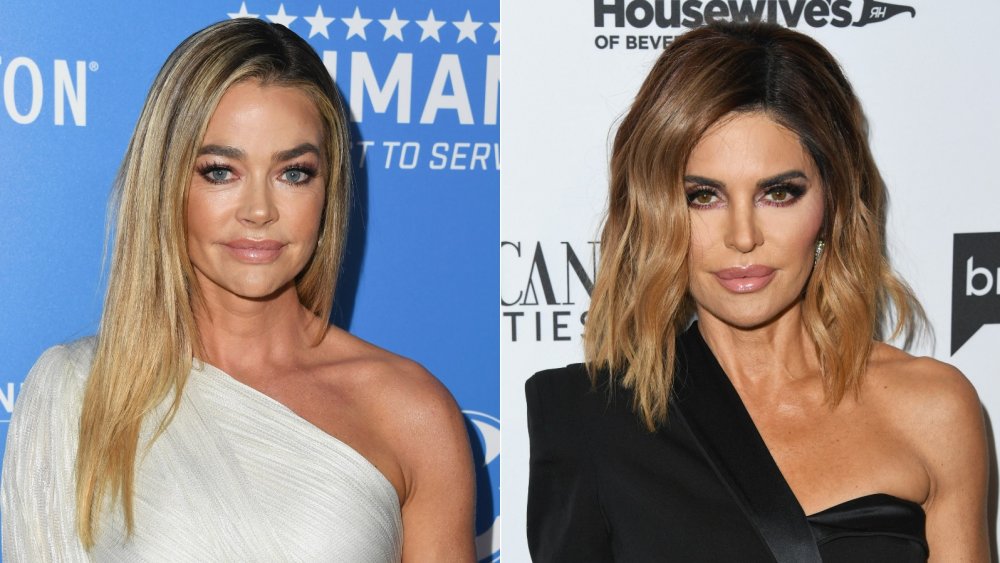 Jon Kopaloff, Jon Kopaloff/Getty Images
After two years on the show, Denise Richards officially left the Real Housewives of Beverly Hills, but she didn't exactly leave on good terms. Much of the Season 10 drama revolved around Denise's rumored affair with one-time cast member Brandi Glanville. Brandi said that she and Denise once made out in a restaurant bathroom and then breezed right past first base when they shared a hotel room. Denise adamantly denied the allegations, but that didn't stop the other housewives from trying to suss out the truth. Denise was furious at what she saw as an evasion of privacy, and her castmates were angry that she wasn't sharing her entire life. "This is what you signed up for," they reminded her.
The rumors led Denise to ditch Dorit Kemsley's housewarming party, which aired as part of the season finale, traditionally the last chance for the cast members to fight it out before the reunion. To save face, Denise had her husband, Aaron Phypers, tell producers she was dealing with a "family emergency" and had to bow out of her contractual obligation (per Us Weekly). As any student who's tried that excuse on a professor can tell you, it didn't take much to expose the lie.
Of all the cast members, Lisa Rinna was the angriest at Denise. The two sat down for one final, explosive confrontation before the season ended, and thus began one of the greatest feuds in reality TV history.
Denise Richards didn't want to work with Lisa Rinna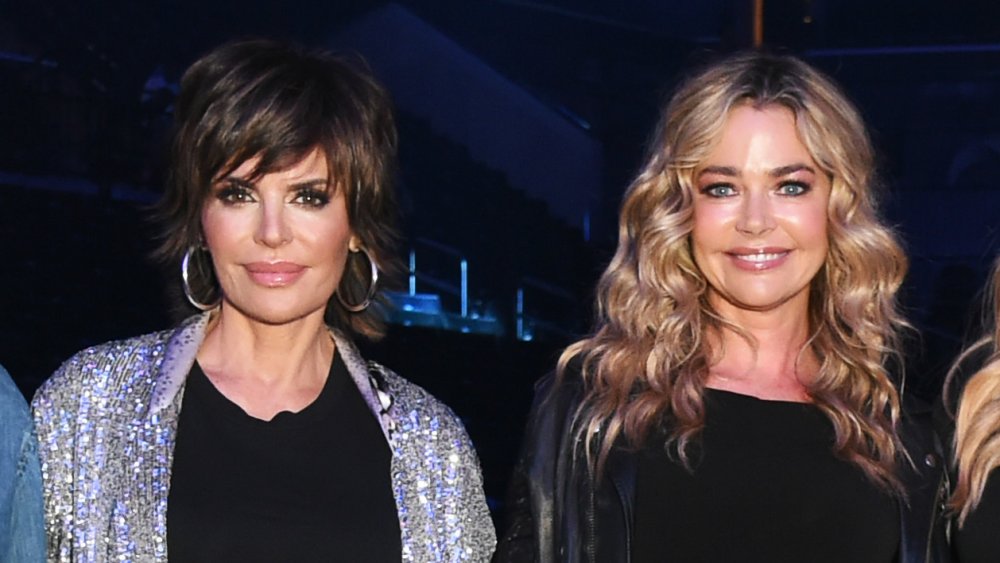 Yuchen Liao/Getty Images
It was the beginning of the end of an already delicate friendship when Lisa Rinna accused Denise Richards of lying to avoid Dorit's party, "We were worried about you. You said, 'Family emergency.' You lied! That's a lie!" she exclaimed, per Us Weekly.
"I did not want to go and have her create some f—king Jerry Springer moment," Denise explained. They proceeded to accuse each other spreading rumors and trying to control storylines from behind the scenes. The bad energy lasted until the season reunion, when Lisa lost her temper with Denise.
Lisa became incensed when Denise denied liking an inflammatory tweet about her castmates. The tweet implied Lisa was racist and called on Bravo to fire her and fellow castmember, Erika Jayne (via Too Fab).
Denise said she liked it before reading the whole thing and quickly unliked it when she realized it accused Lisa of racism. "You liked a tweet like that, that was so vile and so nasty, you knew exactly what you were doing," Lisa yelled. "Don't you f–k around and lie to me about it." Lisa was as angry about Denise trying to oust her as anything else.
 Ultimately, Denise got her wish: she no longer works with Lisa. In September 2020, Bravo announced that Denise officially turned in her diamond due to "contract disputes" with the network, per People.
Andy Cohen was sad to see her go. Lisa Rinna? Not so much.