The Touching Backstory Behind Dan Levy's Emmy Outfit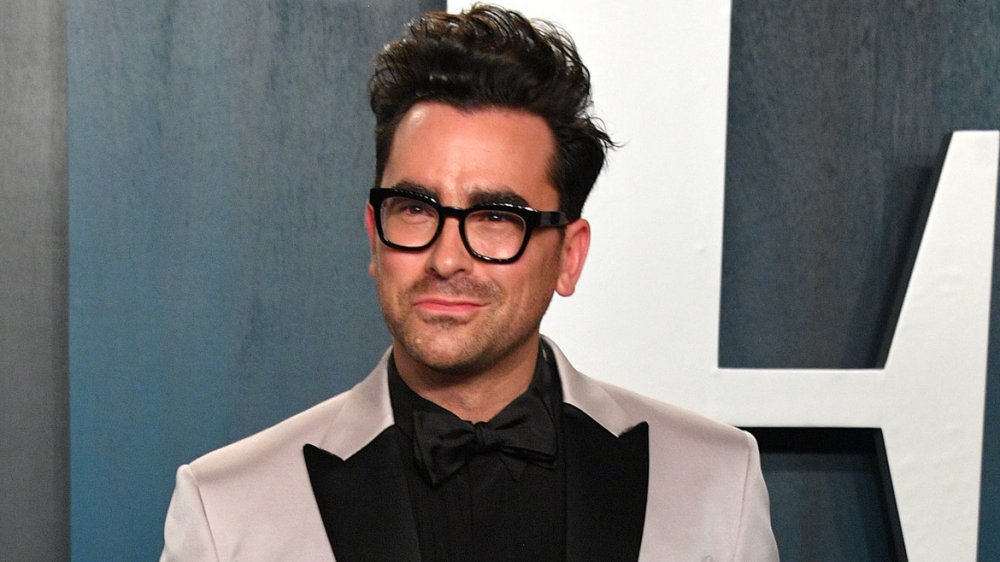 George Pimentel/Getty Images
Like his character David Rose in Schitt's Creek, Dan Levy is ultra fashionable. For the 2020 Emmy Awards, Levy showed up in his sartorial best at a gathering with the rest of the Schitt's Creek cast in Canada. He opted for a charcoal Thom Browne kilt with matching jacket, tall socks, and matching face mask. And while those who aren't avid Schitt's Creek watchers might be raising an eyebrow at the kilt — it's not your standard award show fashion, after all — those who know a thing or two about Levy aren't surprised.
Levy sported a kilt more than once on Schitt's Creek, including at the end of the series when his character married Patrick Brewer (Noah Reid). In fact, that dressy black tux kilt in the show is also by Thom Browne, so Levy's Emmys look is a nod to not just his character, but to the designer who outfitted him as well. 
Browne told WWD after being asked to design Levy's kilt for the show, "I am always a fan of anyone who is true to his or herself ... this is true fashion ... this is true style. I like to showcase these people in any way possible ... We need more people like this in the world ... bravo [to Levy] for his bravery and leadership." Browne was, of course, referring to Levy's character, who is gay and marrying a man on the show, a show that placed all its emphasis on love and acceptance.
Twitter can't get enough of Dan Levy's kilt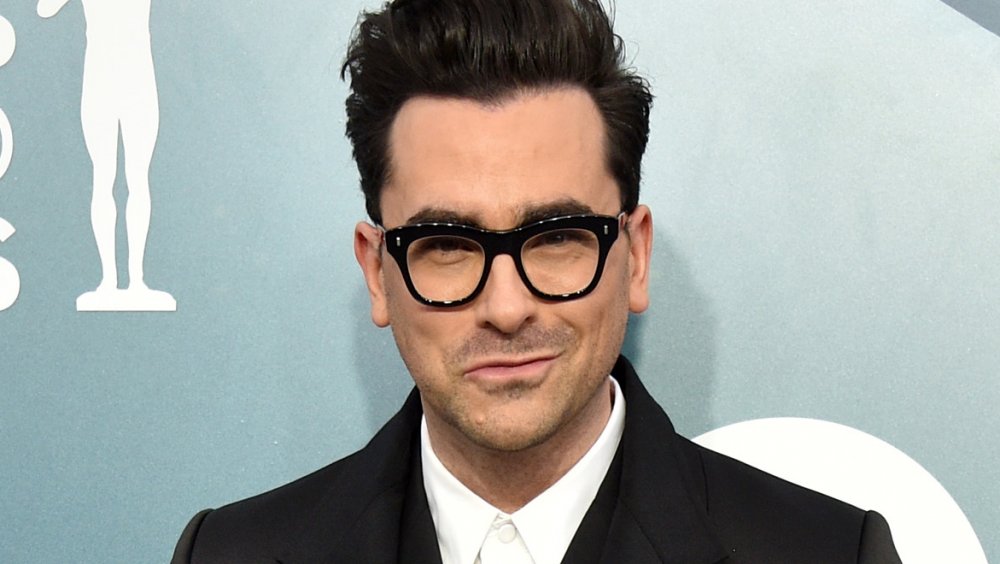 Gregg Deguire/Getty Images
Twitter also absolutely loved Dan Levy's kilt at the 2020 Emmys, leaving plenty of comments raving about how on-point the kilt was. One Twitter fan smartly referred to Levy's kilt as a "business kilt," and that's such an apt description, and so much better than the "fancy" term we've been using. Another fan is hoping that kilts catch on, and honestly, we do too. What's not to love about a kilt? They're comfortable, not restrictive at all, you can twirl around in them, and they show off your legs.
One Twitter user said, quite simply, "Dan Levy and that kilt! SWOON." And yes, same to that, and also to this person who said, "I ADORE @danjlevy's kilt!" We're with you on that! 
We also can't help but notice that Levy is never shy about trying something bold with his fashion. Whether it's a loudly printed shirt or even a graphic tee with a giant picture of Harry Styles, Levy clearly just wears whatever he likes and whatever makes him happy. And sometimes as a bonus, it's a nod to Schitt's Creek, the show that gave him numerous Emmy Awards just this year, and for that, we send him our congratulations and warmest regards.