Miley Cyrus Stands By Red Carpet Boycott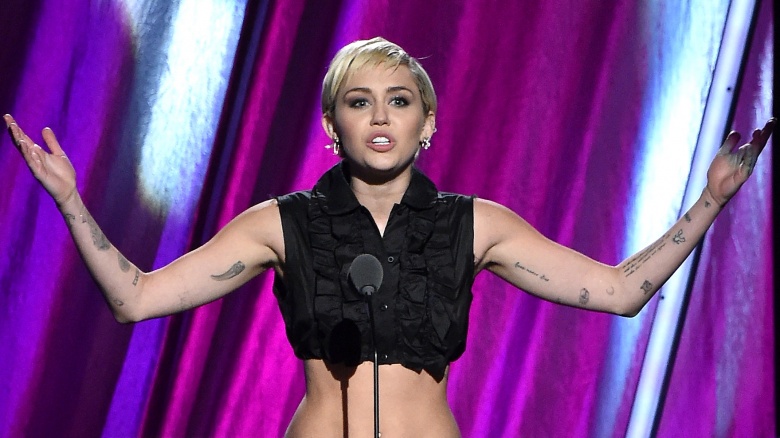 Getty Images
Miley Cyrus, 23, insists she's through with red carpets. The "Wrecking Ball" singer, 23, told Elle, "I had to do the [A Very Murray Christmas] premiere, and I will never do a red carpet again. Why, when people are starving, am I on a carpet that's red? Because I'm 'important'? Because I'm 'famous'? That's not how I roll. It's like a skit—it's like Zoolander."
On Sept. 15, 2016, Cyrus attended the premiere of Crisis in Six Scenes, the Woody Allen Amazon series in which she stars, but she skipped the red carpet.
The Voice coach stopped by the Today show the next day to further explain why she's totally done with that scene—and it had nothing to do with starving people this time. "It's really not about the color of the carpet," she said when host Carson Daly suggested changing the color of the carpeting in NBC Studios. "It's more about, especially women, we get yelled at to blow [the paparazzi] a kiss, and I don't feel like blowing you a kiss! [The photographers] yell, 'Blow us a kiss!' Like, what is going on? Who are you? And then you're just kind of putting yourself out there for people to talk."
Despite taking carpets very seriously, Cyrus still doesn't seem to take herself too seriously. "I don't want people to talk about what I'm wearing," she quipped. "That's usually why I don't wear too much! But they make me wear clothes on The Voice and on the Today show." She later revealed that part of her attention-grabbing antics are a way to deflect attention away from her own insecurities. She told Hoda Kotb, "I don't love being on camera. I really, actually don't...I stick my tongue out because it's a nervous habit: 'Don't look at me, look at my tongue!' And it worked! It worked for like five years."