The Detail You Missed In Annie Murphy's Outfit At The Emmys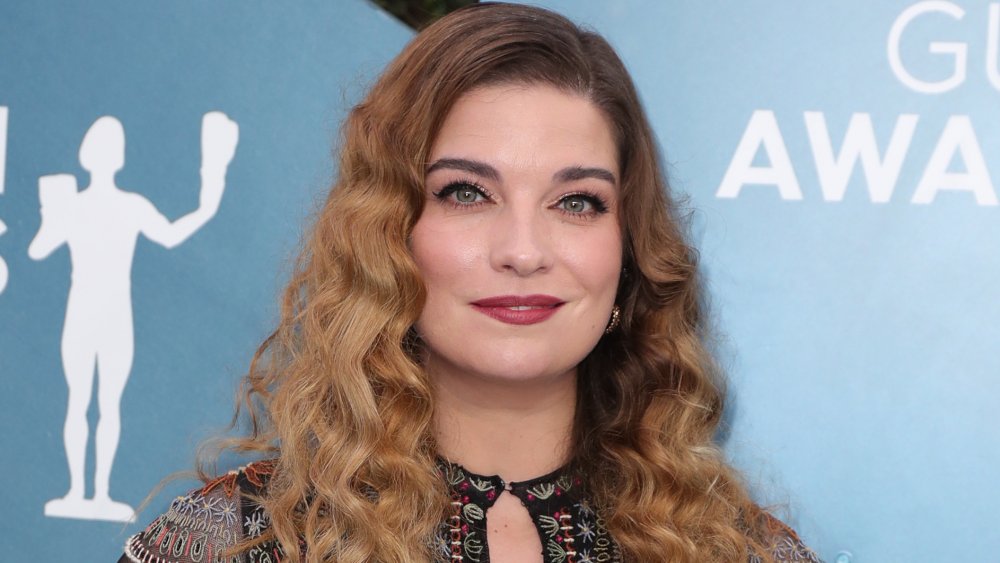 Leon Bennett/Getty Images
Canadian sitcom Schitt's Creek swept the 72nd Primetime Emmy Awards with nine total wins. The series' Emmy wins included Outstanding Comedy Series, Outstanding Lead Actor and Actress in Comedy Series for Eugene Levy and Catherine O'Hara, respectively, and Supporting Actor and Actress in a Comedy Series for Dan Levy and Annie Murphy, respectively.
The cast accepted their awards together in Toronto after receiving 15 total Emmy nominations for the sixth and final season of the show, per Entertainment Weekly. The win after win after win came with a first for Murphy, who won her first Emmy for her role as Alexis Rose on Schitt's Creek. 
"I'm certainly in a different place than I was before the show," Murphy said in an interview with Harper's Bazaar in February 2020. The actress revealed that, prior to the comedic series, her life was unraveling. "I hadn't worked in almost two years. And it was always coming down to me and another girl, and I was never the girl that got the phone call. My place had just burned down too. Things were bleakish, I would say. I still can't really believe I got the part in the first place."
Annie Murphy stole a few clothes from 'Schitt's Creek'
Winning an Emmy for Supporting Actress in a Comedy Series wasn't the only thing Annie Murphy walked away from Schitt's Creek with. As the series was coming to a close after six seasons, Murphy admitted to Harper's Bazaar that she stole one of Alexis Rose's dresses, a sweater and a pair of pants.
"I don't know if Dan knows this, but I also took the dress that Alexis wears for her Cabaret audition — the "A Little Bit Alexis" dress that's a purple baby doll thing, which I will never ever wear, but it was a special scene," said Murphy, who revealed she was "quite selective" with her picks. "There are so many amazing clothes, but I didn't want to wear them, because they're really friggin' nice. I feel like so many of these clothes are so very Alexis, and I didn't want to be that girl who wasn't in the show anymore yet cosplaying herself down the street." 
As it turns out, after watching Murphy accept her first Emmy at the 72nd Primetime Emmy Awards, the actress may have taken just one more accessory ... Alexis' "A" necklace. If you take a closer look at the actress' 2020 Emmys look (above), you'll find a piece of her on screen character's signature look hanging from her neck. You can't beat a good luck charm that doubles as a fashion statement.