The Real Reason Eminem Can't Stand Garth Brooks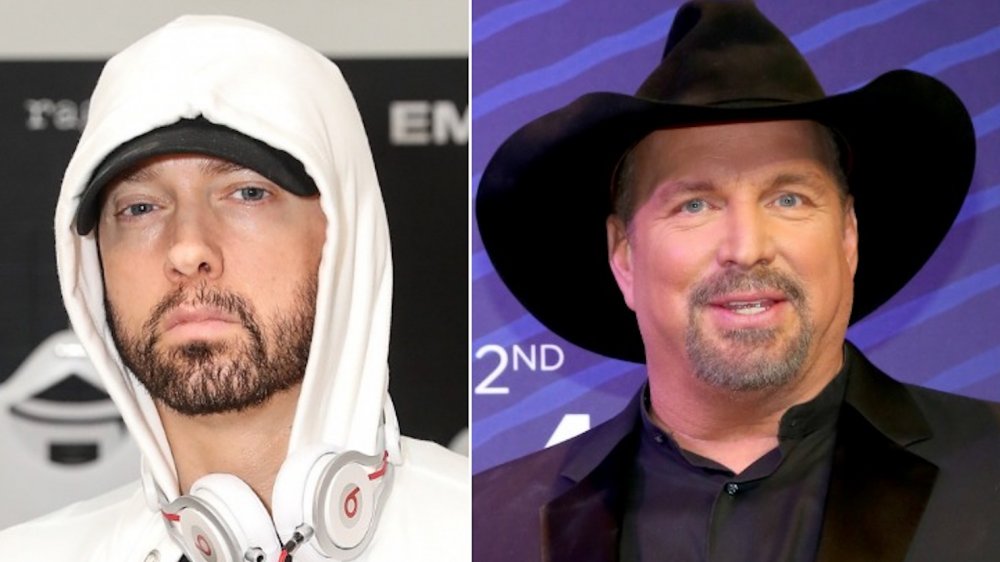 David M. Benett, Terry Wyatt/Getty Images
From Miranda Lambert to Eric Church, plenty of singers have taken issue with Garth Brooks, and you can (surprise!) add Eminem to that list. Of course, speaking ill of Garth Brooks isn't necessarily punching down. Ever since his rise in the early 1990s with hits like, "If Tomorrow Never Comes," "The Dance," and "Friends in Low Places," per The Tennessean, Brooks catapulted himself from another cowboy hat-wearing to country music greatness. The legend has nine diamond-selling LPs in the U.S. to date, which is three more than The Beatles. In fact, with more than 156 million units sold, according to Business Insider, he's the top-selling solo artist in U.S. history. Better luck next time, Elvis! "It's one of those songs that just doesn't get old," Brooks told The USA TODAY Network (via The Tennessean) about his monster smash, "Friends in Low Places."
Yet, it's fair to argue that megastar is an easy target by his own doing. With his huge light shows, flying harnesses, curious musical alter-ego Chris Gaines, and constant repackaging of his greatest hits collection ("Garth Brooks Has Made Millions Selling You The Same Damn Songs Over & Over," Saving Country Music once bemoaned), some might say there's a sense of hokiness there.
Someone who seems to agree with this sentiment is Marshall "Eminem" Mathers, who essentially deals in insults and has taken aim at everyone from Dick Cheney, Gianni Versace, and Donald Trump in his music. Read on to find out why Garth Brooks is also on this list.
Is Eminem's beef with Garth Brooks due to music sales?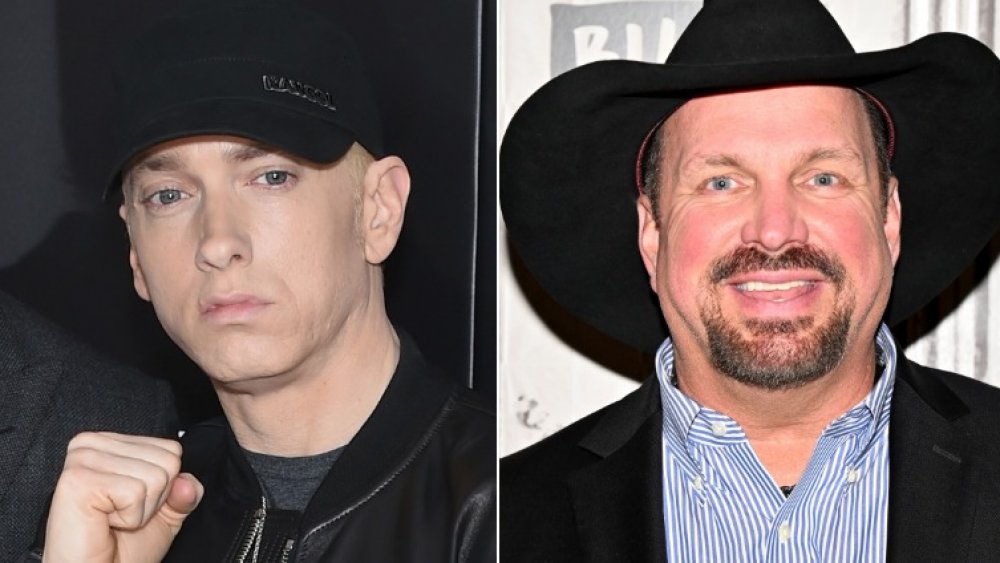 Dimitrios Kambouris, Theo Wargo/Getty Images
So why does Eminem dislike Garth Brooks? At first glance, it seems to have something to do with Brooks'...rhinestone shirts? On the 1999 track, "Role Model," the artist also known as Marshall Mathers spits the verse, "My mind won't work if my spine don't jerk / I slapped Garth Brooks out of his rhinestone shirt." Huh. 
However, it's possible Eminem was alluding to a battle on the Billboard charts, as one contributor on Genius theorized. "Garth Brooks is a very famous and successful country music singer who was one of the biggest stars in the world when Eminem was first coming into the mainstream circa 1999," they explained. "One year earlier, Garth's album Double Live sold over a million copies in its first week of sales. This line could be believed to be about Eminem kicking Brooks off the charts." So this line could either be about Eminem's plan to unseat Garth Brooks on the charts or, as the commenter speculated, more likely just "Em...poking fun at country music tropes." Rhinestone shirt, cheesy country music, you get the picture. 
Although Em was the "bestselling male artist of the 2010s" (impressive!) according to Forbes, he still hasn't bested Brooks' album sales. Eminem trails Garth Brooks with 46.5 million total certified album units sold in the US versus Brooks' massive 156 million, Business Insider reported in September 2020. Oh well! At least Eminem can find comfort in his massive net worth of $230 million.