The Truth About Johnny From Love Island USA
There are some people who hit it off right away on Love Island, and Johnny Middlebrooks and Cely Vazquez were one of those couples. Although they ran into some drama after Casa Amor, Johnny remains a fan favorite who will likely live on in Love Island USA fame long after the season is over. So what's his deal?
According to his Love Island USA bio, Johnny is 22 years old and from Chesapeake, Virginia. He went to the University of Mount Olive in North Carolina, where he ran track, per his profile on the Track & Field Results Reporting System. He moves as fast on the track as he does in love, it seems. Johnny's bio says that he "feels that he undeservedly has a reputation as a player" due to being a college athlete, but he came on the show to find his soulmate. He also says that his relationship goals are Will Smith and Jada Pinkett Smith and that he makes a good boyfriend because of his "ability to listen, compromise, forgive, understand, and love." 
But some people in this Love Island star's past would beg to disagree.
Johnny's ex says she didn't know he was going on the show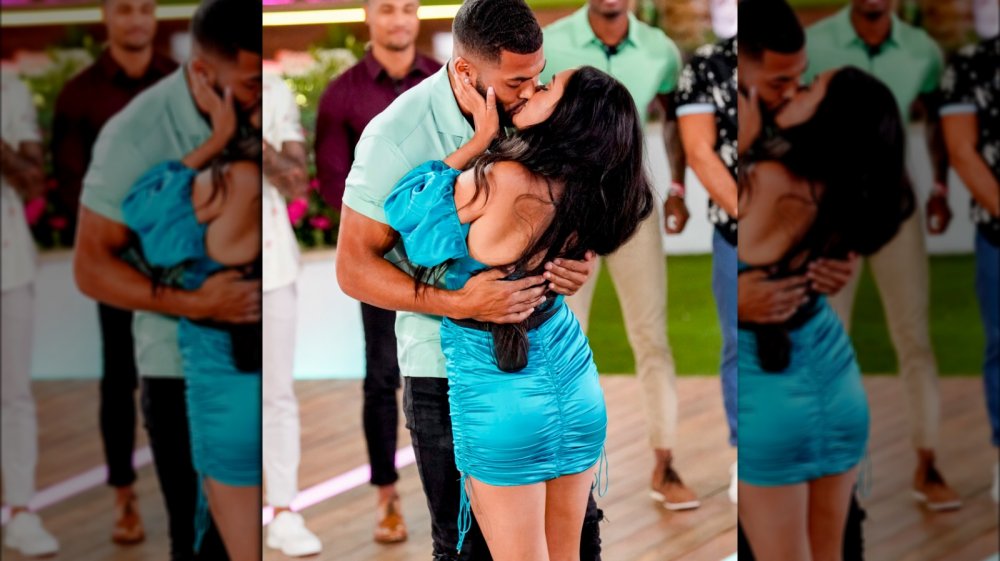 CBS
According to Screenrant, Johnny Middlebrooks might have some more explaining to do to Cely Vazquez if they make it to the end of Love Island USA Season 2, and it won't just be about his Casa Amor hookups. The outlet reports that his ex Tori Stenson posted about him on TikTok, saying that they were together and she didn't even know he was going on the show until a week beforehand. It seems the two were involved on and off for years.
In one TikTok video, Johnny can be seen proposing to Tori, although it seems that it wasn't a real proposal. Tori says that Johnny got down on one knee and "fake proposed" to her to try to get her to talk to him during one of their "off" periods. "I'm not his ex-fiancée, but he did do some crazy s**t," she said in another video. 
In another post, Tori wrote, "When i see my ex on love island saying he treats girls like queens like he didn't tell me about it a week before he left." She also posted a pic of them together on Instagram and wrote, "thank you, next," referencing Ariana Grande's hit song about breakups. 
Ex-partners always tend to come out of the woodwork when it comes to reality stars, but there's another person who has some stories about Johnny, too.
Mercades thinks Johnny is just "in it for the game"
Johnny Middlebrooks from Love Island USA Season 2 felt awful about what he did in Casa Amor, telling his partner Cely Vazquez right away that he had made out with a woman in the house, Mercades. It seemed like he was being truthful, and judging by what viewers saw, he mostly was. But Mercades told Entertainment Tonight that she thinks he's totally playing Cely and that he came on to her almost as soon as he walked into the villa. 
Mercades said, "Yes, from the beginning. I just felt like, 'Okay,' like, I didn't even know how to take it. That's how strong he was coming on. I had to tell him like, 'You better be up front with Cely. She needs to know.' There were a couple of times where I didn't even know how to handle how strong he's coming on. Even the girls felt like they couldn't talk to him because of how strong he was coming onto me. Like I said, when I walked in, that wasn't even a focus." She concluded, "I think he's honestly in it for the game. He's super fake and I will be expecting him in my DMs, so y'all will know that." 
Viewers will just have to wait until the end of the season — and after, maybe — to see what's really up with Johnny. Hopefully, he and Cely can get a happily ever after.