Inside Kanye West's Unlikely Friendship With The Olsen Twins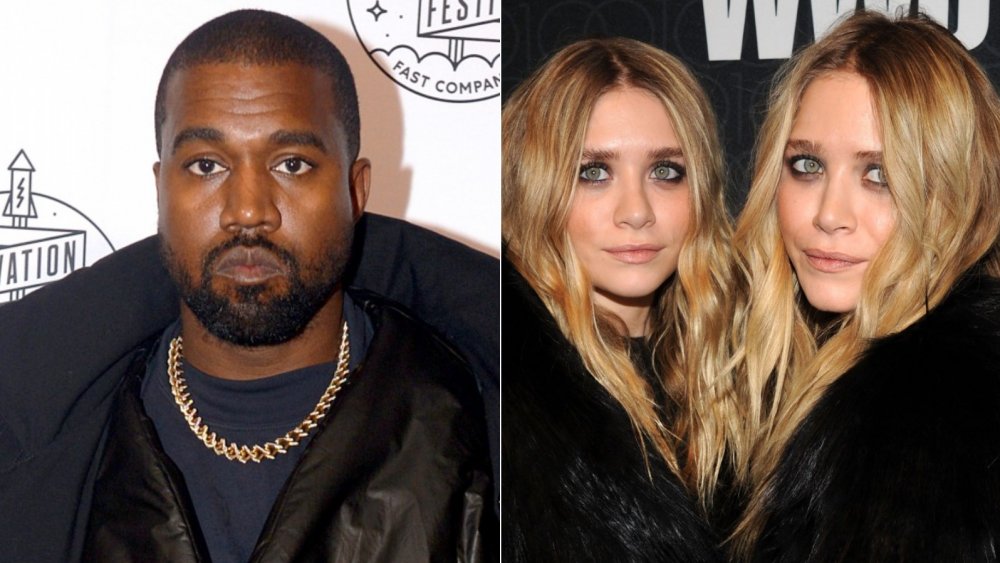 Brad Barket, Bryan Bedder/Getty Images
If there's one thing we can expect from Kanye West, it's the unexpected. The musician/designer/artist turned presidential candidate has courted controversy since his rise to fame in the early 2000s. While many of his early antics were chalked up to Kanye being Kanye, more recently, his behavior has inspired conversations about mental health, especially after it was revealed that West lives with bipolar disorder. The diagnosis is something that West has fully leaned into, making it a primary theme on his 2018 album Ye.
If there's anyone who can understand what it's like to live in the public eye for decades, making the transition from entertainment to fashion while dealing with illness and loss in front of the whole world, it's the Olsen Twins. These days, Mary-Kate and Ashley Olsen have seemingly chosen to shield themselves from the public scrutiny they grew up surrounded by, however, one can never just stop being famous. For this reason — and maybe for only this reason — it makes some sense that West would have a friendly relationship with the Olsen Twins.
Kanye West and Mary-Kate Olsen were first seen canoodling in 2011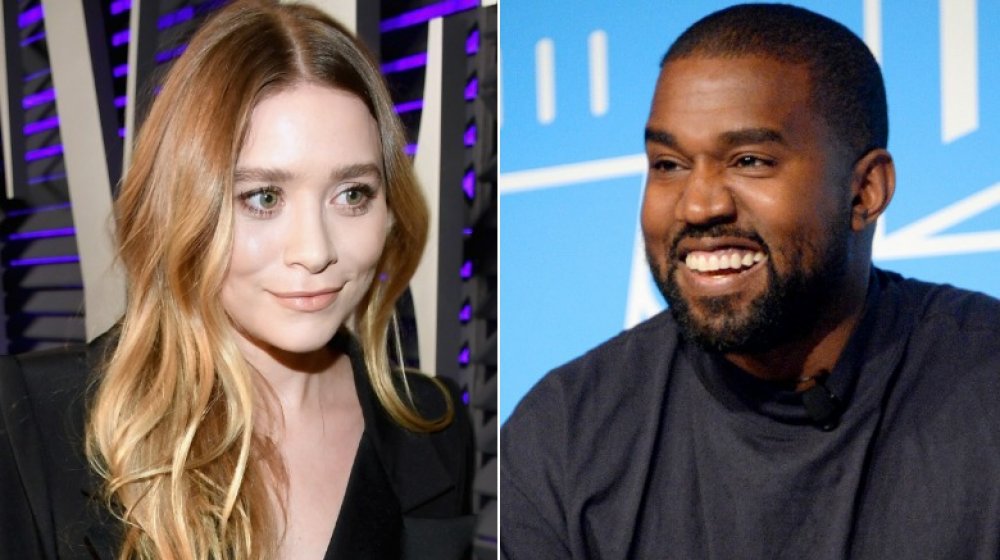 Mike Coppola/vf19, Brad Barket/Getty Images
The friendship between Kanye West and the Olsen Twins seems to go back to 2011. In June 2011, news broke that Kanye West — who was 34 at the time — and Mary-Kate Olsen — newly 25 — were spotted making out, per E! News. Meanwhile, West's future wife, Kim Kardashian, was in the midst of her infamous 72-day marriage to Kris Humphries. 
While the alleged hookup seemed to have been a one-time thing, West's friendship seemingly persisted not just with Mary-Kate, but Ashley Olsen, as well. According to The Wall Street Journal, the twins were spotted in the front row of his fashion show in October 2011, and he named-dropped them in 2011's collaborative album Watch the Throne with Jay-Z.
Diplo later claimed that Mary-Kate and Ashley were in the studio when West recorded Watch the Throne and Kanye allegedly said: "they're like my thermometer for what white girls listen to." While most of the evidence of their friendship exists in the Watch the Throne-era, the artists still cross paths occasionally at fashion events. TIME magazine theorized in 2015 that "Kanye couldn't have a role model better than the Olsen Twins" for his fashion design work, citing their success in breaking fully into fashion and garnering respect in the industry in a way that most celebrities haven't. 
We now know that Kanye West did eventually come to gain the respect in the industry he so craved; the jury is still out over how much the Olsen Twins helped him.