Tom Hiddleston Moves On From Taylor Swift With Priyanka Chopra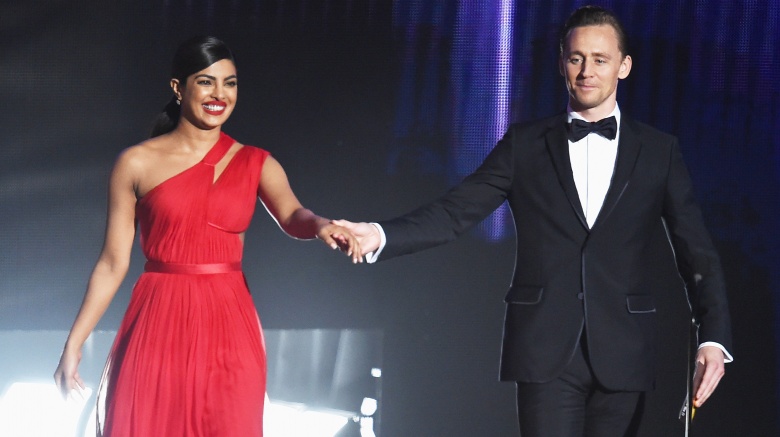 Getty Images
Don't expect any bad blood between Taylor Swift and Tom Hiddleston. The Night Manager star, 35, revealed at the Emmys that he and the 1989 singer still get along despite their speedy split in September 2016.
People asked Hiddleston is they're still friends, to which the charming Brit replied, "Yes. Yes we are."
While Hiddleston was presenting, Us Weekly reported that another of Swift's many exes, John Mayer, was playing guitar in the orchestra pit just feet away. Though the pair reportedly didn't interact, it'd be pretty interesting to be a fly on that wall.
Perhaps part of why Hiddleston and Swift don't have any beef (until her next record drops, anyway) is because he's already moved on. Witnesses told E! News that Hiddleston and co-presenter Priyanka Chopra were "openly flirting with each other" all night. Audience members may have spotted Hiddleston giving the Quantico star a cute twirl, and it didn't end when the cameras stopped rolling.
A source told E! News the action continued at the Governor's Ball. "Tom had his arm around her and held her close. Afterwards, Tom and Priyanka talked closely and were holding hands at one point for a few moments," the insider said. "Priyanka fixed Tom's bow-tie and then the two kissed on both cheeks." Witnesses also say the pair gave one another their phones to exchange numbers, then shared a long hug and several kisses on the cheek before finally parting ways at the end of the evening. "Priyanka and Tom said goodbye and she told him that she will see him later," a spy dished. "They left the event about a minute after each other."
That wasn't the first time the pair have hit it off. Sources told E! that Hiddleston and Chopra, 34, also got flirty during Emmy rehearsals.