The Sad Reason Dolly Parton Has Tattoos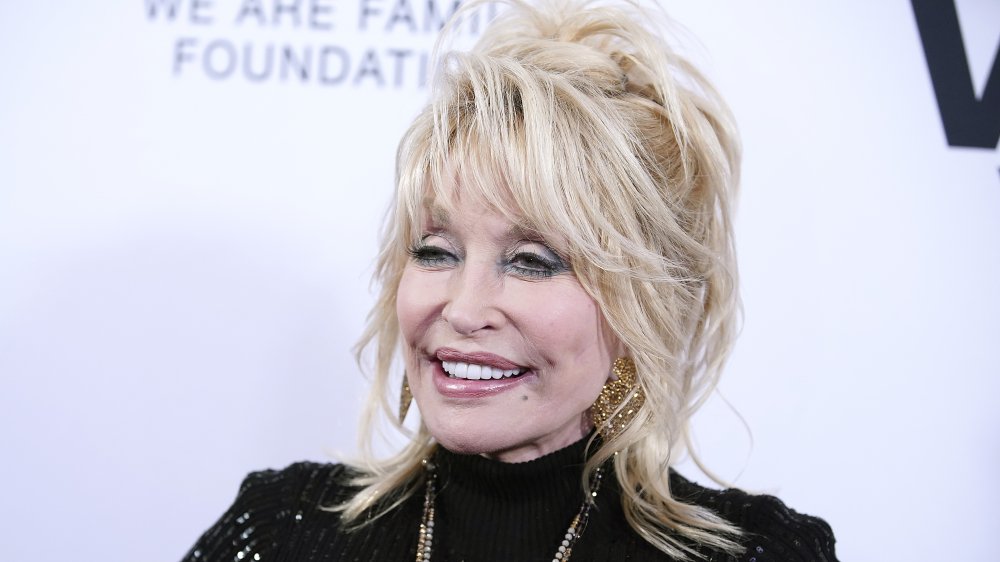 John Lamparski/Getty Images
Dolly Parton is an icon, not just within country music, but popular culture as a whole. Parton has written more than 3,000 songs and has starred in classic films like Steel Magnolias and 9 to 5. She also wrote the title song for the latter, as well as legendary tunes like "Jolene" and "Coat of Many Colors." Her song, "I Will Always Love You," topped the Billboard charts twice. The last time was when Whitney Houston covered the tune for The Bodyguard in 1992. Parton's fingerprints are everywhere in American culture, from music to social justice to fashion.
Keeping with her trademark wit and frankness, Parton has been pretty open about the fact that she's had plastic surgery."It takes a lot of money to look this cheap," she famously quipped (via Vanity Fair). While you can't miss many of Parton's famous features — big hair, big jewelry, big nails, big heels, big ... you get the idea — many fans have also speculated that she might also have a big collection of hidden tattoos. 
"I'm not a tattoo girl," the living legend told People in September 2020, but she did reveal that she has some "tasteful" ink. However, those tats are there for more than purely aesthetic reasons. There's a sad story behind her body art.
Dolly Parton wants to make 'positives out of negatives'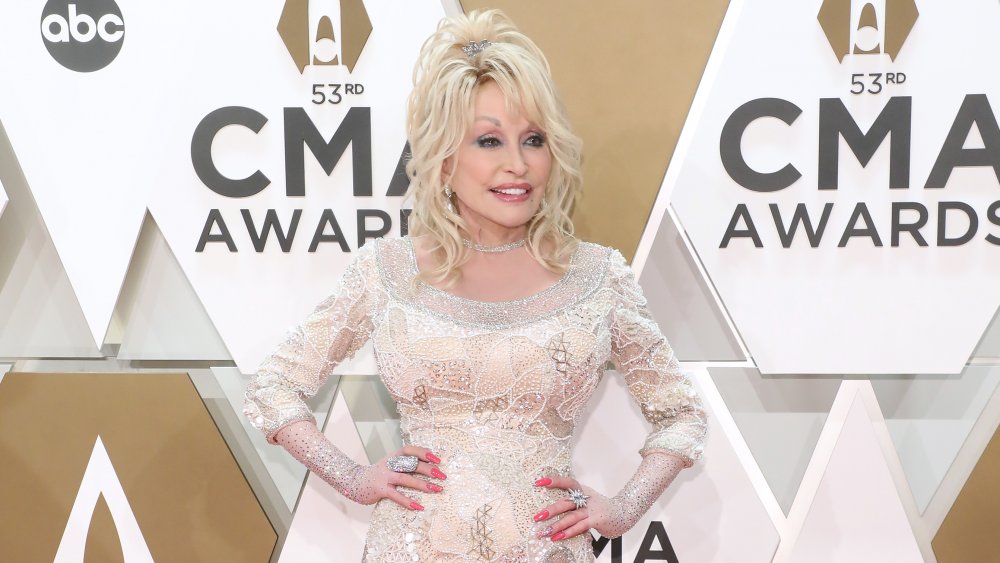 Taylor Hill/Getty Images
As a person regularly in the public eye, Dolly Parton is no stranger to rumors. The artist joked with People that every few years, she comes across stories about her being "bedridden" because, in her words, "my boobs are so heavy that I'm crippled for life on my back." Parton has made light of gossip like this. "Well, they are heavy, but they haven't crippled me yet," she quips. The rumor about her having tattoos? That one does ring true.
"My tattoos are pretty, they're artful and they usually started out to cover some scar, not to make a big statement," she told People. "Ribbons and bows and butterflies are the things that I have." Parton recalled a period when she "was very sick for a while" and had to use a feeding tube that left behind a scar. "It left a little indentation on my side and I didn't like it because I'm so fair that scars turn purple on me." Parton said her goal was to make "positives out of negatives," so she covered the remnants of her illness with a tattoo. That scar is now "a little yellow-and-brown beehive with a tiny little bee on top of the hive," she said. "The mouth of it is that little sinkhole."
When asked if she had some sort of tattoo designed specifically for her husband, Carl Dean, Parton fired back with her signature, smooth-talking wit. "No, he's tattooed on my heart." She added, "Who knows, I may get some more later. I may just have to get covered with tattoos just so everybody could be right!"