This Is Why Donald Trump Can't Stand Meghan Markle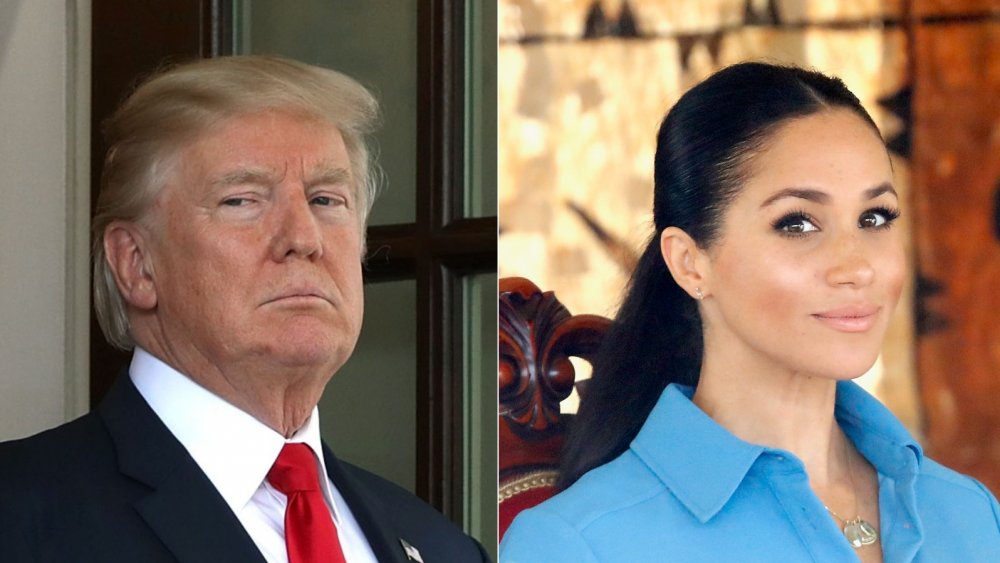 Chip Somodevilla, Chris Jackson/Getty Images
Like many prominent figures, Prince Harry and Meghan Markle are urging Americans to vote in the 2020 election. The Duke and Duchess of Sussex appeared on an ABC special for the TIME 100 (aka TIME's list of the world's 100 most influential people) on Sept. 22, 2020 and used their platform to speak about the presidential race. Meghan stressed that this was one of the most important elections in our lifetime, per TIME, while Harry urged future voters to "reject hate speech, misinformation, and online negativity." The couple didn't specifically endorse Democratic presidential candidate Joe Biden, but many viewers interpreted their conversation as siding with the former vice president, per People.
In light of this, journalists asked Donald Trump what he thought of Meghan and Harry's clip during a press briefing on Sept. 23, 2020, especially since audiences felt that the couple was aligning with Biden. Trump had some choice words, specifically targeting the Duchess of Sussex: "I'm not a fan of hers and I would say this, and she has probably heard this, I wish a lot of luck to Harry — because he's going to need it" (via People). Of course, this isn't the first time Trump has lashed out at Meghan. In fact, he seems to be developing a rather lengthy track record of vocal disdain for the former Suits actress. Keep reading to learn more about Trump's previous remarks.
Donald Trump's long history with Meghan Markle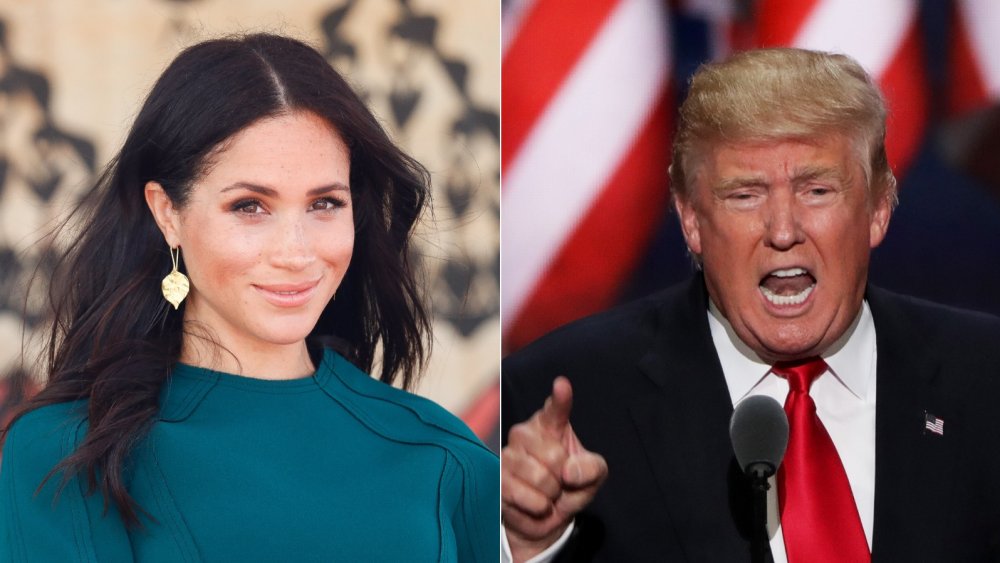 Chris Jackson, Alex Wong/Getty Images
After Meghan Markle and Prince Harry urged Americans to vote in the 2020 presidential election, Donald Trump said that he's "not a fan" of Meghan's during a press briefing and wished her husband Prince Harry "a lot of luck...because he's going to need it," per People. This isn't the first time the president has come after the Duchess of Sussex, however. On Jan. 10, 2020, after news broke that Meghan and Harry were stepping down as senior royals, Trump told Fox News that the situation was "sad" and added: "I don't want to get into the whole thing but I find it — I just have such respect for the Queen. I don't think this should be happening to her." Once Harry and Meghan moved to the United States, Trump took to Twitter on Mar. 29, 2020 to address their move: "[T]he U.S. will not pay for their security protection. They must pay!"
Back in 2016, when Trump was running for president against Hillary Clinton, Meghan told The Nightly Show with Larry Wilmore that Trump "has made it easy" for voters to see they don't want his worldview (via The Guardian). Upon hearing this, Trump called Meghan by what seems to be his favorite appellation for women who speak out against him, deeming her "nasty," according to The Sun. He did add, however, that she would be a good addition to the royal family, so there's that.