Brad Pitt Planning To Fight Angelina Jolie For Custody Of Six Kids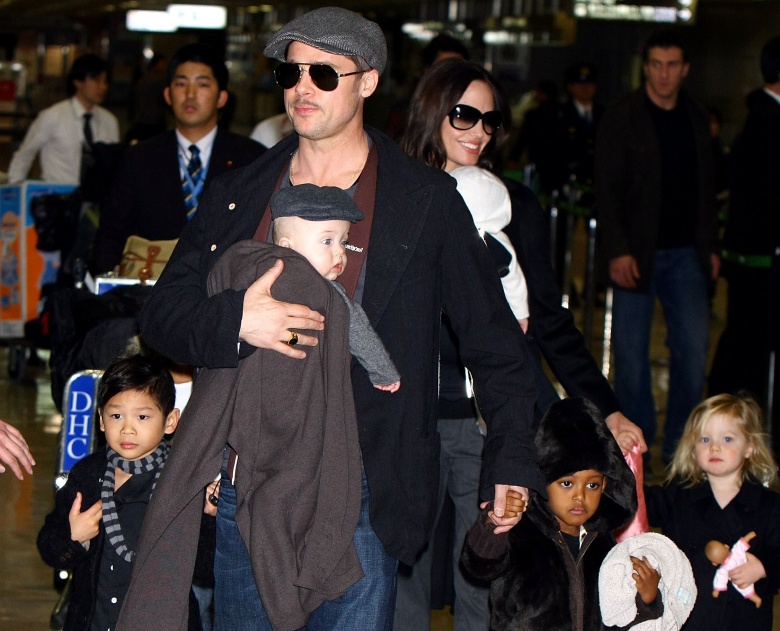 Getty Images
Brad Pitt is planning to fight Angelina Jolie for joint physical custody of their six children, sources for TMZ reported Sept. 21, 2016.
Jolie filed for divorce on Sept. 19, 2016, a little more than two years after the couple said "I do" in France. According to TMZ, she requested Pitt receive only joint legal custody of their children. TMZ adds that Jolie and Pitt's custody battle could become the "flash point" in their divorce and could lead to a "fierce legal battle." On the bright side: sources told TMZ that Pitt thinks Jolie is a "great mother" and does not want to interfere with her co-parenting. At this point, he simply "won't allow her to thwart him."
According to TMZ, sources claimed Jolie filed for divorce after she "became 'fed up' with Brad's consumption of weed and possibly alcohol, and mixed with what she believes is an 'anger problem,' felt it became dangerous for the children.'" The tab also reported the couple hadn't been getting along for months and had actually discussed getting divorced "several times."
Insiders claim Pitt is "devastated" over the matter and that he never once put his kids in danger. Sources for Us Weekly claimed Pitt was "blindsided" by Jolie's divorce filing and found out about it on Sept. 20, 2016. The source added that the family was actually scheduled to take a trip to London together on Sept. 23. That jaunt has been canceled. Shortly after their divorce went public, Pitt released an official statement to People magazine, saying, "I am very saddened by this, but what matters most now is the well-being of our kids. I kindly ask the press to give them the space they deserve during this challenging time."
Jolie also released a statement to Us Weekly through her rep: "Angelina Jolie Pitt has filed for dissolution of the marriage. This decision was made for the health of the family. She will not be commenting at this time, and asks that the family be given their privacy during this difficult time."
In addition to Jolie and Pitt's custody drama, there are rumors floating around that Jolie dumped Pitt after catching him having an affair with his Allied co-star Marion Cotillard. That gossip has been debunked by several reputable outlets, including TMZ, Us Weekly, and People. Sources for the Daily Mail added that Cotillard is "absolutely devastated" by the rumors that she was Pitt's mistress.
Jolie and Pitt have six children together—three biological and three adopted. They wed Aug. 23, 2014, at their family estate in France. The date of separation was listed on court documents as Sept. 15, 2016.