What You Should Know About Amy Coney Barrett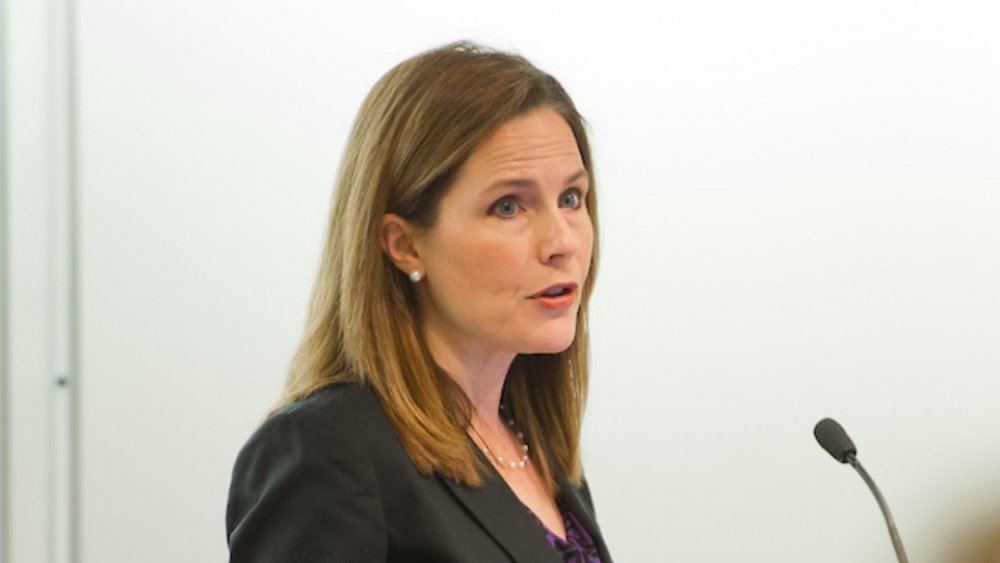 University of Notre Dame
After the death of Supreme Court Justice Ruth Bader Ginsburg, the nation swirled with two questions: who will replace her on the Supreme Court, and when? The New York Times reports that President Donald Trump officially nominated Amy Coney Barrett as the Supreme Court's new ninth justice on September 26, 2020.
Judge Barrett is a Roman Catholic mother of seven children, a Notre Dame law professor, and a federal appellate judge. Her conservative views and opposition to abortion have created controversy, along with questions about whether her religion could affect her decisions as a judge, The Washington Post reported.
President Trump nominated Barrett to the U.S. Court of Appeals in 2017; she was confirmed by the Senate in a 55-43 vote. The judge was also a finalist for Trump's second Supreme Court pick, which later went to Justice Brett Kavanaugh.
According to The Wall Street Journal, Barrett was seen as a "likely choice" for President Trump's new nomination because of her credentials as a conservative and his wish to nominate a woman. Senate Republicans, who hold the majority, plan to push the nomination through before the November 2020 presidential election. Here's what you need to know about Amy Coney Barrett.
She's a member of a strict religious group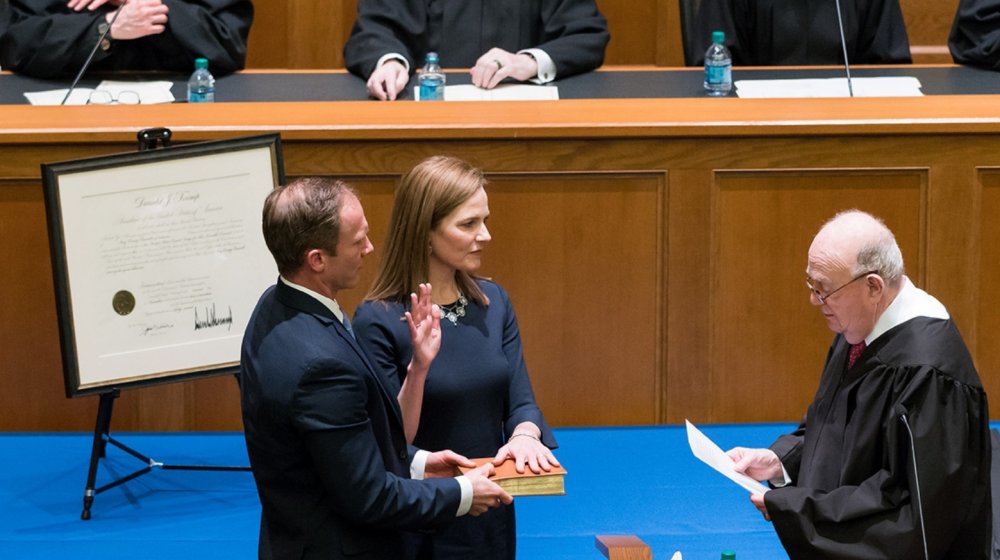 University of Notre Dame
According to The New York Times, Amy Coney Barrett is a member of the Catholic group People of Praise. Group members must swear a lifelong oath of loyalty to each other, and they believe that husbands are the heads of their wives and have authority over them. Also, each person is assigned a personal advisor called a "head" (for men) or "handmaid" (for women). The Times reports that "current and former members say that the heads and handmaids give direction on important decisions, including whom to date or marry, where to live, whether to take a job or buy a home and how to raise children."
Vox reports that the group's use of the word "handmaid" prompted Newsweek, Reuters, and other major news outlets to cite the People of Praise group as an inspiration for Margaret Atwood's The Handmaid's Tale. But, Vox points out, Atwood has given different statements about the book's inspiration. In past interviews, she has gone on record saying that the People of Hope, and not the People of Praise, inspired The Handmaid's Tale.
In President Donald Trump's nomination, he praised Judge Barrett's achievements, which include serving as a law clerk for the late Supreme Court Justice Antonin Scalia. Trump called her "one of our nation's most brilliant and gifted legal minds," per the Times.