The Truth About Billie Eilish's Fashion Sense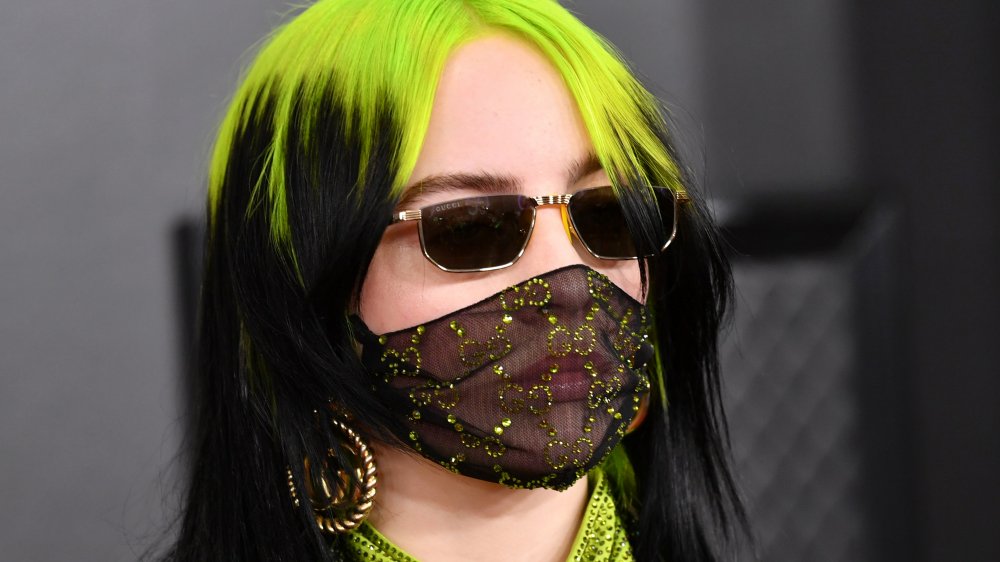 Amy Sussman/Getty Images
Billie Eilish's fashion statements on the red carpet and overall personal style have drawn a lot of attention from the media and her fans. However, her fashion choices don't turn heads because they're skimpy or revealing, which most stars — think Kim Kardashian at any past Met Gala — flaunt. Instead, it's actually the complete opposite. The pop star's signature baggy clothing totally hides her petite shape. From oversized tracksuits to smock-like shirts that swallow her body, Eilish's style essentially conveys the notion that, the more concealed, the better. She even rocked face masks before they became the new norm amid the coronavirus pandemic. 
So, why does this five-time Grammy award-winning artist choose clothing that covers her up in almost every setting? As it turns out, there's definitely a reason behind Eilish's unique fashion sense. In several recent interviews (via The Things), the Bad Guy artist opened up about why she chooses to hide her body from the public. Like many rising stars, Eilish has concerns about her body being over analyzed or sexualized by the public. Eilish doesn't want to be judged by her body size or shape, but instead, by her music and talent. As a result, Eilish chooses oversized clothing in order to maintain some semblance of privacy in her life.
Billie Eilish's baggy clothing rebels against celebrity sexualization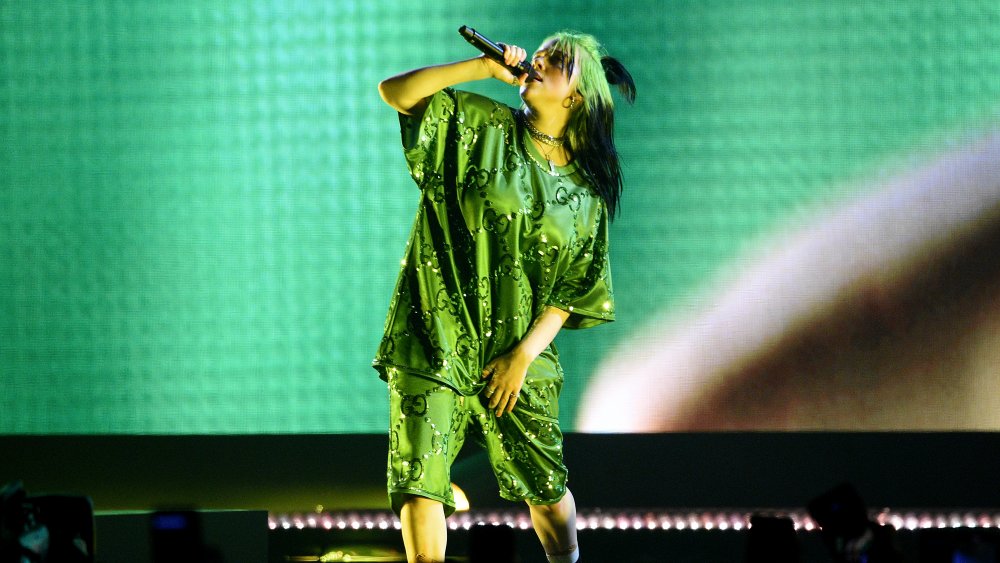 Kevin Mazur/Getty Images
In Calvin Klein's 2019 "I Speak My Truth In #MyCalvins" campaign, singer Billie Eilish elaborated on why she wears baggy clothing, stating, "Nobody can have an opinion because they haven't seen what's underneath, you know?" British GQ echoed that statement by reporting that Eilish revealed in an interview, "I get to see it and get to show it when I want to."
Even though Eilish's clothing keeps outsiders guessing what she really looks like, it unfortunately doesn't stop the artist from judging herself. Like anyone who's constantly in the spotlight and being compared to others, Eilish still finds herself self-conscious of her body. In an interview with Dazed, Eilish opened up about why she first hid her figure explaining, "The only reason I did it was 'cos I hated my body." 
Eilish has since developed a new appreciation for her body image and totally rocks her infamous look. Even major fashion brands, like Gucci, jump on the opportunity to dress the pop star in anything baggy and oversized. Eilish also isn't opposed to one day changing up her baggy style for something more revealing as she gets older. She told Elle that after she turns 18, "I'm gonna be a woman. I wanna show my body." So, as the young star ages, we can expect to see more unique fashion choices from the artist and we truly can't wait.