The Real Reason Anna Wintour Can't Stand Kim Kardashian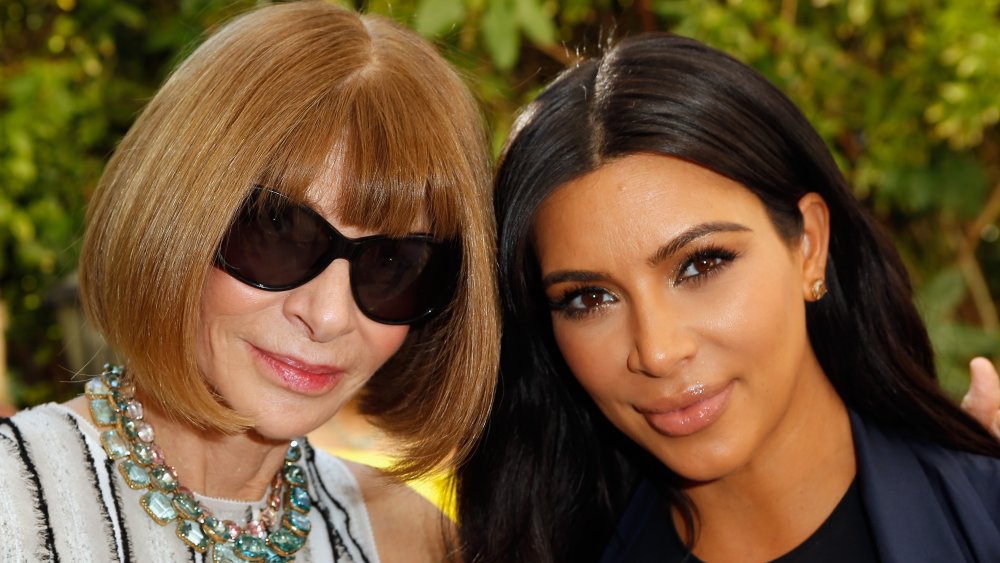 Jeff Vespa/Getty Images
Kimye made fashion history when infamous, no-nonsense editor-in-chief Anna Wintour opted to feature the couple on the cover of Vogue's April 2014 issue. Wintour took it one step further when she wrote a lengthy statement explaining why she chose to feature Kim Kardashian and Kanye West in the form of that month's editor's letter. Spoiler alert: It had nothing to do with them begging, okay?! 
According to Wintour, though it was rumored that West begged Wintour to put Kardashian on the cover, "[h]e did nothing of the sort." She also added (via US Weekly): "The gossip might make better reading, but the simple fact of the matter is that it isn't true."
As far as the cover went, Wintour described it as, "charming and touching." The longtime Vogue editor explained that when featuring people on the cover, the magazine strives to choose those "who define the culture at any given moment, who stir things up, whose presence in the world shapes the way it looks and influences the way we see it." It seems that, as far as she was concerned, Kardashian and West checked all those boxes. 
But since then, things have seemingly have cooled off between the Queen of Fashion and the power couple. Dare we say, the relationship may even be a bit ... icy? But what exactly went wrong? Keep reading to find out.
Anna Wintour was allegedly appalled by Kim Kardashian's phone etiquette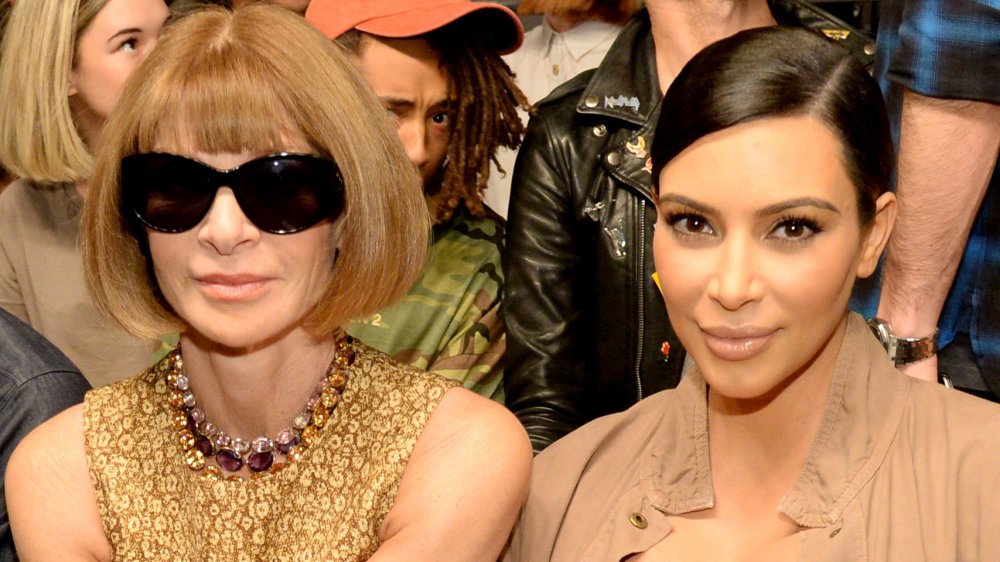 Kevin Mazur/Getty Images
Everybody knows that the Kim Kardashian's selfie game is strong and she's never been shy about busting it out — even on a fancy red carpet. Alas, rumor has it that Anna Wintour was none too pleased with Kardashian's behavior at the 2015 Met Gala when she whipped out her phone and took a selfie on the red carpet, per Radar Online. At the time Kardashian was pregnant with their second child, Saint.
In an effort to keep history from repeating itself, a source claims that Wintour sent out "a very specific letter" to Kardashian and her hubby ahead of the 2016 Met Gala, warning them that "she [did] not want to see either of their phones out at all." YIKES. The source also told the outlet that Wintour "was so p***ed off ... when Kim took selfies on the carpet." The insider added that there would be "hell to pay" if Kardashian defied the editor-in-chief's wishes yet again. Whew! Those sound like fighting words.
Anna Wintour got lost at Kanye West's fashion show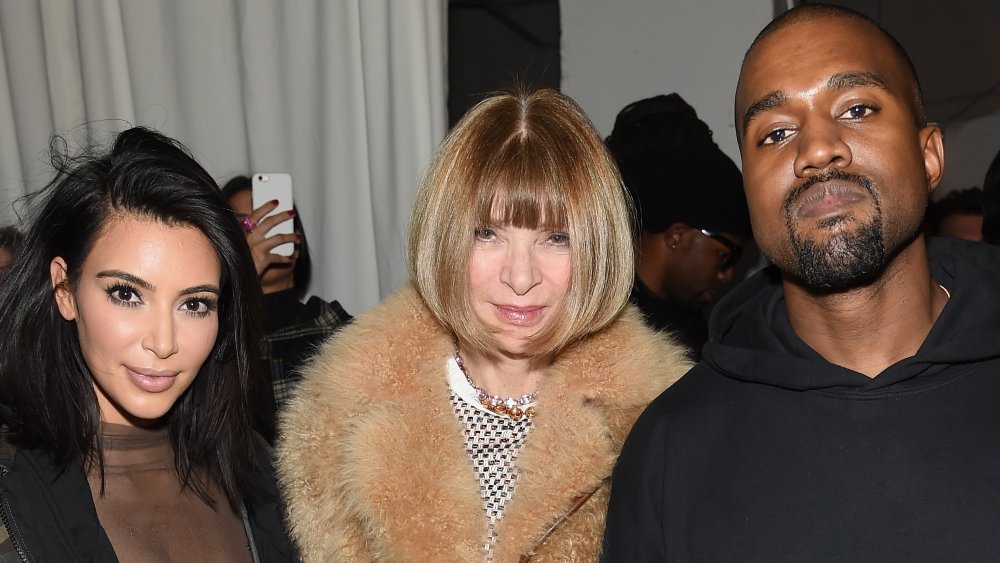 Dimitrios Kambouris/Getty Images
After the Met Gala selfie stunt, things only went from bad to worse for the throuple. According to Radar Online, Anna Wintour wasn't thrilled after attending Kanye West's runway show at Madison Square Garden in 2016. During an interview on Late Night With Seth Meyers the same year, the famed fashion editor took the opportunity to air out her grievances. 
According to Wintour, she arrived early to the event and found herself waiting alone for the Kardashian clan to arrive. 45 minutes into the show, she noticed others sneaking out (ahem, Jay-Z), so she decided to follow suit. Unfortunately, she wound up lost, circling the basement of Madison Square Garden. "I was lost there for half an hour, asking various people to let me out," Wintour revealed before adding that the debacle had her "in tears." Luckily, a good samaritan security guard eventually came to the rescue and showed the illustrious editor out.
So is the friendship really dunzo? While stranger things have happened, it doesn't appear that Wintour and Kardashian will be rubbing elbows again anytime soon. But, who knows? Maybe Kimye can charm their way onto another Vogue cover after all.