How Jennifer Aniston Reacted To Brangelina's Divorce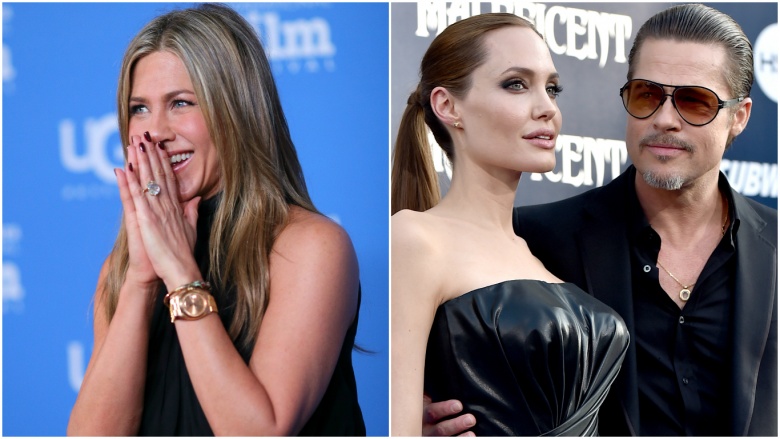 Getty Images
Jennifer Aniston isn't exactly gleeful about Brad Pitt and Angelina Jolie's divorce, but she's not exactly crying over it, either.
A source told Us Weekly that when she heard the news, Aniston said, "Yeah, that's karma for you!" The source added, "She always got the sense that something would happen with them eventually. She didn't feel that Angelina was truly the one who Brad was meant to stay with. She always felt that Angelina was too complex for him. He's a pretty simple guy." Still, the insider noted that the Friends star truly believed that Pitt loved Jolie.
Another Aniston insider told Page Six, "Jennifer always knew that this day would come. Everyone in Jennifer's inner circle regards Angelina as a crazy master manipulator, but we all presumed the end of their affair would be Angelina leaving Brad for someone else." The source added, "Jen still cares about Brad and wishes him well. She has moved on and is really happy with Justin Theroux." That source added, "She's probably having a margarita with Courteney Cox right now."
Someone who's definitely celebrating? Aniston's pal Chelsea Handler, who offered up the following commentary in a preview for her Netflix talkshow, Chelsea: "Brad and Angelina always said they wouldn't get married until everyone could get married. And I always said I wouldn't get married until they got divorced, so I'm officially accepting proposals. I'm ready."
Handler continued, "There are rumors that part of the problem was that Brad was allegedly drinking and smoking too much weed. I wonder why he would need to self medicate? Maybe because he could have been spending the last 12 years at Lake Como hanging out with George Clooney and Matt Damon instead of being stuck in a house with 85 kids speaking 15 different languages. Oh yeah, because he married a f**king lunatic, that's why."
"But we should all respect their privacy during this very difficult time," Handler added snidely. "So this will be the last time I speak of this on TV. You can follow me on Twitter."