Shiloh Jolie-Pitt Is Growing Up Fast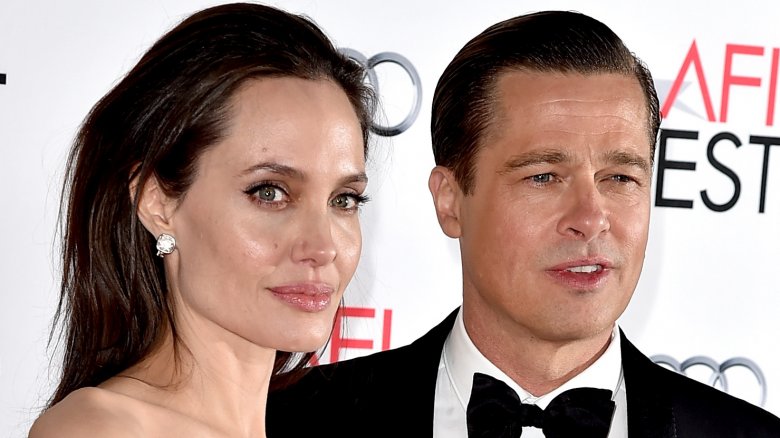 Kevin Winter/Getty Images
She's Angelina Jolie and Brad Pitt's first biological child, yet Shiloh Jolie-Pitt already had two siblings when she was welcomed into the world in 2006. Her superstar mother had legally adopted son Maddox (born in Cambodia) and daughter Zahara (a native of Ethiopia) by the time Shiloh was conceived. Just one year after Shiloh was born she got a second older brother, with Vietnamese orphan Pax joining the family. The powerhouse that was Brangelina produced two more biological kids (twins Vivienne and Knox) before it came to a grinding halt in 2016. Interest in the Jolie-Pitt children has spiked since the two A-listers announced they were separating, though Shiloh was generating headlines long before her folks decided to split.
Maybe it's because she was the first child to share Jolie and Pitt's enviable genes, or perhaps it's her bold, unorthodox fashion sense. Whatever the reason, Shiloh has become the most enigmatic of the Brangelina brood in the eyes of the public, and the older she gets, the more she seems to stand out from the crowd. It feels like only yesterday that the tabloids were locked in a multi-million dollar bidding war over the right to publish her baby pictures, but this celebrity scion is sprouting up super fast.
Shiloh made a high-profile debut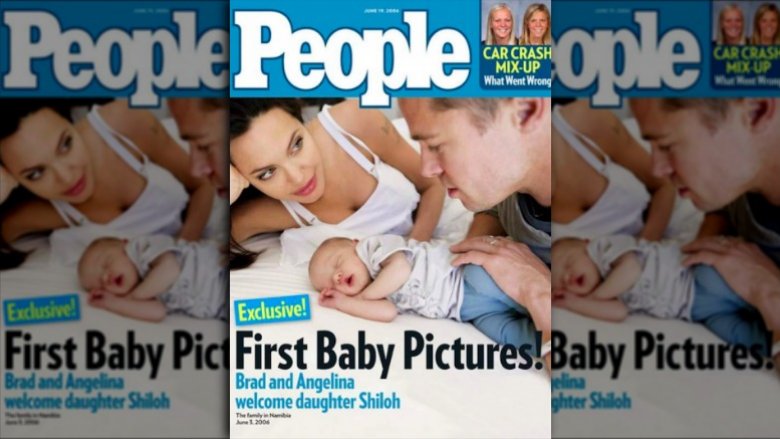 People magazine
Shiloh made a very high-profile debut in June 2006 when the first official photos of her were splashed across the pages of People magazine and the London-based Hello!. According to The New York Times, People reportedly paid a record-setting $4.1 million for the photos. However, the magazine has disputed this. The money from the sale was said to be donated to charity.
Shiloh was born in Africa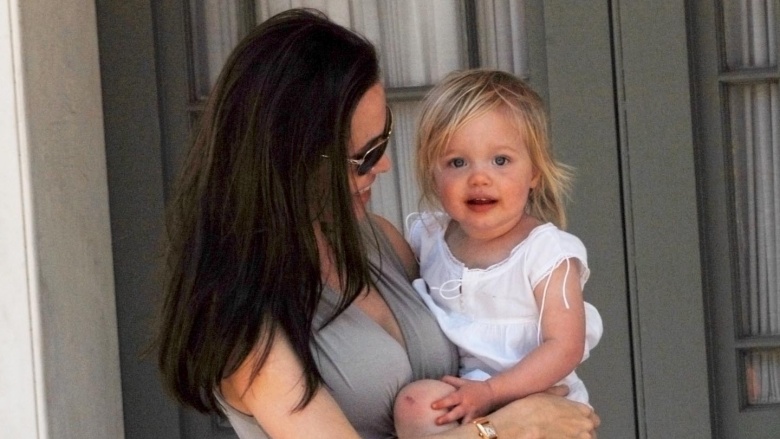 Drummond-Young/Splash News
Shiloh was born on May 27, 2006, in Namibia, where her parents had flown to avoid the paparazzi, according to the Associated Press. While Angelina Jolie and Brad Pitt were there, Namibia reportedly "put tight security around their hotel and the hospital, set up large green barriers to protect their privacy from photographers and refused to grant visas to any foreign journalists unless they had written permission from Jolie and Pitt to cover the birth." Police also "arrested photographers and confiscated film."
"Angie and baby are fantastic," a source told People magazine after Jolie had given birth. "Brad was at her side during the birth." The report added that Shiloh was born at The Cottage Hospital in Swakopmund.
Shiloh's birth was an eye-opening experience for Jolie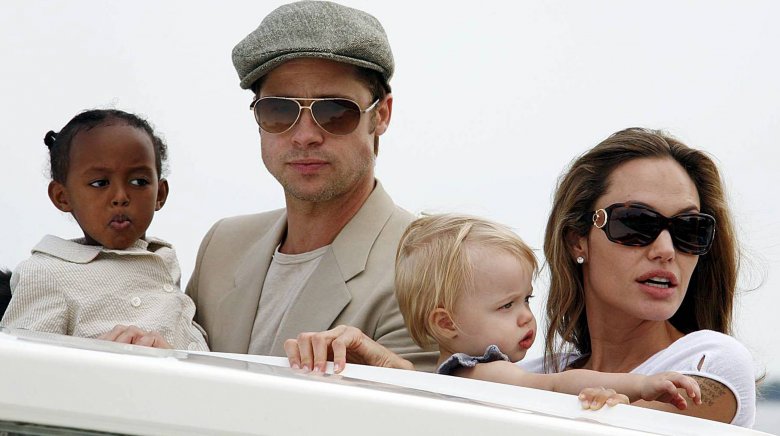 BACKGRID
Speaking to BB4 Radio's Women's Hour in January 2016, Angelina Jolie touched upon her experience of giving birth in Nambia, and how it inspired her humanitarian efforts throughout the world. "I went to a hospital in Namibia, where I was having my daughter, and I was in breech," she said. "I needed a C-section, and I knew I was in breech because I had had the money to have an ultrasound. But I found even the local hospital with many, many people, many women—and this was a good hospital—did not have an ultrasound machine."
Jolie said "one simple machine" could have greatly reduced "the amount of women that didn't know they were in breech, the amount of babies and complications when they got into labor. She added, "But I know there are many extraordinary people who are working on this and women's health around the world, and many groups dedicated solely to that, and their work is so needed and these solutions can come."
Shiloh reminds Jolie of herself as a kid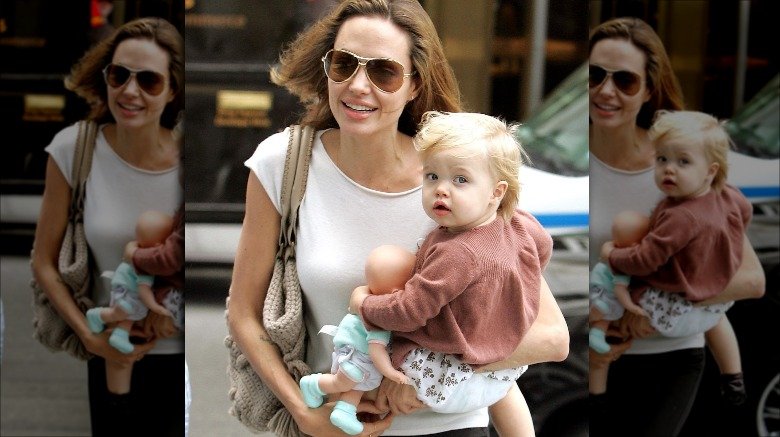 BACKGRID
In an interview with Vanity Fair, Jolie doted over her daughter. "Shiloh's hysterically funny, one of the goofiest, most playful people you'll ever meet," she said. Jolie noted that she was a lot like Shiloh when she was a little kid. "Goofy and verbal, the early signs of a performer," Jolie said. "I used to get dressed up in costumes and jump around."
"But at some point, I got closed off, darker," Jolie added. "I don't remember anything happening. I think you just get hit with the realities of certain things in life, think too much, start to realize the world isn't as you wished it would be, so you deepen. Then, as I had kids and got older—being goofy, lighter—it all came back."
From a very early age, Shiloh wanted to be called 'John'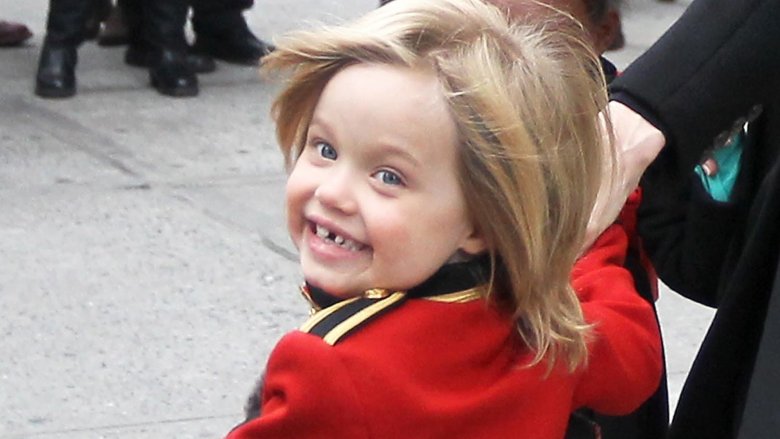 BACKGRID
While promoting The Curious Case of Benjamin Button in 2008, Pitt made headlines when he revealed to Oprah Winfrey that Shiloh, then just two and a half, preferred to be called by a boy's name. "She only wants to be called John. John or Peter. So it's a Peter Pan thing," Pitt revealed (via People magazine). "So we've got to call her John. 'Shi, do you want ...'—'John. I'm John.' And then I'll say, 'John, would you like some orange juice?' And she goes, 'No!' So, you know, it's just that kind of stuff that's cute to parents, and it's probably really obnoxious to other people."
She wants to be a boy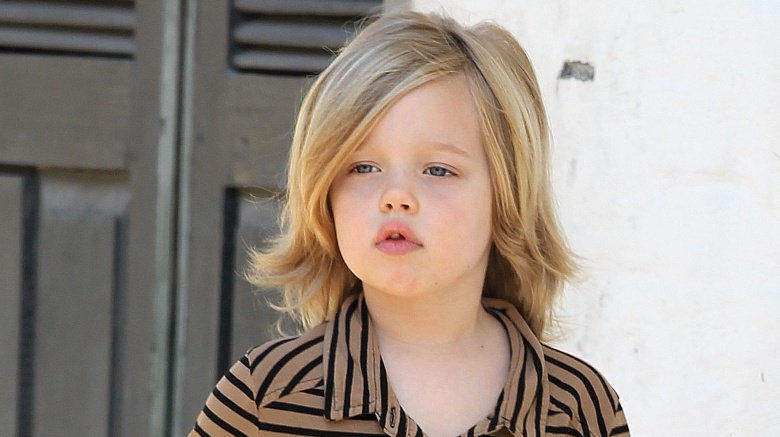 StClaire/Massie/Splash News
Angelina Jolie elaborated on Pitt's revelation in a 2010 interview with Vanity Fair. "Shiloh, we feel, has Montenegro style," Jolie said (via Us Weekly). "It's how people dress there. She likes tracksuits, she likes suits. She likes to dress like a boy. She wants to be a boy. So we had to cut her hair. She likes to wear boys' everything. She thinks she's one of the brothers."
A few years later, Shiloh made headlines of her own when she attended the premiere of Jolie's movie, Unbroken, wearing a suit and tie. In a subsequent interview on the Today show (via E! News), Jolie was nothing but supportive of her daughter's fashion choices. When Al Roker mentioned Shiloh's suit, Jolie added, "And she had [Louis Zamperini]'s shoe on, that he won in 1940. He will forever be that inspiration to us all."
Shiloh turned down the chance to be in Maleficent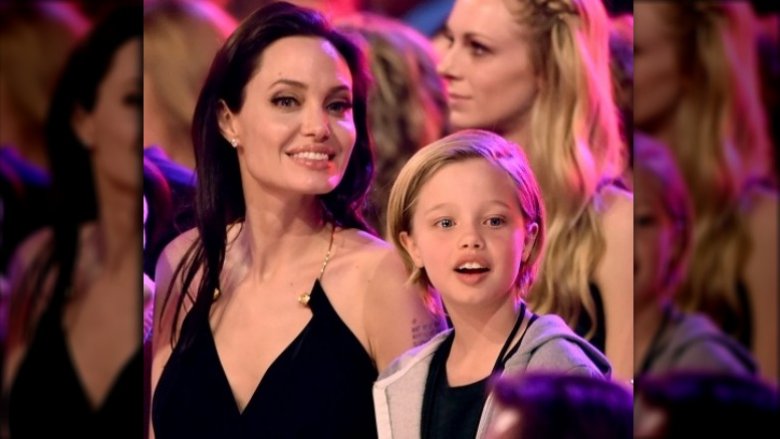 Getty Images
Three of Jolie's children—Vivienne, Zahara and Pax—appeared in small roles in Disney's live-action Maleficent in 2014. That number could have been four, according to an interview Jolie gave to The Hot Hits. "We joked about Shiloh being the older Aurora, and she thought it was the most ridiculous thing in the world," Jolie revealed. "She would never even wear a dress. She would never, ever."
"She wants to be somebody named Marcus," Jolie continued. "I said, 'Do you...have any interest [in playing Aurora]? And she said, 'No, I'll be Marcus.' And I said, 'Who is Marcus?' She said, 'Marcus has horns and a bow and arrow.' So, I don't know who Marcus is, but in her mind, there's a whole other character named Marcus.'"
Shiloh is just like any other kid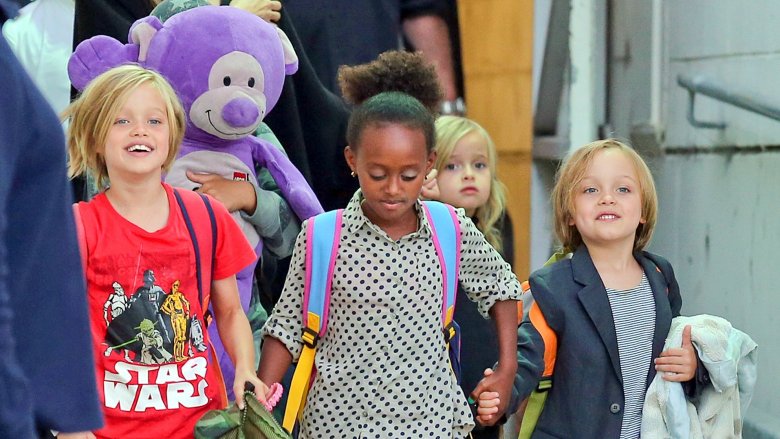 BACKGRID
Sure, Shiloh's 10th birthday in May 2016 was celebrated with articles dedicated to her cutest moments and style evolution, but at the end of the day, she's just another typical kid. Case in point: in August 2016, TMZ caught Shiloh and her mother buying an eight-foot teddy bear from two adorable twins on the side of the road in Toluca Lake, Calif. Not only did the famous duo help the kids put the bear into Jolie's trunk, Jolie also doubled the price of the bear and paid each twin $50.
Which just goes to show you: no matter how much Shiloh grows up, she'll always be a kid at heart.
Shiloh has made friends with Millie Bobby Brown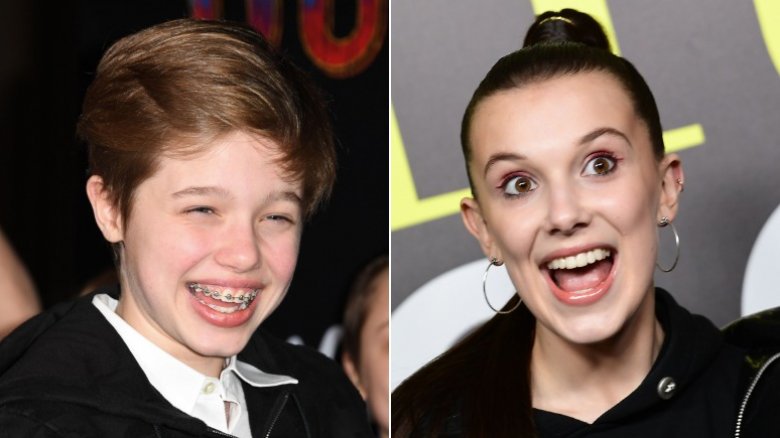 Getty Images
British actress Millie Bobby Brown has her fair share of celebrity admirers in Hollywood, but only a few of them are near enough to her in age to be considered friends in the traditional sense. The Stranger Things star is said to be pretty close to Dance Moms alumni Maddie Ziegler and America's Got Talent winner Grace VanderWaal, but it looks as though her budding girl squad may have been bolstered by two more famous tweens. In February 2019, The Blast revealed that Brown had been hanging out with Shiloh and her sister Zahara, and it had the pictures to prove it. "The trio was out past 11PM after enjoying a quick meal," the outlet confirmed. 
Brown's mother, Kelly, chaperoned the meet-up. There was no sign of Jolie or Pitt as the kids left the restaurant late, but the World War Z star is said to be conflicted about the whole thing. According to Hollywood Life sources, "Shiloh and Zahara's night out with Millie Bobby Brown brought up mixed emotions for Brad." The source went on to say that while Brad is "happy that they're making friends and having fun," and that he "accepts that they're both building their social lives and finding their independence ... he's also a very protective dad so it is hard for him to see his babies growing up."
Shiloh's already taking after her mother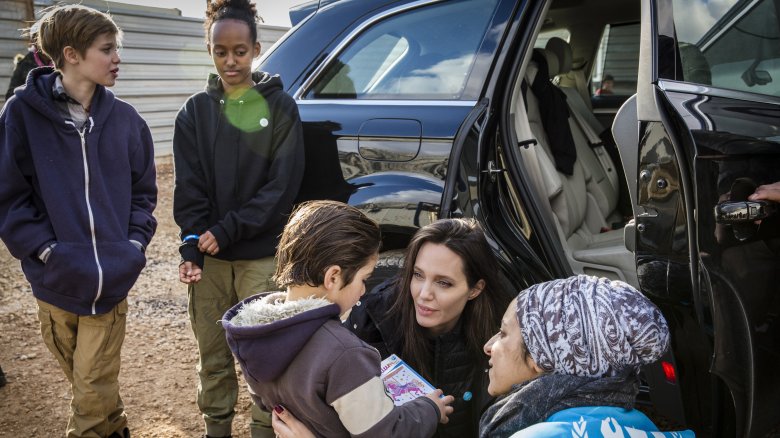 Handout/Getty Images
In 2015, Shiloh accompanied Jolie on a humanitarian trip to Lebanon and Turkey. While in Lebanon, they spent time with a 12-year-old Syrian girl named Hala, whom Jolie had met a year prior, according to People magazine. "Shiloh is very aware that I hold refugee families in high regard and has been asking to come on missions and meet them for many years," Jolie told People. "She had heard about Hala since my last visit to Lebanon, and has been wanting to meet her and her brothers and sisters."
"It was wonderful that they were able to meet, play together, and make friends," Jolie continued. "So many refugees are children. I've often heard them say that the most painful thing is not that they have lost their homes—it is that they have lost their friends...Upon leaving the family, Shiloh asked many questions. It is of course hard to explain all of the harsh realities of war and displacement. She said she felt sad, but was happy that she went and is looking forward to the next visit." Ummm, Shiloh for president?
Shiloh's looking more like her dad every day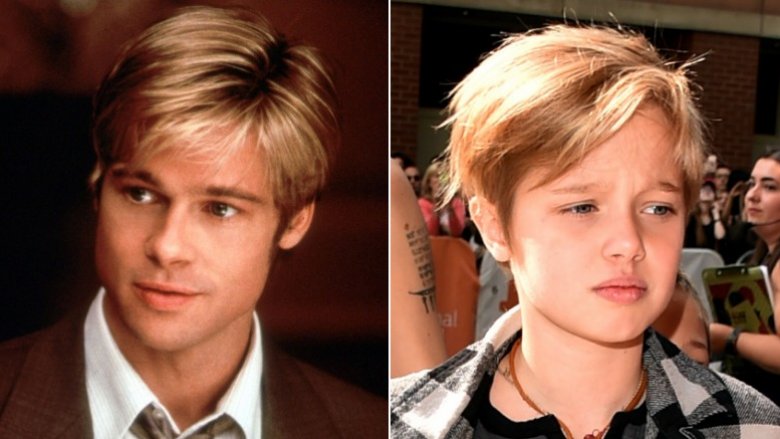 Getty Images
She might take after her mother in terms of philanthropy, but when it comes to looks, Shiloh is very much her father's daughter. "[Shiloh] looks like Brad. It's funny because she's almost going to be the outcast in the family because she's blonde and blue-eyed," Jolie allegedly told Look magazine (via the Daily Mail) in 2007. Although there's been some internet controversy over whether the quote is real, Jolie would have said it before she welcomed Vivienne and Knox into the fold, so Shiloh is no longer the outcast in that sense. But while the twins do have a Pitt-look about them (Knox has even been spotted wearing Pitt's signature flat cap), it's Shiloh who is turning into their dad's double.
When Jolie and her four youngest kids attended the premiere of Disney's Dumbo in March 2019, Shiloh drew immediate comparisons to Brad Pitt. "Many noticed that Shiloh looked like the spitting image of her father, Pitt," IBT reported. Shiloh has actually been popping up at movie premieres with increasing regularity, as of this writing, and each time she seems to resemble her dad all-the-more. Just a month before she walked the red carpet for Dumbo, Shiloh and her siblings were seen at a screening of The Boy Who Harnessed the Wind, and in 2018 she amazed people with her Pitt-ness at the Toronto premiere of The Breadwinner. "Her haircut is definitely giving us late-90s Brad Pitt vibes," said pop culture commentator April Lavalle.