The Truth About Shannen Doherty And Sarah Michelle Gellar's Friendship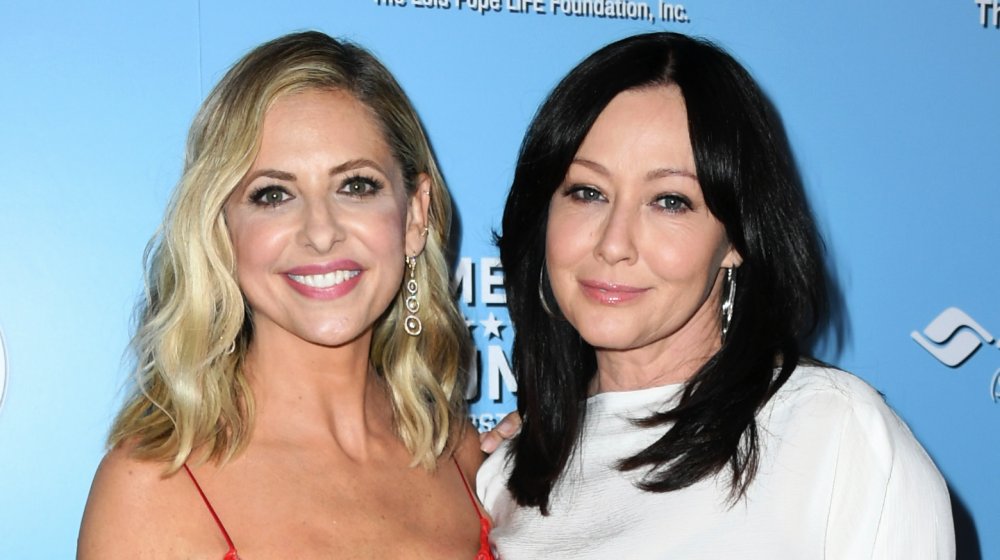 Jon Kopaloff/Getty Images
Shannen Doherty, star of Beverly Hills: 90210, is fighting stage IV breast cancer, after confirming in February 2020 that her cancer came back, according to Us Weekly. Not only that, but in 2018, Doherty's California home suffered damages due to a fire, according to Elle. As a result, Doherty and her husband, photographer Kurt Iswarienko, are renting a home in Venice, Calif.
With so many setbacks surrounding Doherty, it's almost strange to remember her 90210 character, Brenda Walsh, and the reputation that grew around Doherty herself in the '90s. As Elle pointed out, she was frequently vilified by the media for being "difficult to work with" or someone who was "out of control."
Doherty had a difficult time dealing with this unfair narrative in the media and told Elle in September 2020: "The more stories that were written about me, the more defensive and closed off I became. And the bigger the walls I built around me. I had a lot of resentment." Fair enough! With this intense journey, one that has changed but hasn't stopped for Doherty, there's one friend who has been by her side and remains extremely close: Sarah Michelle Gellar.
Sarah Michelle Gellar knows the 'real' Shannen Doherty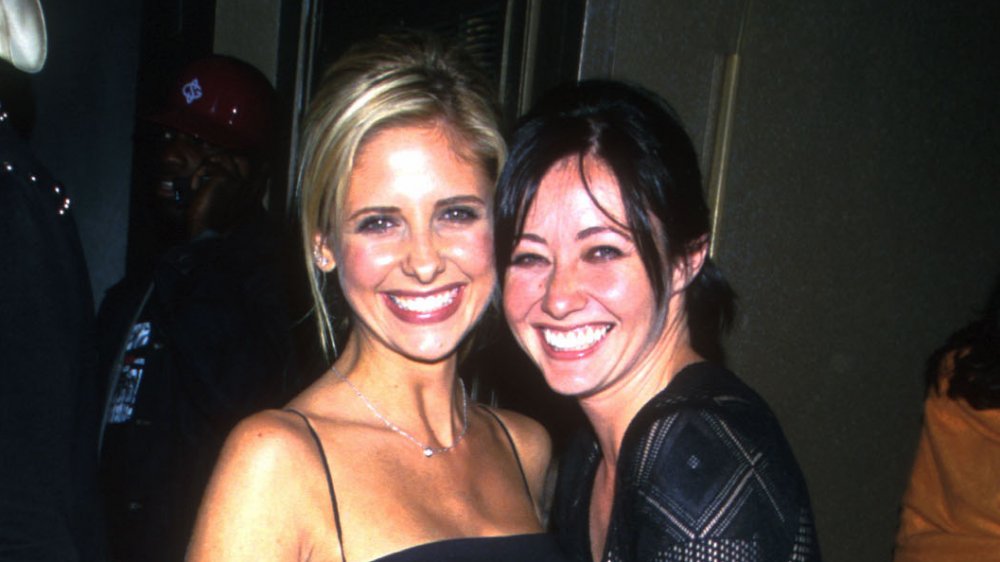 Diane Freed/Getty Images
Sarah Michelle Gellar and Shannen Doherty have been friends since the 1990s, meeting through their Warner Brothers TV shows, according to Us Weekly. (Buffy the Vampire Slayer and Charmed, respectively.) Doherty was even spotted in 2019 at a Malibu carnival with Gellar's daughter, according to Elle, so it's clear the two are very close.
Gellar had nothing but positive things to say about Doherty in a February 2020 interview with Us Weekly, especially in light of Doherty's cancer diagnosis. "I think people have to remember that life is tough, but Shannen's a lot tougher," Gellar said. "Cancer is not something that defines her. It's an experience that's certainly changed her — and changed all of us... I think that it's made the world see the side of Shannen that I've always known."
A September 2020 profile from Elle describes how Doherty had a dinner that included only those most meaningful to her: "The guest list for the dinner included only people Doherty trusted: her husband and the friends who knew the real Shannen—not the 1990s tabloid caricature, the loudmouthed bad girl with a temper. Actress Sarah Michelle Gellar was there."
The true side, arguably the softer side, of Doherty is something Gellar spoke about with Us Weekly: "She's a tough chick on the outside, but she's not necessarily on the inside." Clearly Gellar and Doherty know the outer shells, but also the inner selves of each other — something that's significant for a lifelong friendship.