Sacha Baron Cohen's Presidential Debate Tweet Has People Cracking Up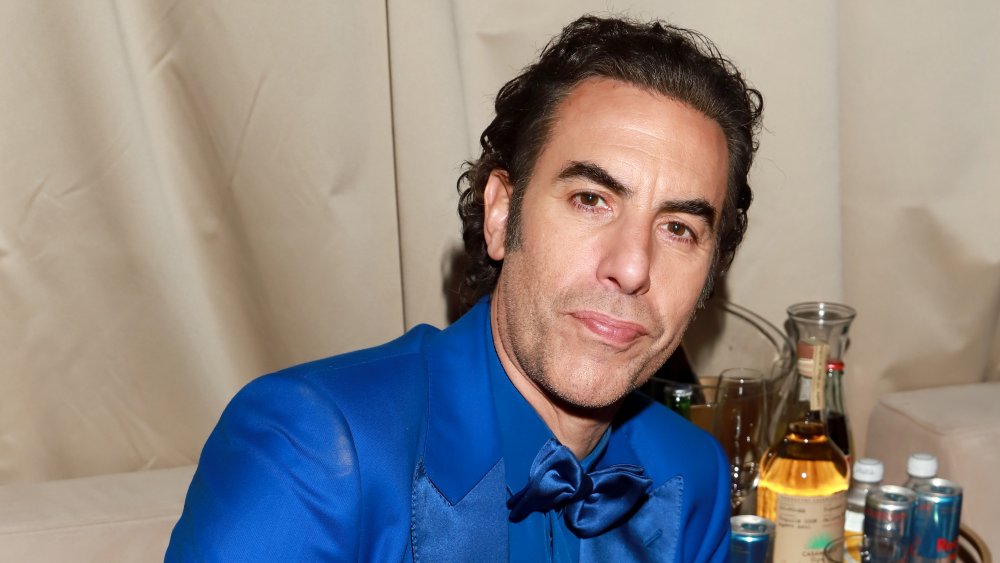 Arnold Turner/Getty Images
While many took to Twitter to share their reactions to the first presidential debate of the election on September 29, 2020, it looks like Sacha Baron Cohen's response might be the one to take the cake. The actor and comedian best known for his absurdist characters and political commentary took to social media after the debate to declare a winner once and for all under the guise of a Twitter account for the country of Kazakhstan, which Cohen's arguably most famous persona, Borat, calls home.
As Page Six noted, the tweet in question joyfully declared that Republican incumbent President Donald Trump, not Democratic challenger Joe Biden, was the winner of the first debate. "Congratulation to great friend of the Kazakh people @realDonaldTrump for winning debate today! Impressive and amazing result for a strong premier who always put America and Kazakhstan first!" read Cohen-as-Kazakhstan's tweet. 
The post also included a hilarious tongue-in-cheek video endorsement, which featured Borat proclaiming Trump as, among other things, not racist, a "protector of women," and a war hero. He also opined that Biden wears a protective facial mask, not to ward off contagions for the coronavirus, but because of bad breath.
While Sacha Baron Cohen's satirical endorsement might have had viewers in stitches, there's another reason why the famous comedy legend decided to take his beloved Borat character out of the vault.
Sacha Baron Cohen's tweet also promoted his upcoming project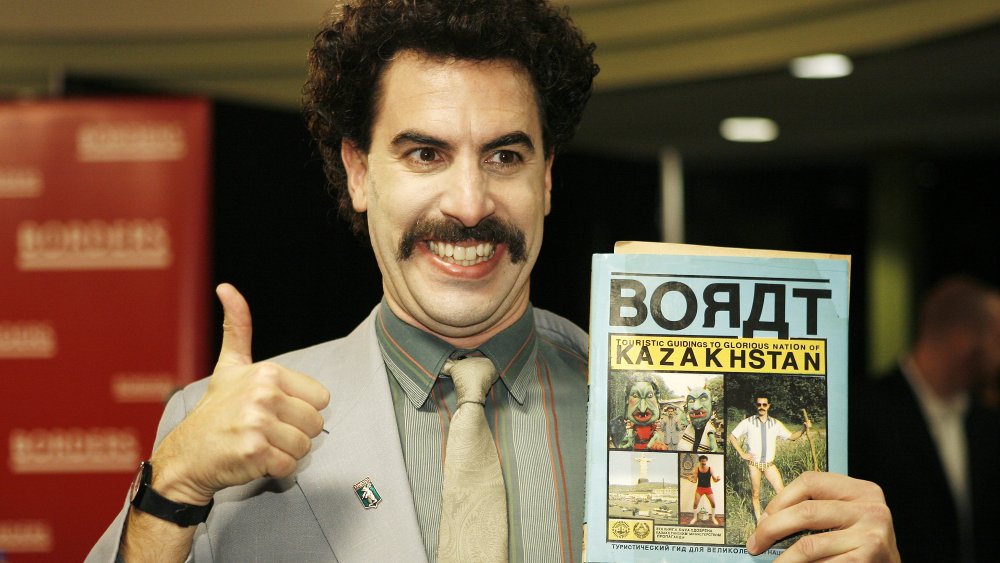 Vince Bucci/Getty Images
The timing of Sacha Baron Cohen's reemergence as Borat for his hilarious post-presidential debate tweet on September 29, 2020 isn't exactly a coincidence. As The Verge noted, the debate aired on the same day that Amazon announced it had officially acquired the distribution rights for the sequel to Cohen's 2006 cult classic Borat. Cohen's highly-anticipated sequel, fully titled Borat: Gift of Pornographic Monkey to Vice Premiere Mikhael Pence to Make Benefit Recently Diminished Nation of Kazakhstan, is set to air on Amazon Prime Video in October 2020.
Little is known about Cohen's Borat follow-up aside from its title, per The Verge. Many have presumed that it will follow the same format as the 2006 film, which followed the exploits of its titular character during his first trip to the U.S. and was rife with both social and political commentary about American culture. Given the film's full title and the time in which the Borat sequel was filmed – Page Six pointed out that it was the first movie filmed during the coronavirus shutdown – the movie is likely to focus on America's cultural climate in the midst of Donald Trump's presidency, which may include the heavy influence of the coronavirus pandemic.