The Real Reason Tom Sandoval Didn't Go To Jax Taylor's Gender Reveal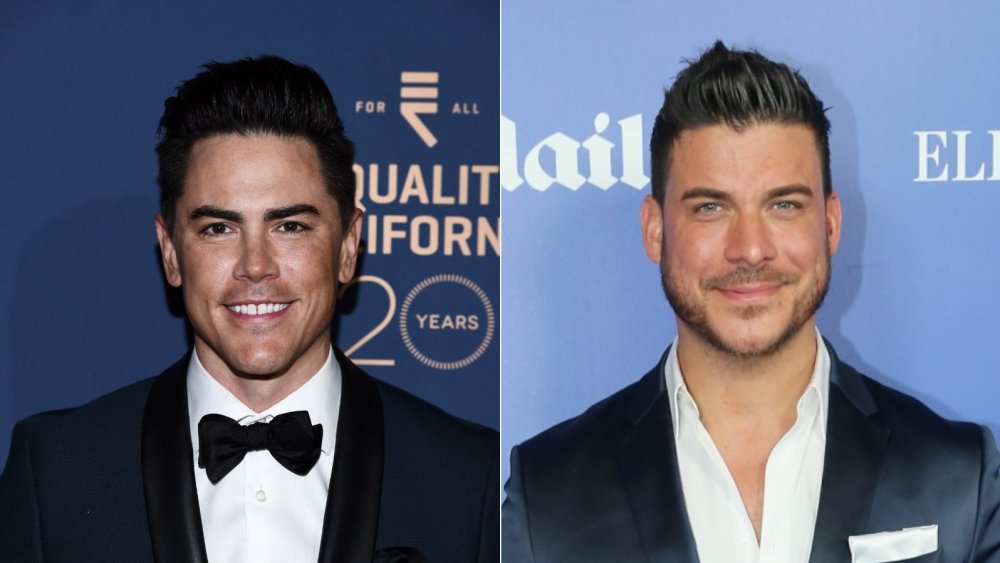 Amanda Edwards, Rob Kim/Getty Images
In September 2020, Jax Taylor and Brittany Cartwright became the latest Vanderpump Rules duo to announce their pregnancy via social media. The couple shared photos on their respective Instagrams celebrating the news. "Mom & Dad. The love of our lives is coming soon," Brittany said. "Sooooo,........I am gonna be Dad," Jax wrote.
Castmates popped off in the comments offering their congratulations. "Congrats! You're gonna be an amazing Dad!" said James Kennedy. "The happiest time ever," added Lala Kent, who is also expecting a child with fiancé Randall Emmett.
Several weeks later, Jax and Brittany hosted a gender reveal party for friends and family. Chief among the guests were current and former Vanderpump castmates, who gathered round to celebrate Jax and Brittany's baby boy.
Conspicuously absent from the celebration, though, was Jax's onetime roommate and current best frenemy, Tom Sandoval. The most recent season of Vanderpump Rules focused heavily on their falling out. At one point, Jax even uninvited Tom from his wedding, but by the time the reunion rolled around, they seemed to be on okay-ish terms. So where was Tom, and why would he miss such an important life event?
Tom Sandoval and Jax Taylor have beef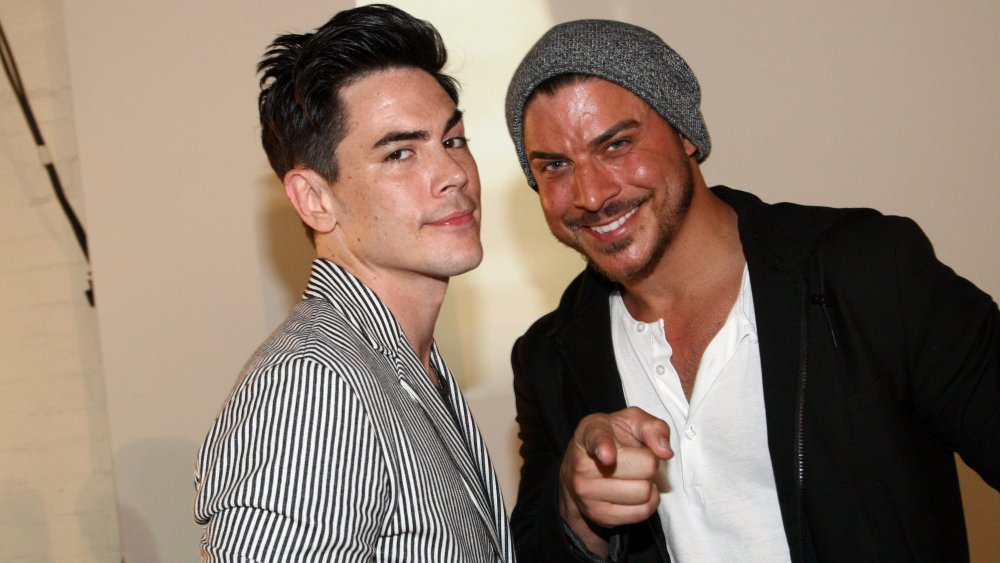 Tommaso Boddi/Getty Images
Due to all the drama surrounding Tom Sandoval and Jax Taylor's friendship in season 10 of Vanderpump Rules, fans were disappointed when Tom didn't make an appearance at Jax and Brittany's gender reveal party (or Lala Kent's for that matter).
Fans wanted to know why. After all, Tom and Jax have been friends for nearly 20 years. It turns out the reason Tom and partner Ariana Madix weren't at the party was pretty simple. They just plain weren't invited. "We have not been, nor would we expect to be invited to any of those things," Ariana told a fan via Twitter, per Us Weekly.
Tom and Ariana didn't break a sweat, though. If anything, it seems they couldn't care less that they missed the party. The day before Jax and Brittany's bash, Ariana posted a hilarious — albeit shady — Instagram story poking fun at the couple. In the since-deleted story, Ariana posted a quick selfie in front of a mirror, wearing pajama pants and a bra as she cradled her very extended stomach. "Not pregnant just bloated and starved for attention," she said.
When fans called her out, she insisted the whole thing was a joke and wasn't aimed at anyone in particular. "I guess I got that attention I was desperate for anyway. BTW it's a bean and cheese burrito and Del Taco is the father," she said over Instagram (via Us Weekly). Jax and Brittany have yet to offer their congratulations.