The Truth About Mickey Rourke's Plastic Surgery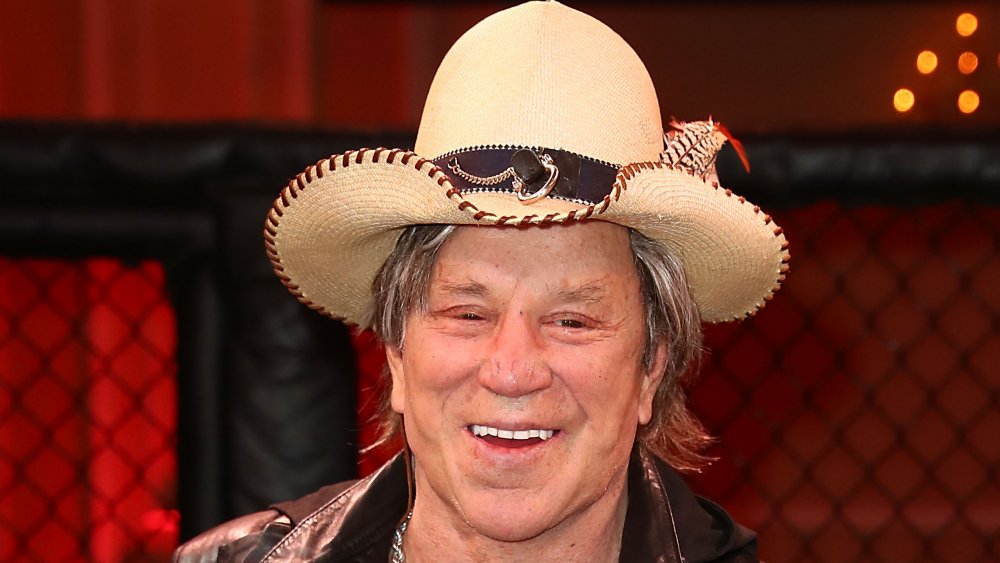 Joe Scarnici/Getty Images
Mickey Rourke eliminated himself from The Masked Singer in a very amusing way on Sept. 30, 2020. Instead of waiting for the voters to make their pick of who should leave the show, the actor removed his purple gremlin mask and declared himself out because the outfit was supposedly too hot. Rourke said he only did the show because he was "in the neighborhood," and apparently, he had his fun and dipped, per USA Today.
The moment may have been a genuine shock to The Masked Singer's audience, but it is just the kind of behavior many have come to expect from Rourke. The boxer has always lived on his terms, even if it sometimes comes at the detriment of his career. In 2020, The Guardian described his reputation in the 1990s as a "promising young talent gone tragically awry." Rourke's career waxed and waned since the 1980s, reaching a new peak in the late 2000s when he earned an Oscar nomination for his role in The Wrestler, and he appeared in blockbuster Iron Man 2. 
But Rourke's turbulent career hasn't been the only topic of conversation surrounding his life — there has also been chatter about the star's plastic surgery. The discussion reached a fever pitch following Rourke's appearance on The Masked Singer, and with that in mind, here's' everything we know about his cosmetic procedures.
Mickey Rourke's boxing career affected his looks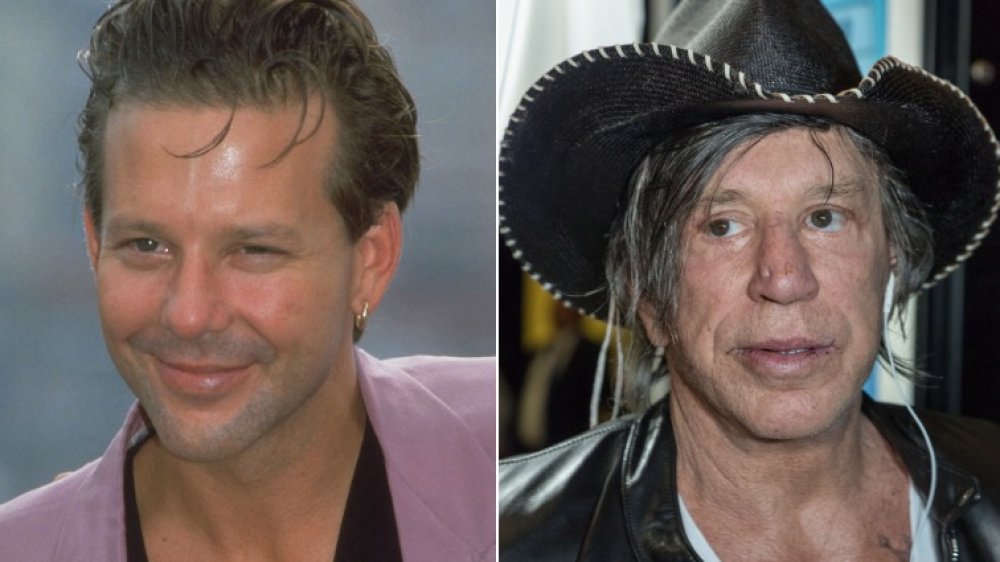 Diane Freed, Greg Doherty/Getty ImagesDiane Freed/Getty Images
In the 1980s, Mickey Rourke began to find success as an actor, he was praised for his appearance. The Independent compared his youthful appearance to Marlon Brando or James Dean, calling it "almost androgynous... soft femininity blurred with rugged manliness." So when the actor's appearance changed in the 90s, fans started asking questions, and, as it turns out, the explanation for the transformation arguably makes sense.
Speaking on the topic of plastic surgery, Rourke told the Daily Mail in 2009, "Most of it was to mend the mess of my face after the boxing. I went to the wrong guy to put my face back together." Rourke had cartilage taken from his ear to help rebuild his nose, an operation he called "one of the most painful." 
Speculation has continued to mount since then, as it seems that Rourke's appearance continues to change. An appearance on Good Morning Britain in 2019 drew attention for Rourke's "unrecognizable" appearance, prompting plastic surgeon Hala Elgmati to hypothesize to The Mirror that his face is "in an almost permanently paralysed state from constant Botox." An expert by the name of Dr. Youn guessed differently to CBS News, suggesting the actor had gotten hair transplants and a facelift. For his part, Rourke doesn't seem all that interested in discussing the matter further, but you can expect people to continue to weigh in with opinions.