Joel McHale And Chevy Chase Don't Get Along. Here's Why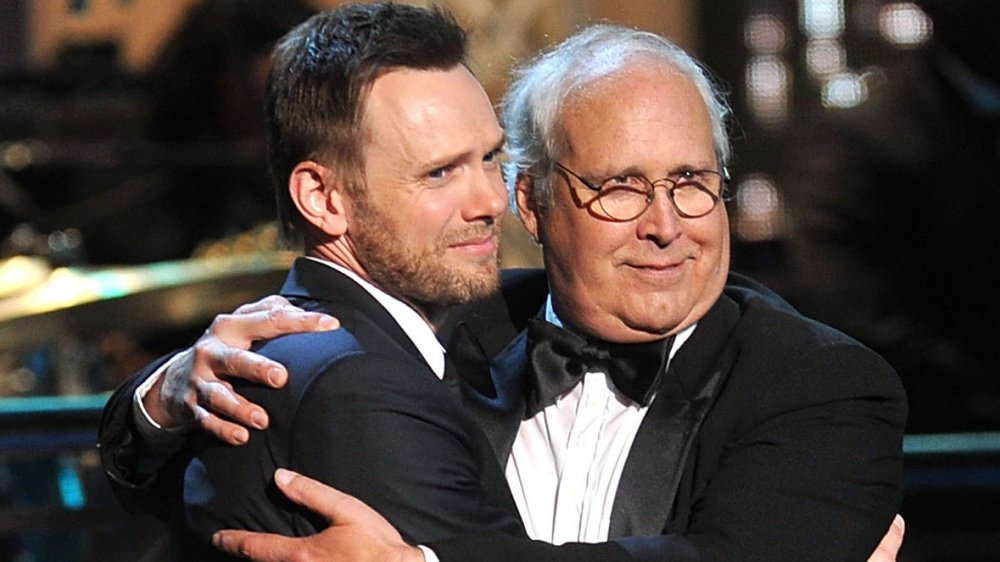 Theo Wargo/Getty Images
Community fans have been hoping for a feature-length movie since the show got cancelled. According to Time, "six seasons and a movie" became a "rallying cry" for the show, which was hugely popular with fans, but often struggled with ratings. Though the series ended in 2015, the cast reunited for a virtual table read in 2020 and the series was added to Netflix the same year, renewing anticipation for a potential film. Community alum Joel McHale told NME in September 2020 that he would return for a movie "in a heartbeat." If there's one actor that almost certainly will not be returning for a Community movie though, it's Chevy Chase.
Chase — who played aging, former moist towelette tycoon Pierce Hawthorne — publicly split with the show during its fourth season, per Screen Rant. With the exception of a small cameo in the fifth season, (spoiler alert!) Chase's character was killed, effectively destroying the possibility of any return for his character in the future. As Chase's exit played out in the press, reports emerged from his former fellow cast members regarding the difficulty they had trying to work with him. McHale, in particular, was especially open about his feelings about Chase.
Chevy Chase didn't shy away from criticizing the show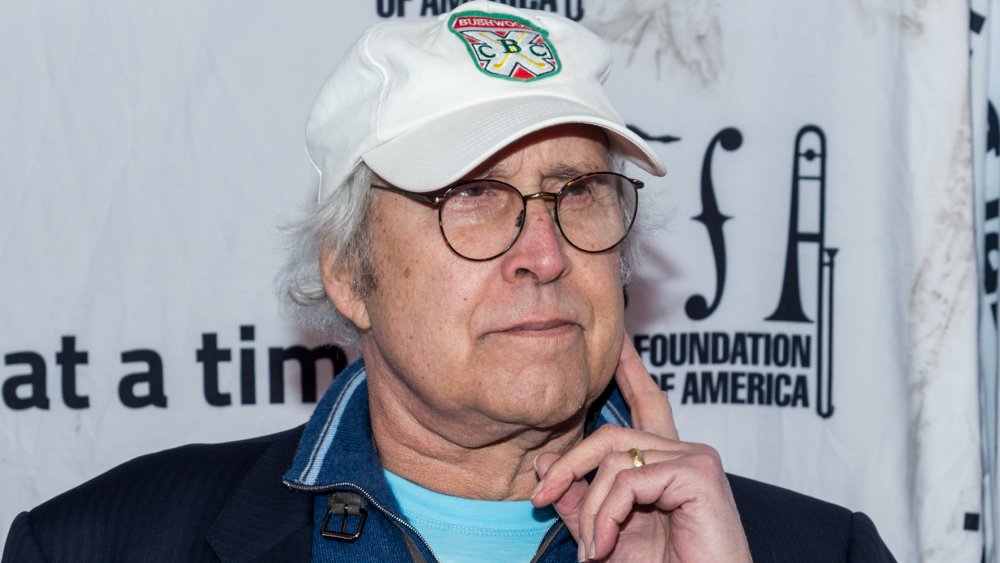 Mark Sagliocco/Getty Images
Chevy Chase did not shy away from criticism about his time on Community, likening his time on the show to "being relegated to hell and watching 'Howdy Dowdy' for the rest of [his] life," to the Huffington Post in May 2012. The interview came after Deadline reported in March 2012 that Chase had stormed off set while filming, prompting a feud between him and series creator Dan Harmon. Harmon then roasted Chase in front of the cast, crew, and the actor's family at a wrap party. Chase then left Harmon an explicit voicemail, which found its way to the press.
Part of Chase's issue with the show seemed to be the direction of his character, who he said "isn't funny" like him. Chase also took the opportunity to throw some shade at McHale, saying, "There are narcissistic elements to Joel [McHale]'s character, which come easily to him." Chase did seemingly try to recover the interview, saying of the cast, "They are my friends. They have become my family." It seemed, however, that much of the damage had already been done, and Chase didn't last the following season.
Did Chevy Chase try to fight Joel McHale?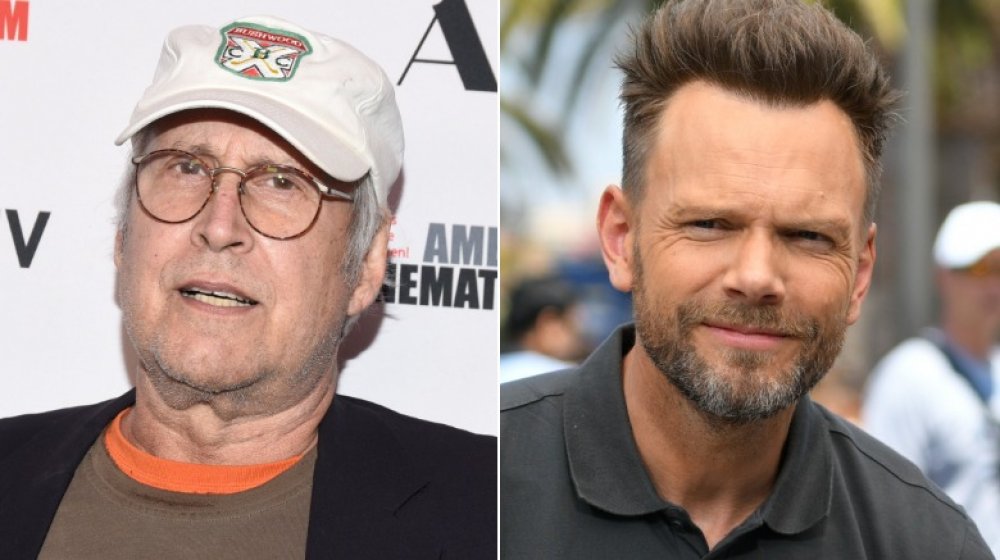 Michael Tullberg, Noel Vasquez/Getty Images
In 2013, Joel McHale gave his version of events to Howard Stern, bluntly saying of Chevy Chase, "He didn't want to be there." McHale was less frank than Chase was, but didn't exactly hold back. When Stern asked McHale if he had tried to talk out his issues with Chase, McHale said, "When I would try, he would just try to fight me ... he physically wanted to fight me."
One allegation from McHale had to do with Chase's use of racial slurs on set — claims co-star Donald Glover has corroborated. Stern asked McHale to confirm reports that Chase had been using the N-word on set and McHale confirmed the story, saying, "Yeah ... you shouldn't be throwing that around on set." McHale continued, "When he said it, I was like, 'We are now at Defcon 1.'" The context of Chase saying the slur, according to McHale, was that"He was protesting his character's racism. He didn't like the way that his character, Pierce, was going." 
While part of Chase's issue with the show had been the depiction of his character, McHale's statement seemingly confirms that the depiction of the character was pretty in-line with Chase's actual behavior.