The Truth About Donald Trump Putting Joe Biden At Risk For COVID-19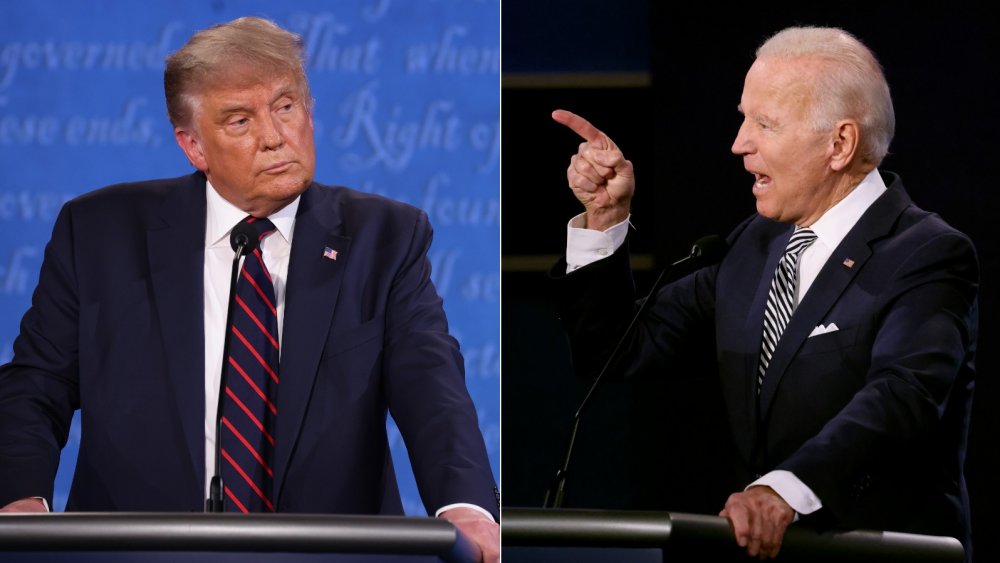 Win Mcnamee, Scott Olson/Getty Images
With the U.S. presidential election looming and historic socio-political unrest playing out real-time in the streets, questioning how President Donald Trump has handled the coronavirus pandemic is about as fraught as a Thanksgiving dinner conversation about religion. Regardless, when the leader of the free world and his wife announced that they had contracted COVID-19, the public understandably looked to the way their inner circle has — or hasn't — taken precautions against the deadly virus.
All eyes immediately shot to Hope Hicks, Trump's former Communications Director and current campaign advisor, whose own positive test result had been reported the day before his own. There has also been wide condemnation of the president's summer and fall rallies, many of which are attended by thousands of supporters who do not adhere to CDC guidelines regarding the wearing of masks and practicing social distancing.
Of course, contact tracing remains an objectively dismal proposition in America, so it's been difficult for detractors to effectively pin the blame for spreading the virus around in any particular place on anyone specifically. Still, the question of the effect of rebuking the advice of the nation's authority on disease control remains, particularly when the president comes in close contact with other high-profile leaders. And Trump did just that a mere three days before his diagnosis, at the first debate with democratic challenger Joe Biden. Let's take a look at exactly how, if at all, the former vice president was put at risk for COVID-19 by Donald Trump.
Joe Biden's medical history looks solid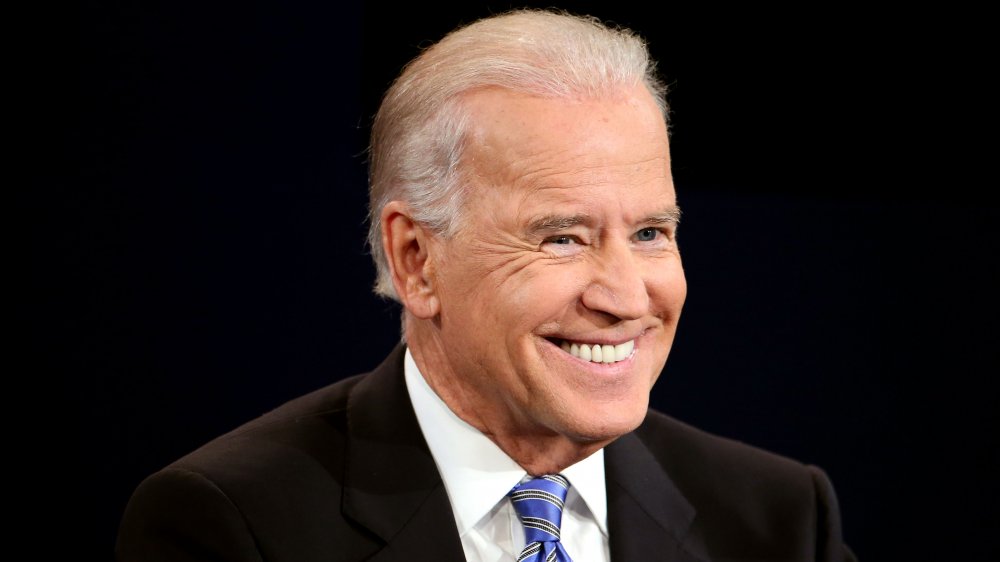 Chip Somodevilla/Getty Images
With a body mass index (BMI) of 30.5, Donald Trump falls into the category of obesity, which, according to the CDC, increases his risk of complication from COVID-19. When cross-checking the agency's list of complicating underlying factors for coronavirus with the latest publicly available "medical and surgical history" of the former vice president, provided by his physicians at The George Washington University Department of Medicine in December 2019, Joe Biden seems to have no such comorbidities. "He has no history of diabetes, thyroid disease, hypertension, tobacco use, angina, myocardial infarction, Chronic Obstructive Pulmonary Disease (COPD), ulcer disease, inflammatory bowel disease, any neurological disorder, or cancer of any kind other than localized, non-melanoma skin cancers," the report stated. Biden does, however, take the following medications: "apixaban (Eliquis) for standard anticoagulation," Crestor, for his cholesterol, Nexium for gastroesophogeal reflux, and seasonal allergy meds.
On the other hand, Biden is 77 years old, putting him in the same advanced category of risk as Trump, 74, which, according to the BBC leaves them both "five times more likely to need hospital care and 90 times more likely to die than somebody in their 20s." As both men shared the same indoor space within a reasonable timeframe during which Trump may have already been infected, a few questions come to mind. First, do we know exactly when Trump contracted COVID-19? Simply put, no. Second, what do we know about the coronavirus prevention measures taken at the debate, and how they may have protected Biden from a possibly already-infected Trump?
Did the debate put Joe Biden at risk?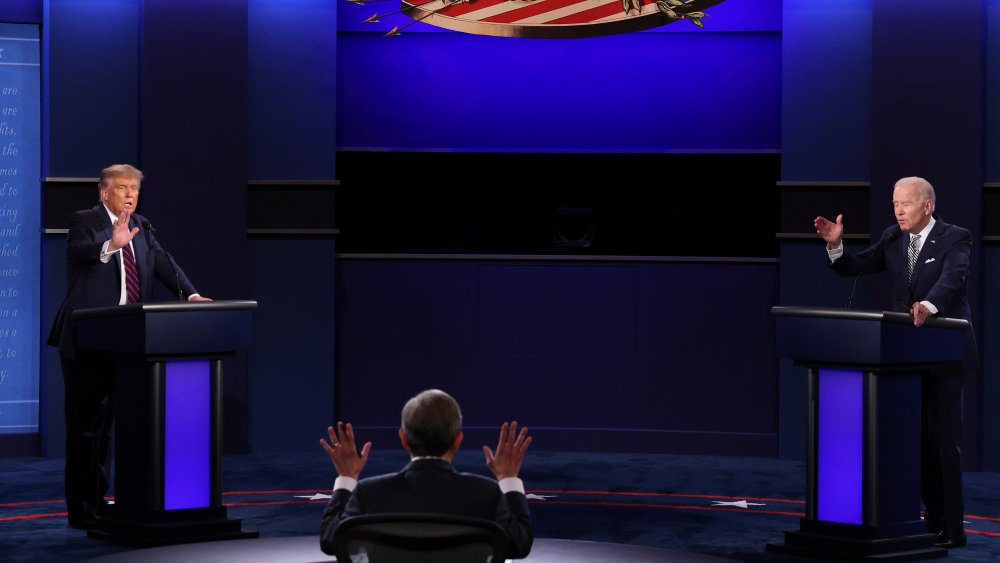 Scott Olson/Getty Images
The first presidential debate of the 2020 U.S. general election was held at the shared campus of Case Western Reserve University and Cleveland Clinic, the latter of which instituted additional safety measures against the spread of coronavirus during the event. According to the organizations website, this included "adding distance between seats," "incorporating personal health screening and safety measures," and "implementing disinfectant measures." Of course, anyone watching from home was also informed of — and observed — that Biden and Trump agreed not to shake hands and remained at least six feet apart throughout and after the entire debate.
Even with these precautions, Today contributor Dr. Vin Gupta expressed "deep concern" for Biden, as well as everyone else in attendance at the debate and who may have traveled with Trump. Gupta further advised that they all need to "assume that they need to quarantine ... for the full 14 days." Why? "You can't really ventilate any indoor environment very well, and there was air conditioning, there was some degree of air flow happening, so no one is protected," he explained.
Not long after 12 p.m. Eastern on October 2, Biden tweeted that he and his wife Jill Biden both tested negative for COVID-19, adding, "I hope this serves as a reminder: wear a mask, keep social distance, and wash your hands." As such, he has not announced plans to quarantine. However, before revealing his negative diagnosis status, he did tweet concern for the president and the first lady, saying he would "continue to pray for [their] health and safety."