This Is What Trump's Doctor Revealed About His Condition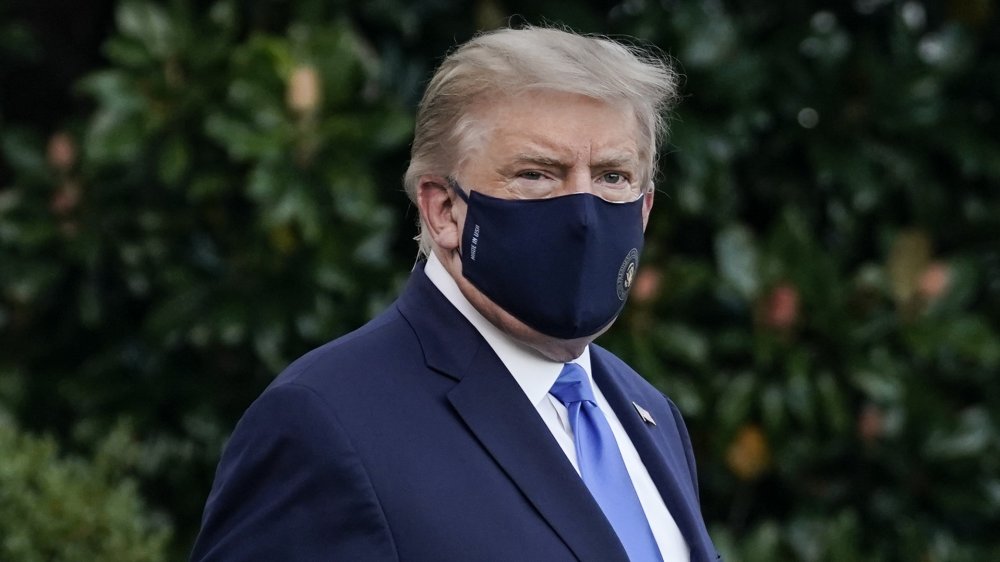 Drew Angerer/Getty Images
President Donald Trump's coronavirus prognosis has evolved rapidly. When the news of White House aide Hope Hicks positive coronavirus diagnosis broke on the evening of Oct. 1, 2020, it was enough to give the nation pause. However, hours later, when Trump tested positive for COVID-19, too, all hell seemed to break loose. While countless Twitter users took to the social media platform to share their reactions to Trump's diagnosis, the president was notably absent for nearly an entire day, which many found disturbingly uncharacteristic.  But, by early evening on Oct. 2, Trump finally emerged from the White House to board a helicopter for Walter Reed National Military Medical Center, as doctors recommended that he spend the next few days in the hospital out of an "abundance of caution."
Around 11:30 p.m. ET on Oct. 2, Trump tweeted from his hospital room, offering his first update since being admitted earlier that day. "Going well, I think!" the president wrote, adding, "Thank you to all. LOVE!!!" Trump was reportedly suffering from fatigue and a fever, and was given Remdesivir therapy, per NPR. However, on the morning of Oct. 3, President Trump's physician, Dr. Sean P. Conley, gave an update on the president's condition during a press conference held on the front steps of Walter Reed. This is what he just revealed today.
President Trump's condition seems to be improving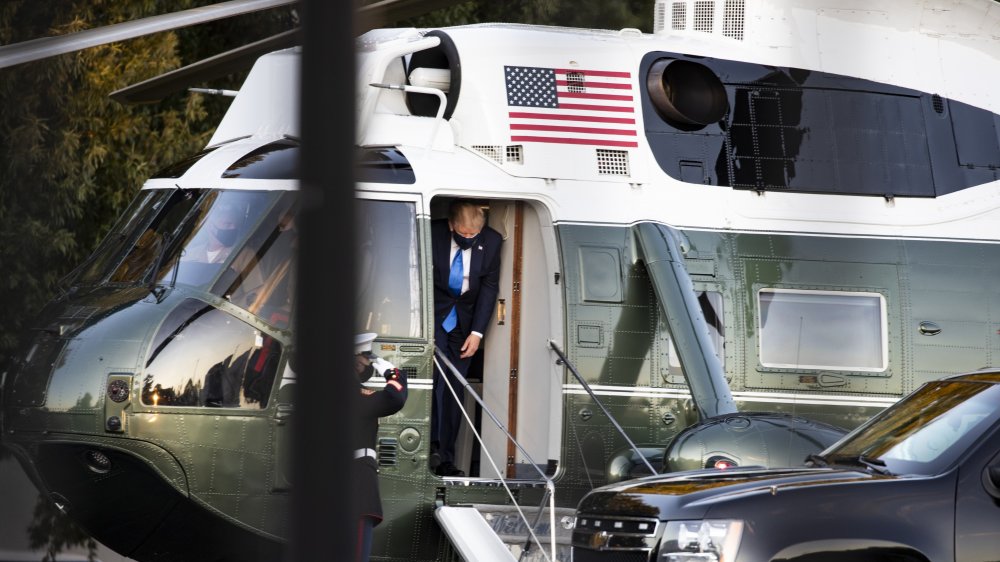 Alex Edelman/Getty Images
On the morning of Oct. 3, Dr. Sean Conley gave an update on President Donald Trump's condition (per The Washington Post). Conley revealed that Trump is doing well and that he is "extremely happy with the progress" the president is making. Conley also said Trump's preliminary symptoms seemed to be resolving. The president plans to continue a five-day course of Redemsivir as he continues to work from the hospital. Trump was not on oxygen at any point on Oct. 3, but Conley did not say whether or not Trump had been on oxygen at any point. While the president is reportedly doing well, his medical team declined to comment on any concrete discharge date. However, Trump's team did note that the president reportedly told his doctors, "I feel like I could walk out of here today."
 "He is receiving all of the standard of care and beyond, per routine international COVID protocols," Conley reported. Conely claimed that the President did have a cough and a fever, but he never had difficulty breathing and that his fever had resolved since the day prior. Apart from his age and his weight, Conley said that the President is "very healthy," and was brought to the hospital out of an abundance of caution "because he's the president." Yet, while Conley tried to assure the public that Trump will be fine, he also mentioned that Trump was diagnosed "72 hours" prior, causing an uproar with regard to the timeline and how long Trump knew about his condition.