What Will Happen If Donald Trump Dies From Coronavirus During The Election?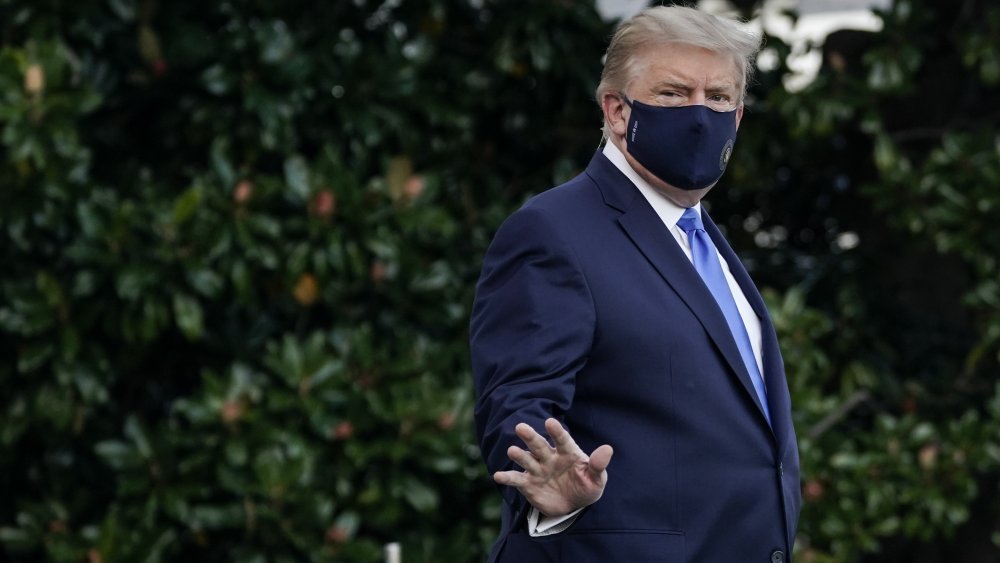 Drew Angerer/Getty Images
On Oct. 1, 2020, President Donald Trump confirmed that he and first lady Melania Trump tested positive for coronavirus after White House senior adviser Hope Hicks revealed that she'd contracted the disease. Having come in close contact with countless supporters and politicians in the days leading up to his diagnosis, most of Donald's encounters failed to align with CDC guidelines. Most notably, Donald and an array of conservative leaders attended what many believe to be a "super-spreader event" on Sept. 26, 2020, when attendees gathered in the White House Rose Garden to honor Judge Amy Coney Barrett's Supreme Court nomination.
However, Donald sparked increased concern across the country when, less than 24 hours after sharing his test results, the president was flown via helicopter to Walter Reed National Military Medical Center in Bethesda, Md. Although White House Press Secretary Kayleigh McEnany told reporters that Donald was "in good spirits, has mild symptoms, and has been working throughout the day," Donald's physician and medical experts recommended relocating the leader "out of an abundance of caution" (via CBS News).
Yet, while the White House worked to assure the public that the president has a "very moderate case" of COVID-19, citizens are worried that Donald's hospitalization indicates that his symptoms might be more severe than initially reported. After all, the president's age, weight, and gender put him at higher risk for complications. But what would happen if Donald died before the election even occurs? Well, that's where this matter could get pretty tricky.
Donald Trump's name will remain on the ballot no matter what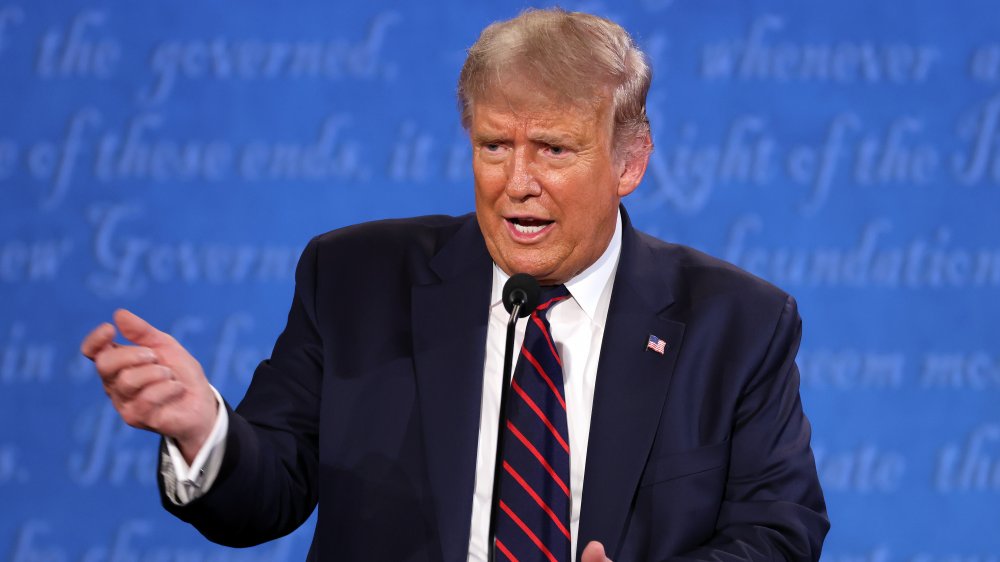 Win Mcnamee/Getty Images
Although no one knows how the coronavirus will impact their immune system until they're in the midst of their battle against the disease, the media has already begun to ponder how President Donald Trump's illness could upend the 2020 election. While Trump's video message was intended to reassure the public that he's on the mend, many voters weren't convinced by his performance. But, with mere weeks to go before Election Day, Americans can't help but wonder: What will happen if Trump dies before Nov. 3?
"If we are unfortunate enough to have a presidential candidate die or become incapacitated this close to the election, what happens next is likely to be uncertain and messy," UC Irvine law professor and voting expert Rick Hasen told the Los Angeles Times. "It could leave room for political gaming as well under the arcane rules of the electoral college." As Reuters noted, it'd be too late to remove Trump's name from the ballot, as numerous states have already distributed mail-in ballots or launched early voting. Thus, in the event of Trump's death, the burden would fall to the electoral college.
Hasen added, per his Election Law Blog, that there would ultimately "be a question if legislatures would allow presidential electors of each state to vote for someone other than the deceased candidate." At that point, Republicans would likely choose Trump's successor, with current vice president Mike Pence being the most logical choice. For Trump's sake (and ours), we hope this hypothetical dilemma never becomes reality. But it is 2020, so anything's possible.