Why Trump's COVID-19 Timeline Was Just Significantly Changed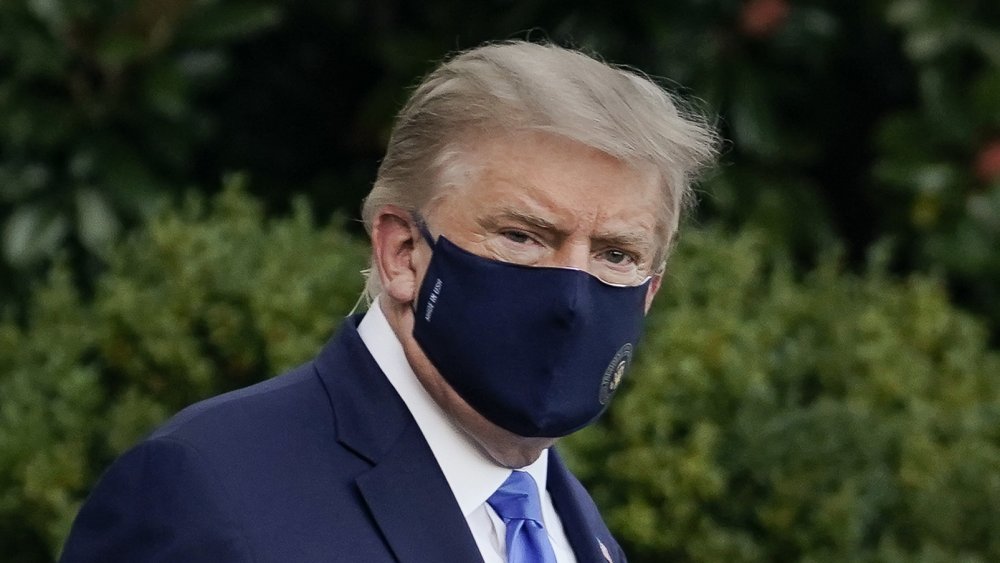 Drew Angerer/Getty Images
President Donald Trump set Twitter ablaze in the wee hours of the morning on Friday, Oct. 2, 2020 when he announced that both he and FLOTUS Melania Trump both tested positive for COVID-19. "Tonight, @FLOTUS and I tested positive for COVID-19. We will begin our quarantine and recovery process immediately. We will get through this TOGETHER," Trump penned in the widely shared tweet. Later that afternoon, the White House announced that Trump had been treated with an experimental antibody therapy by the biotechnology company, Regeneron (per CNN).
Ears perked up everywhere, however, when at midday on Saturday, Oct. 3, White House physician Dr. Sean P. Conley gave a press conference that some felt left more questions than answers. During the brief media session, Conley remarked that Trump was "just 72 hours into the diagnosis now." Operating on that timeline, that means Trump was diagnosed around "midday Wednesday," Sept. 30, 2020. If that was true, it would raise many concerns over the president's schedule that day and beyond which included in-person meetings with other government officials, and campaign events in both Duluth, Minn. and Bedminster, N.J. — all of which he would have attended with a knowingly positive test result. Put more bluntly by CNN's Dr. Sanjay Gupta, "The timeline doesn't jibe." 
Dr. Sean Conley clarified his comments on the timeline of Trump's COVID-19 diagnosis
Dr. Sean Conley quickly clarified his claims that President Donald Trump was 72 hours into his COVID-19 diagnosis. Per CNN, in a memorandum that was released in the afternoon on Saturday, Oct. 3, 2020, Conley maintained that he misspoke. "This morning while summarizing the President's health, I incorrectly used the term 'seventy two hours' instead of 'day three' and 'fourth eight hours' instead of 'day two' with regards to his diagnosis and the administration of the polyclonal antibody therapy." Conley followed up by saying, "The President was first diagnosed with COVID-19 on the evening of Thursday, October 1st and had received Regeron's antibody cocktail on Friday, October 2nd."
It's reported that the memo also contained misspellings, including the name of the pharmaceutical company, Regeneron. Not only that, but Conley referenced the antibody treatment Trump is receiving as "polyclonal" but a representative of Regeneron confirmed to CNN that the therapy Trump is receiving is actually "a monoclonal antibody treatment."