The Truth Behind The Experimental Regeneron Treatment Trump Received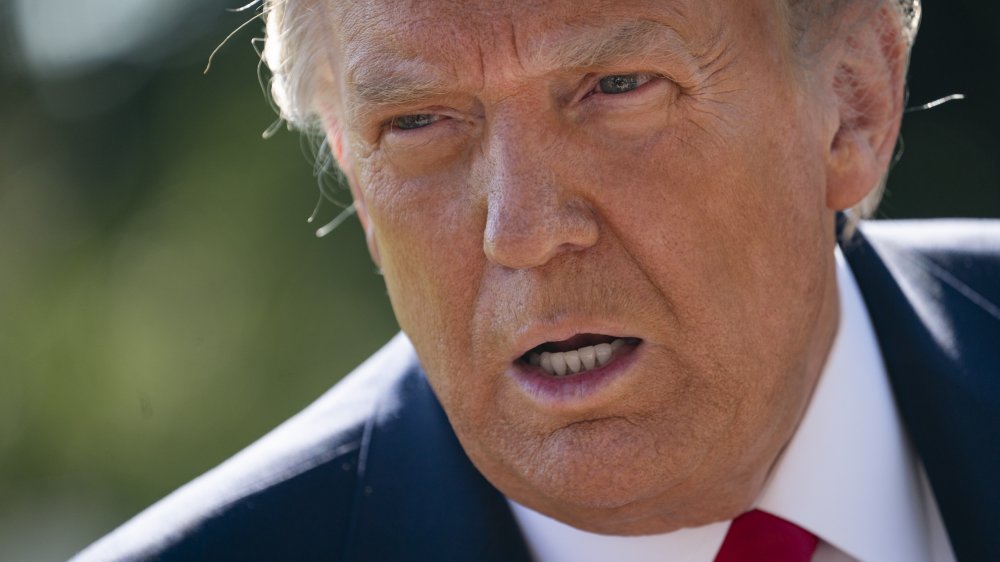 Drew Angerer/Getty Images
As President Donald Trump continues to receive treatment for COVID-19 at Walter Reed National Military Medical Center in Bethesda, Md., the White House revealed that, prior to being flown to the hospital, the president received an experimental antibody treatment developed to minimize the effects of coronavirus symptoms. Developed by drug maker Regeneron, Trump's physician Dr. Sean P. Conley released a letter that confirmed Trump "completed the infusion without incident," and that Trump "remains fatigued but in good spirits" (per the New York Times). In addition to this cocktail, Trump's regimen also includes "zinc, vitamin D, and the generic version of the heartburn treatment Pepcid."
While the Times noted that there are currently no approved treatments for the coronavirus, Regeneron's antibody cocktail has proven to be one of the most promising developments thus far. Since the cocktail has not yet been approved for emergency use by the Food and Drug Administration, drug makers have the freedom to administer experimental treatments for "compassionate use" on a case-by-case basis. In most instances, however, companies grant access only to patients who have tried other options without success. Thus, epidemiologist and health economist Eric Feigl-Ding echoed the sentiment on Twitter, writing that, unless you're "severely ill," such a move "smacks of utter craziness or desperation," calling into question Trump's true condition.
Yet, while the details of Trump's health and medical care are still foggy at best, this instance wouldn't be Trump's first foray into the world of controversial COVID-19 treatments.
Donald Trump promoted hydroxychloroquine during the early days of the coronavirus pandemic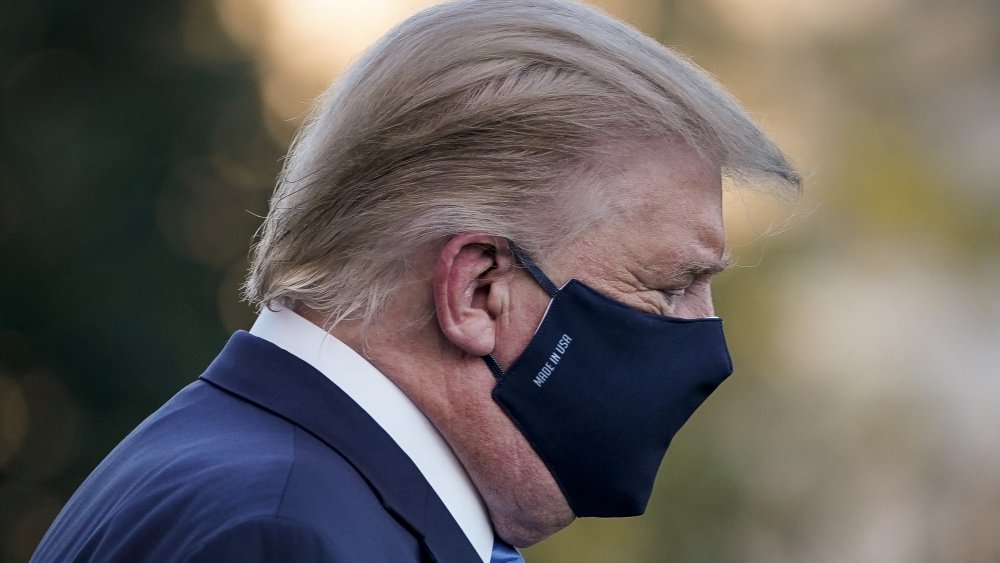 Drew Angerer/Getty Images
Long before President Donald Trump was diagnosed with COVID-19, the commander-in-chief garnered constantly criticism for his controversial promotion of unproven, experimental coronavirus treatments. In the early days of the pandemic, Trump advocated the use of hydroxychloroquine, an anti-malarial drug that has since been proven to have little or no impact on COVID patients' recovery. "We know that every single good study — and by good study, I mean randomized control study in which the data are firm and believable — has shown that hydroxychloroquine is not effective in the treatment of COVID-19," Dr. Anthony Fauci, leading member of the White House coronavirus task force, told BBC in July 2020.
However, Trump continued to back the drug's usage. "Many doctors think it is extremely successful, the hydroxychloroquine coupled with the zinc and perhaps the azithromycin," Trump said during a July 2020 press conference (per CNBC). "Many doctors think it's extremely good, and some people don't."
And now, as Trump's doctors administer Regeneron's experimental antibody cocktail in conjunction with Remdesivir, an anti-viral drug that has proven to reduce recovery time for some COVID-19 patients, the doctor who initially touted hydroxychloroquine's benefits, Dr. Stella Immanuel, took to Twitter to chastise Trump's medical team. "Whoever told the president to stop taking HCQ should be punched in the face," she tweeted. "This did not have to happened. I am so upset. This is our president for crying out loud." It remains to be seen, however, if any of these methods will improve Trump's condition in the coming days.