Mark Meadows: What You Don't Know About Trump's Chief Of Staff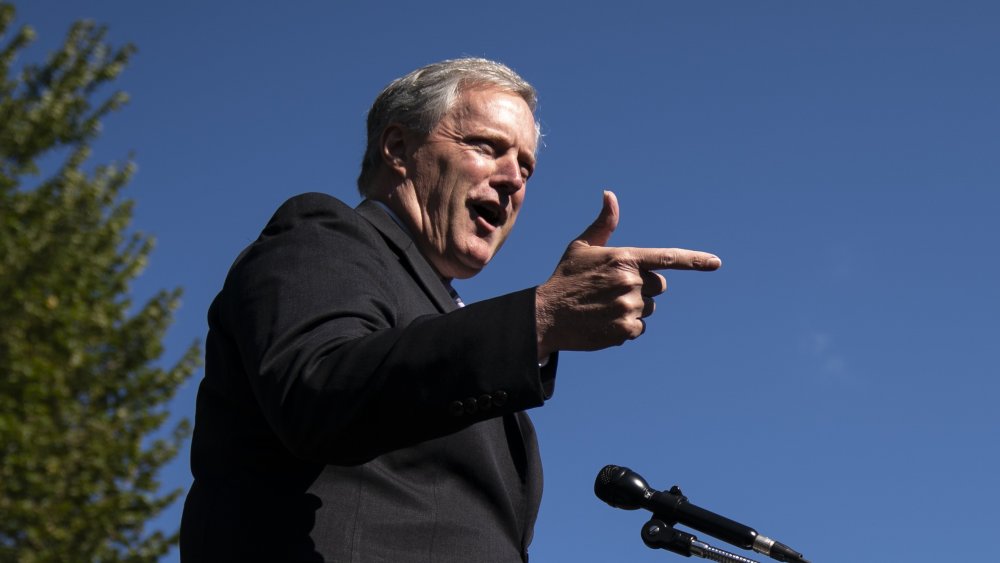 Drew Angerer/Getty Images
President Donald Trump's Chief of Staff Mark Meadows tried to give reporters a scoop about President Trump's health that differed from official medical reports in early October 2020. Political reporter Oliva Nuzzi shared the news, writing on Twitter, "Immediately after the press conference ended and before the anonymous statement was sent out, Mark Meadows briefed reporters without cameras—but he was caught on a feed asking to be off the record."
Apparently, the White House's chief of staff tried to talk to reporters "off the record" to contradict facts delivered by Trump's medical team. Yikes! Nuzzi also tweeted, "So we have the White House chief of staff on camera, anonymously providing contradictory information to reporters right after the president's doctors briefed the public."
On Oct. 3, 2020, Dr. Sean Conley provided a health update on President Trump from Walter Reed Military Medical Center. According to CBS News, Dr. Conley said, "The team and I are extremely happy with the progress the president has made." After the Associated Press reported that the commander-in-chief would be spending a few days at Walter Reed "as a precaution," there was chatter on social media that the president's condition may be more severe than the White House was letting on.
But why would Meadows break from the pack to spill new information about the president's health? Read on to learn more about Trump's Chief of Staff Mark Meadows.
Mark Meadows is part of President Trump's inner circle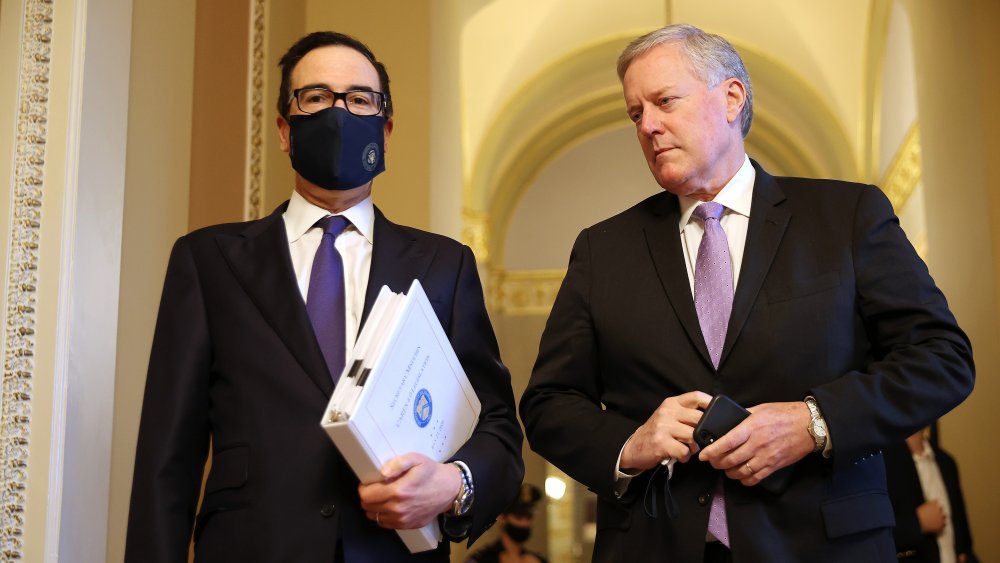 Chip Somodevilla/Getty Images
The first rule of President Donald Trump's world seems to be that you always stick to the talking points. Mark Meadows (pictured on the right above) is part of President Trump's inner circle. He's a North Carolina congressman, who has carried water for the president for years now, so it's not like Meadows to break from the party line. In March 2020, news broke that Meadows was resigning his congressional seat to become the fourth chief of staff during this administration. 
In October 2020, the New York Times reported that Meadows told the media outlet that president's health situation was still quite serious: "The president's vitals over the last 24 hours were very concerning and the next 48 hours will be critical in terms of his care. We're still not on a clear path to a full recovery."
The fact that Meadows is spilling the beans to reporters indicates Trump's health may be worse than the doctors are letting on. But knowing Trump, he'll take to Twitter to share his own thoughts on the situation in no time.