How Donald Trump's Covid-19 Diagnosis Could Impact His Campaign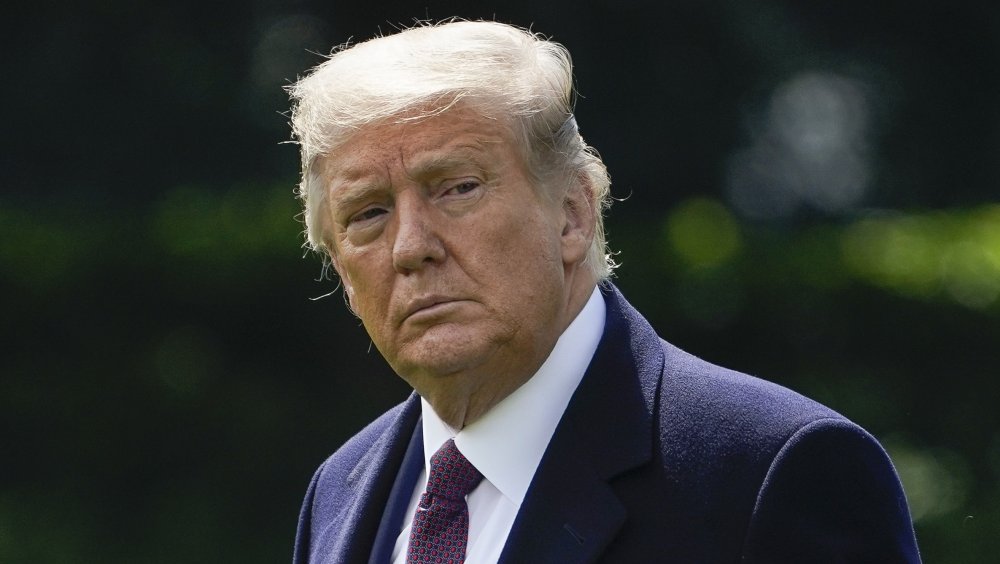 Drew Angerer/Getty Images
With only 32 days until the 2020 presidential election, President Donald Trump announced on Oct. 2, 2020, that he and first lady Melania Trump had both tested positive for Covid-19. As both Slate and The New York Times noted, it's quite possible that Trump's advisers knew that senior White House aide Hope Hicks had contracted the coronavirus — or was displaying symptoms identifiable enough to raise concern — when she accompanied Trump on Air Force One to a rally in Duluth, Minn. on Sept. 30, 2020. (Both Slate and The New York Times reported that Hicks was quarantined sometime between their flight home and their return to Washington, D.C.
Before accompanying Trump to the rally in Minnesota on Sept. 30, 2020, Hicks attended the first presidential debate for the 2020 election with him. At the debate on Sept. 29, 2020, Trump and Democratic presidential nominee Joe Biden shared a stage. Unlike Trump, Biden has consistently worn a mask on his own campaign trail, which, per the Intercept, Trump has used to mock his challenger, despite the fact that the CDC has stressed the importance of wearing a mask to quell the spread of coronavirus. However, Biden did not wear a mask when he shared a stage with Trump for 90 minutes during the debate, putting the impact of coronavirus on the election further into question.
Donald Trump's coronavirus diagnosis might impact the election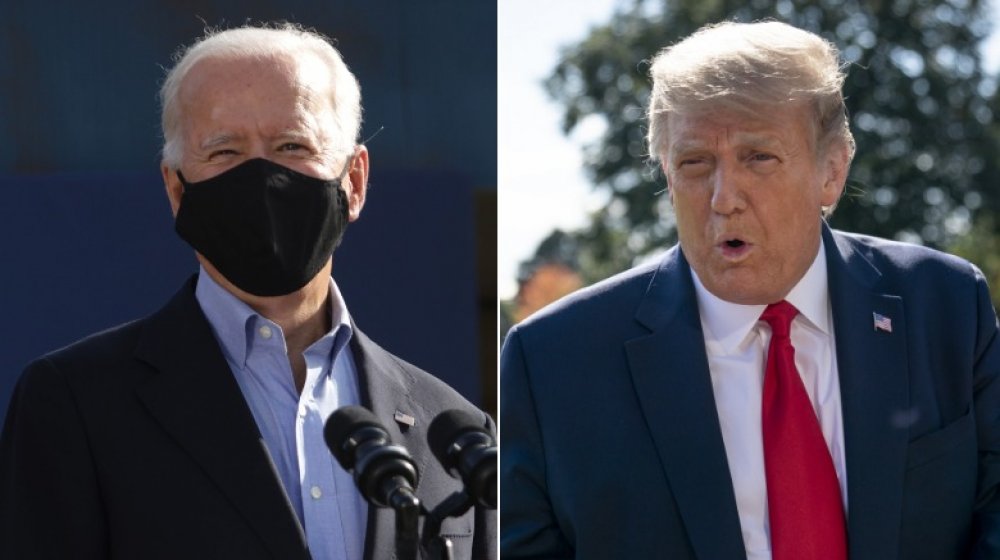 Mario Tama/Getty Images
While Democratic presidential nominee Joe Biden has since wished President Donald Trump and first lady Melania Trump a speedy recovery following news that they had both tested positive for Covid-19, per NPR, he himself has indicated that he will be tested but continue his campaign as scheduled. 
Slate columnist Shannon Palus noted that all who either participated or were in attendance at the first presidential debate on Sept. 29, 2020, were subject to mandatory on-site coronavirus testing. That means, if Trump did indeed test negative then, it makes a transmission for Biden less likely. (That being said, Palus also pointed out that the rapid test used by the White House had previously been reported to have possibly missed half of the infections in the White House, so it's hard to ascertain whether or not Biden is in the clear.)
While an official statement from Trump's personal physician, Dr. Sean Conley, noted that Trump would continue to carry out his presidential duties while undergoing quarantine within the confines of the White House (via CNN), it is unclear whether Trump will be able to make campaign appearances for the foreseeable future. This also includes his participation in the second presidential debate, which is scheduled for Oct. 15, 2020. According to outlets like The Washington Post, however, there's a chance this hasn't deterred Trump from doing so even after White House aides were possibly aware of his exposure.
Donald Trump's presidential campaign might be in limbo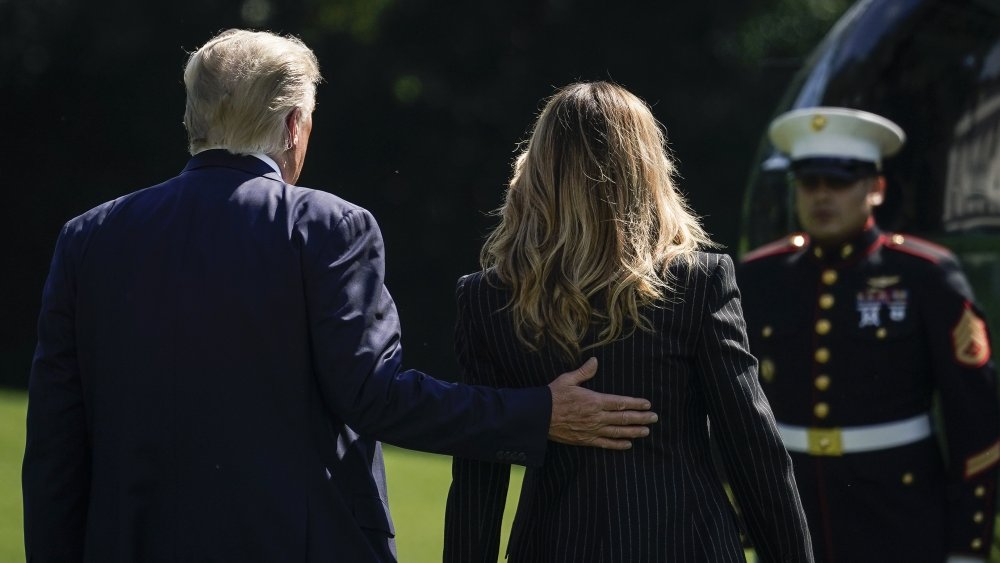 Drew Angerer/Getty Images
As outlets like The Washington Post have reported, White House chief of staff Mark Meadows confirmed on Oct. 2, 2020, that both President Donald Trump and first lady Melania Trump were experiencing "mild symptoms" of the coronavirus. Two sources also reportedly told the The New York Times that Trump was displaying symptoms as early as Oct. 1, 2020, during a campaign event in New Jersey. One source who told the outlet that Trump appeared to be "lethargic" during the event, and may or may not have come into contact with approximately 100 people.
While the optics might not be great for the Trump campaign, consultants and experts have said that it's far from the least of Trump's problems during the final stretch of the election, which is set to take place on Nov. 3, 2020. One such expert, Republican consultant Rob Stutzman, told The New York Times in an interview on Oct. 2, 2020, that "[it's] hard to imagine this doesn't end [Trump's] hopes of re-election" due to his "flaunting of obvious precautions." 
In addition to this, The New York Times pointed out that "advisers to the president acknowledged that the positive test would remind voters of how dismissive Mr. Trump had been about the virus," which has killed more than 200,000 U.S. citizens as of this writing, per The New York Times' database.