This Is Why Chelsea Clinton Has No Interest In Being Friends With Ivanka Trump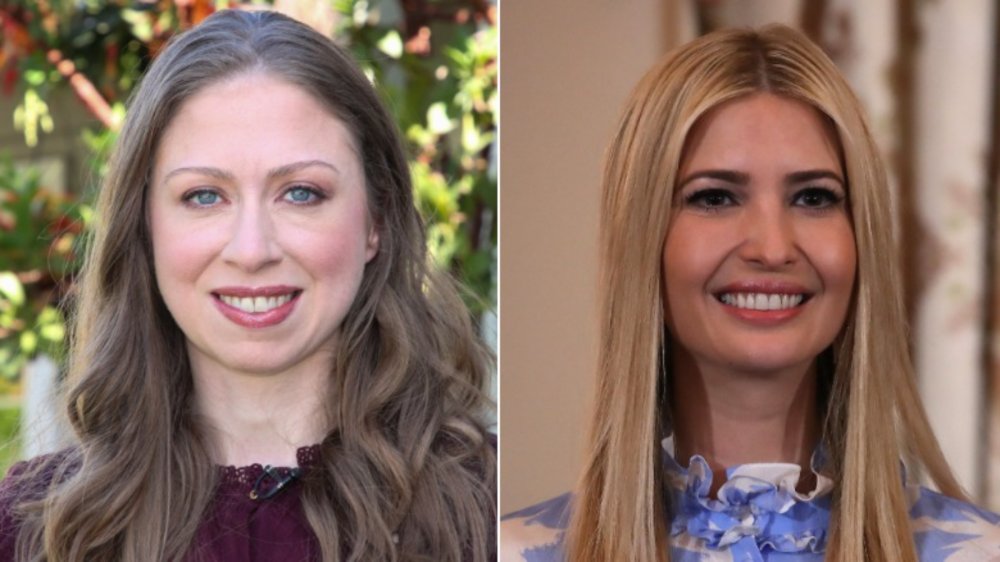 Paul Archuleta, Mark Wilson/Getty Images
Both Chelsea Clinton and Ivanka Trump know what it's like to be the first daughter of the United States. They each have three children and they're both authors. Despite these similarities, they're on the opposite ends of the political spectrum. Initially, those differences didn't affect their friendship, but that changed after the 2016 presidential election, where Ivanka's father Donald Trump defeated Chelsea's mother Hillary Clinton. 
Andy Cohen asked Chelsea if they're still friends during an October 2020 Watch What Happens Live episode. Chelsea admitted, "I've not spoken to her since 2016." She explained that she has "no interest in being friends with someone who is not only complicit, but actively taking part in this administration's everyday collision of cruelty and incompetence."
While she admitted they kept in touch initially during the campaign, Chelsea recalled, "It's just really hard when there's someone who's actively embracing their candidate, whether it's their father or not, who is trafficking in racism and sexism and antisemitism and Islamophobia and homophobia and transphobia and conspiracy theories and lies." Chelsea doesn't fault Ivanka for her father, but for her job as advisor to the president, explaining, "It's so fundamentally corrupt... I don't think they're the same by any standard, but I think she's more than complicit as anyone who has worked for him for so long by definition is, and I don't want to be friends with someone like that."
That is a far cry from the praise these two used to have for each other.
Chelsea Clinton and Ivanka Trump vowed to keep politics out of their friendship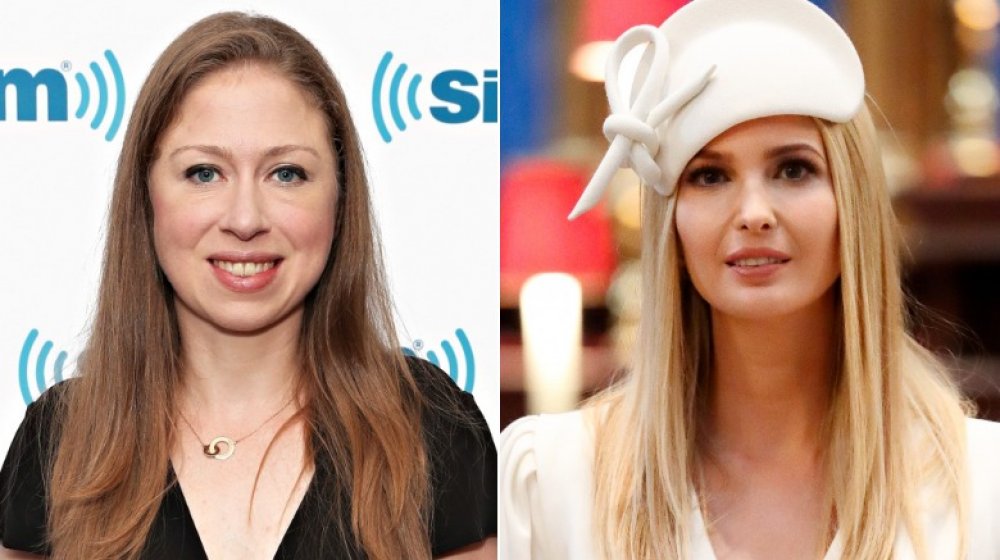 Cindy Ord, Max Mumby/indigo/Getty Images
Chelsea Clinton praised Ivanka Trump as someone who is "always aware of everyone around her and ensuring that everyone is enjoying the moment" when she spoke to Vogue in 2015. She even said that Ivanka mirrored her own father Bill Clinton's "ability to increase the joy of the room." Chelsea added, "There's nothing skin-deep about Ivanka. And I think that's a real tribute to her because certainly anyone as gorgeous as she is could have probably gone quite far being skin-deep." 
In 2015, Chelsea told People that Ivanka is a "great woman" and shared that she was "really grateful that Ivanka's [her] friend." Chelsea's husband Marc Mezvinsky and Ivanka's husband Jared Kushner were friends as well, and the four of them had gone on double dates. Chelsea asserted, "Friendship is always more important than politics." The former first daughter shared, "I learned that growing up, watching my parents be friends with people across the political spectrum in Arkansas." 
At the time, Chelsea was sure that their friendship would survive the November 2016 election, which was a sentiment Ivanka shared during her own People interview, which was published that July. Ivanka remarked, "Our friendship has never been about politics." She even predicted, "I don't expect it will be about politics in the future," but that is exactly what ended up happening, since as Ivanka said, they were "both incredibly supportive of [their] parents," who have very different views.
Chelsea Clinton has slammed Ivanka Trump's choices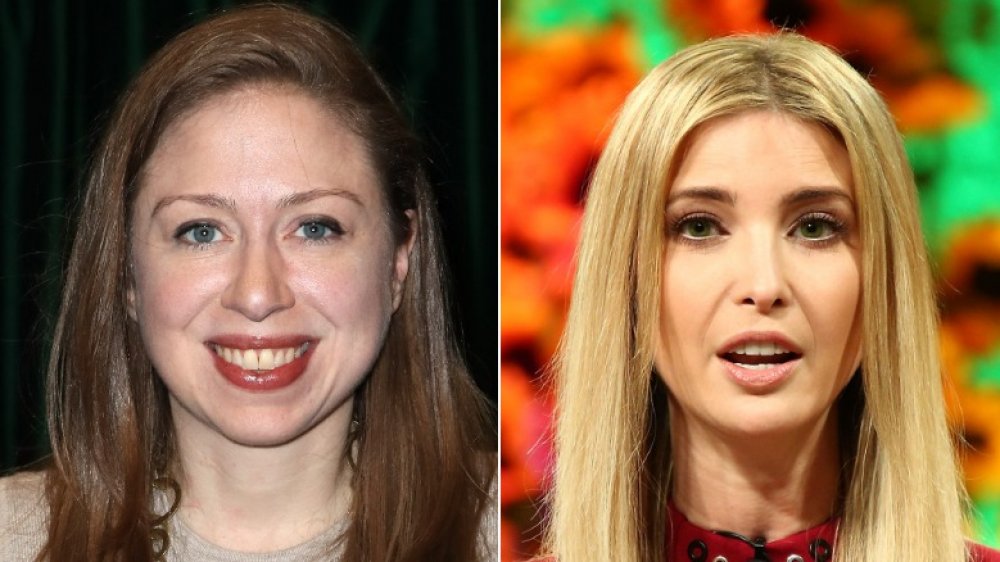 David Livingston, Joe Scarnici/Getty Images
In January 2017, prior to Donald Trump's inauguration, Ivanka Trump appeared on a 20/20 episode. Ivanka said Chelsea Clinton is "a very good friend," declaring, "She's been a friend of mine long before the campaign, of course [she] will be a friend of mine after." She revealed, "I haven't spoken about the specific challenges about this next chapter with her just yet but I intend to." It doesn't seem like that talk ever happened, but Chelsea has been very vocal throughout the years.
In 2018, Chelsea told The Guardian, "She's an adult. She can make the choices for herself. I mean, she's 36. We are responsible for our choices." Chelsea even shared an example of a time when she disagreed with her mom Hillary Clinton. She recalled, "I disagreed with [Hillary] fundamentally on a few things, particularly her then-opposition to equal marriage rights for LGBTQ Americans. I never defended that position, because it wasn't what I believed was the right thing to do."
She said Donald's children, with the exception of his youngest son Barron, are "adults who've made the decision to work in this administration." In 2018, Chelsea told Stephen Colbert, "Anyone who works for the president certainly should expect to be scrutinized for whatever decisions not only she or he is making but whatever decisions the White House is making on any given day." 
Ivanka hasn't addressed Chelsea's remarks, but it's unlikely these two will ever be on the same page.