Why Trump's Latest Photo Op And Twitter Video Has Everyone Talking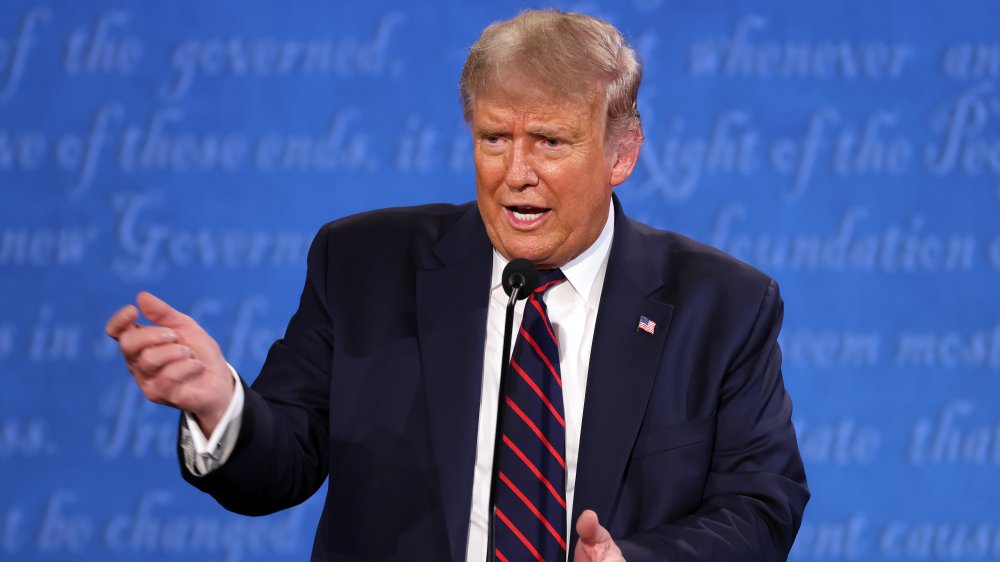 Win Mcnamee/Getty Images
Just when you thought President Donald Trump's COVID-19 diagnosis couldn't get any more problematic, the plot thickens. Two days after announcing he and wife Melania tested positive for coronavirus, Trump broke the internet again when he took to Twitter on Oct. 4, 2020 to post a seemingly harmless (albeit maskless) video to thank the "nurses, doctors, and everyone here." ("Here" being Walter Reed National Military Medical Center, where he is being treated). However, one part of the video has sparked mixed reactions. Trump announced there were crowds of dedicated "patriots" outside Walter Reed and he wanted to reward them with "a little surprise visit."
While this would normally be an ideal way to interact with his supporters, Trump is currently infected with a deadly virus that has killed more than 200,000 Americans since the beginning of 2020. Per usual, the Twitter world quickly reacted accordingly. "How reckless and desperate," one user wrote, slamming the president's actions. "Everyone else around him has full PPE. Secret service just have masks. Very selfish." Another chimed in, saying, "What is this? Some damn reality show? Can't wait until this show is cancelled."
On the other hand, his supporters were thrilled by the quick interaction with the president. "Hallelujah! I've tears in my eyes from sheer happiness-seeing you are feeling better and looking great & showing appreciation 4 your supporters," an excited user shared. Another fan expressed confidence that Trump has already beaten the virus and was happy to see him out and about. "Donald Trump 1, Coronavirus 0."
People don't think Donald Trump has learned anything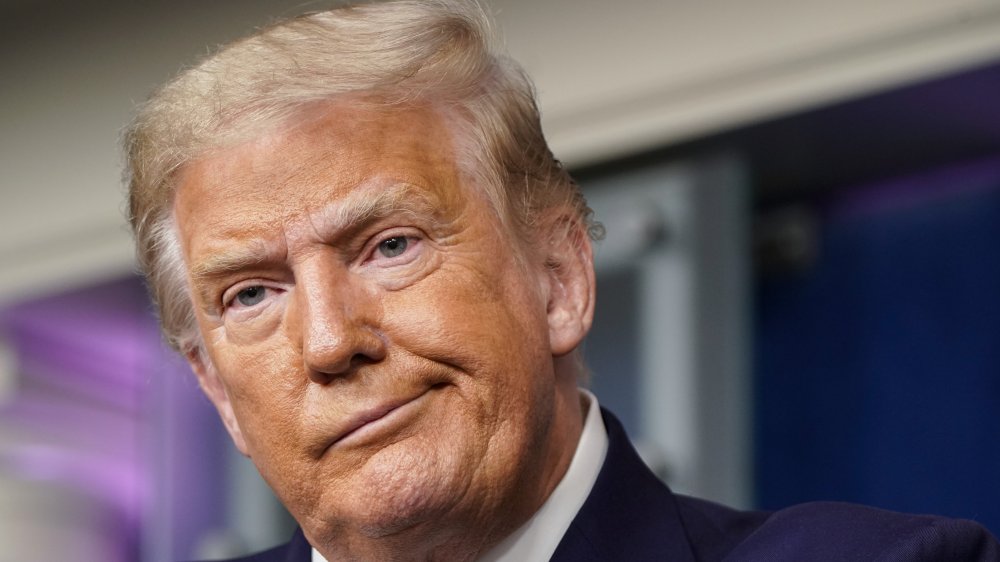 Joshua Roberts/Getty Images
In addition to being furious about the possibility that President Donald Trump infected people during the drive-by, Twitter users were up in arms about a remark the 45th President of the United States made at the end of the Twitter video. As he reflected on his diagnosis, Trump said he "learned a lot" about coronavirus, and that he understands it. "I'm going to be letting you know about it," he promised. "In the meantime," he continued, "We love the U.S.A., and we love what's happening."
People fired back, begging him to show consideration for other Americans. "If you learned a lot about the coronavirus, then you would have compassion for your supporters and tell them to social distance, wear masks, and not risk getting the coronavirus by crowding together in the rally outside Walter Reed to cheer you on," Dr. Eugene Gu wrote. People also took issue with his "we love what's happening" statement, considering there have been many lives lost during the pandemic, as well as political and social unrest throughout the country.
In response to the sharp criticism, the White House assured the public that all necessary steps were taken to make this "last minute" decision possible. "Appropriate precautions were taken in the execution of this movement to protect the President and all those supporting it, including PPE," Judd Deere, a White House spokesman, told the press (via the New York Times). 
Twitter was appalled by Donald Trump's reckless photo op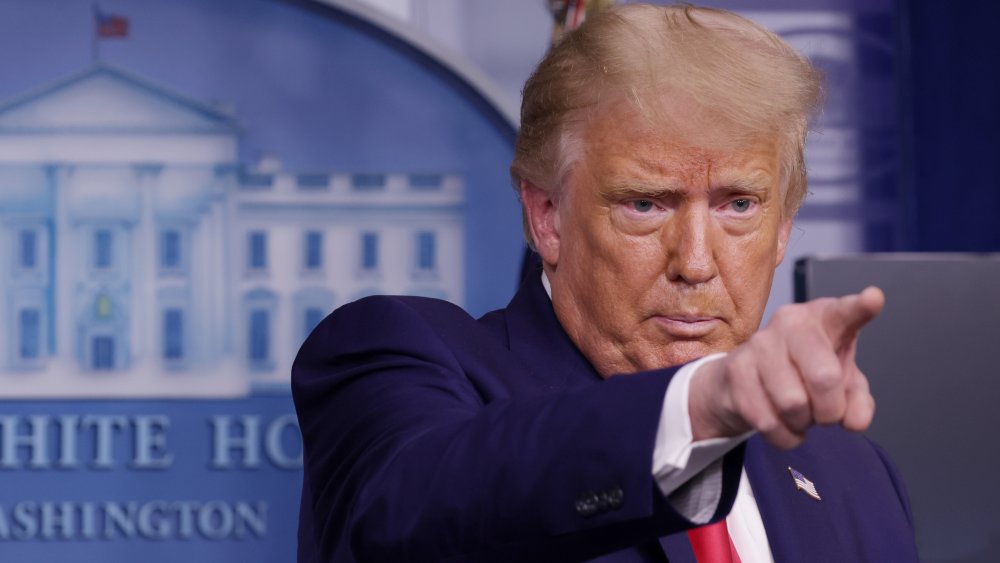 Alex Wong/Getty Images
Many Americans were also talking about the event that ensued after the Twitter video: the actual drive-by. CNN was at the scene and reported that President Donald Trump's supporters were thrilled by his visit. "The motorcade drove by at a pretty slow pace and the supporters here for the President went wild as they saw this happen," CNN's Jeremy Diamond reported.
However, people online were less than thrilled and called the drive-by a dangerous photo opportunity. "This is just another big photo op for the @Trump campaign. I for one don't believe @realDonaldTrump was ever in any kind of danger from," an unhappy user wrote. This tweet also hinted at the conspiracy that Trump was never sick at all, and has simply been using the alleged diagnosis to gain sympathy or halt the election.
But, of course, this isn't the first time during the pandemic that Trump has been accused of creating his own photo op at a questionable time. In June 2020, Trump reportedly ordered police officers to use tear gas and flash grenades to disperse peaceful Black Lives Matter protesters outside the White House so he could visit a nearby church that caught fire a few nights prior. He took a few photos with a Bible once the protesters were cleared. Meanwhile, the Trump campaign is not publicly worried about Trump's diagnosis, according to senior campaign advisor Jason Miller. "We will not live in fear," he told CNN.