Body Language Expert Reveals How To Tell Whether The Candidates Are Nervous During The VP Debate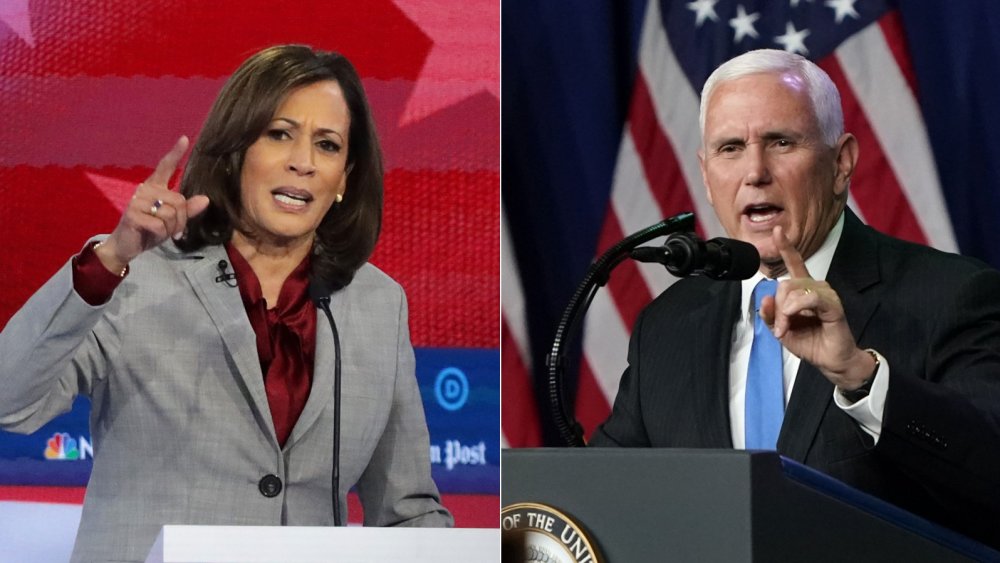 Alex Wong, Pool/Getty Images
Debates between vice presidential candidates historically haven't been make-or-break for election campaigns, but 2020 continues to be a year that doesn't follow the rules. With President Donald Trump's coronavirus hospitalization — and the first presidential debate being described as a "dumpster fire" that lacked substance — all eyes are on incumbent Mike Pence and VP hopeful Kamala Harris as they take the debate stage at the University of Utah in Salt Lake City on Oct. 7, 2020. 
This will be Pence's second nationally televised debate in recent years, but he did get in a few zingers when he went up against 2016 VP nominee Tim Kaine in 2016 (via NBC DFW). Meanwhile, Harris was seen as the clear winner when she debated her running mate, Joe Biden, and Bernie Sanders in the presidential primaries in 2019 (per The New Yorker). No doubt political junkies will be breaking out the popcorn for this one!
Curious whether Pence and Harris are nervous about their high-stakes face-off? In an interview with Nicki Swift, body language expert and psychologist Dr. Reneé Carr, who is also a political and corporate advisor, said there are specific physical cues we can look for that will reveal if the VP contenders are feeling anxious.
How to tell if Mike Pence is nervous, according to an expert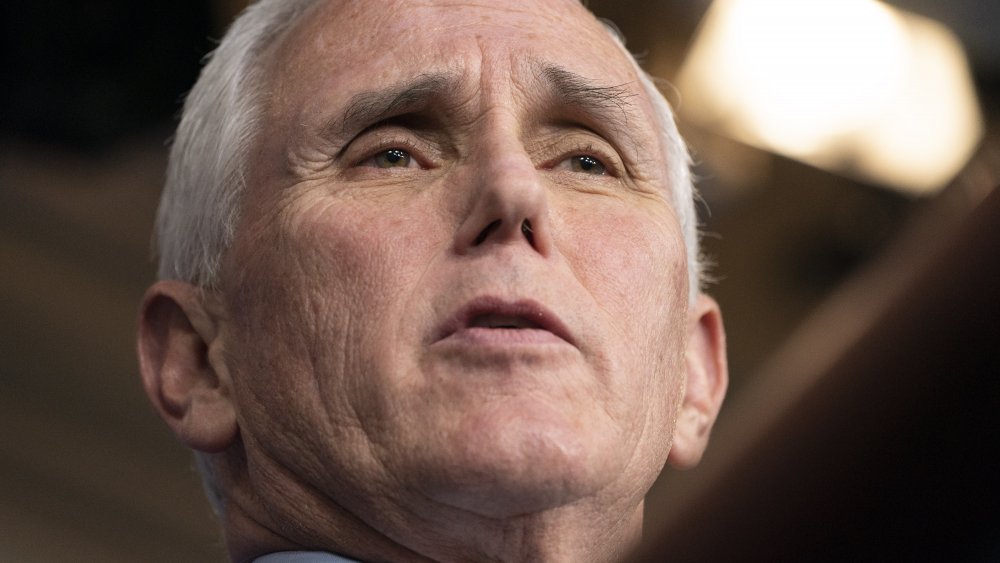 Sarah Silbiger/Getty Images
According to body language expert Dr. Reneé Carr, Mike Pence's eyes reveal how he's really feeling. "He already has squinty eyes anyway, so the big telltale sign for him is if his eyes would become enlarged," she told Nicki Swift. "That would mean that he's uncomfortable, that he was shocked by what was said, or that he actually is nervous." Additionally, because Pence can seem stiff and formal, any body language that deviates from his usual, controlled stance may indicate that he's got some butterflies in his stomach. "When he starts to fumble, when he gets a little bit red," you'll know he's off his game, Carr said. 
"Because he's struggling, he's more likely to have an emotional response to take over to try to calm himself down," Carr explained. "He's going to likely mess up. He's a very good team player, so whatever he's going to say, he's going to make it consistent with whatever his beliefs are already." Carr also said we can tell a lot by looking at Pence's hands, because the VP usually doesn't use hand gestures at all. "If Pence were to then use more hand movements, then he would be becoming more nervous or unsure what to say," Carr said.
How to tell if Kamala Harris is nervous, according to an expert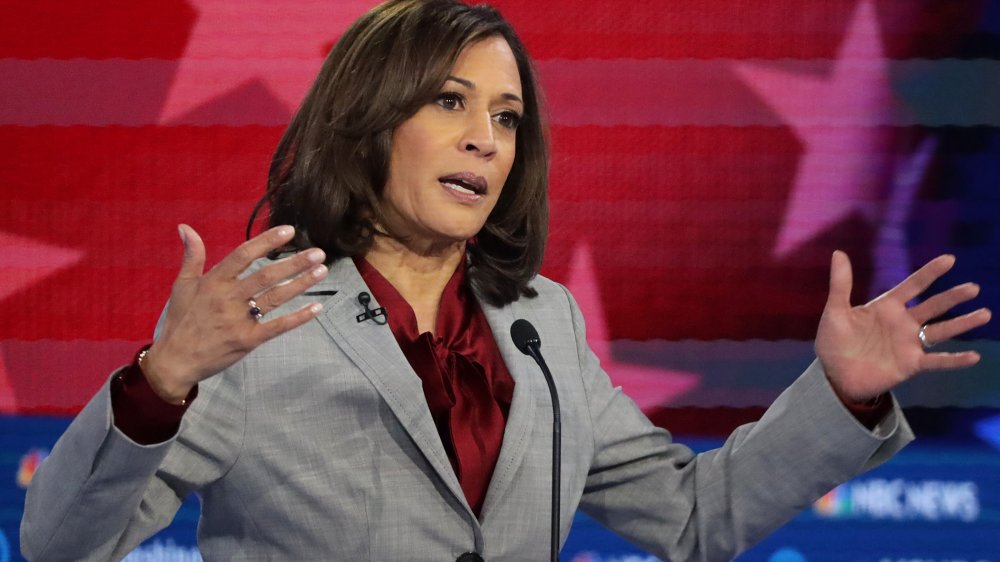 Alex Wong/Getty Images
Detecting if Kamala Harris is nervous is difficult, said Dr. Reneé Carr, because the California senator is composed and rarely fidgets. 
"Telltale same signs that she [is] nervous are ... going on underneath her clothes," Carr told Nicki Swift. The body language expert suggested that when Harris extends her left arm, she's doing so to mitigate perspiration. "She may go like that because it's uncomfortable for her, and that sweatiness, she probably doesn't like," Carr said.
As for Harris' hand gestures, it would be more telling if she did not use her hands at all, according to Carr — because Harris consistently talks with her hands. "If she were to do less of it, that would be a trigger to recognize that she's becoming uncomfortable physiologically," Carr explained. 
Like Pence, Harris's eyes may also reveal if she's feeling unsettled. "If Kamala is looking to the left and down, that means she's nervous — she's about to make up something, or she doesn't know what to say or can't recall," said Carr.