Why Lana Del Rey's Face Mask Is Sparking Controversy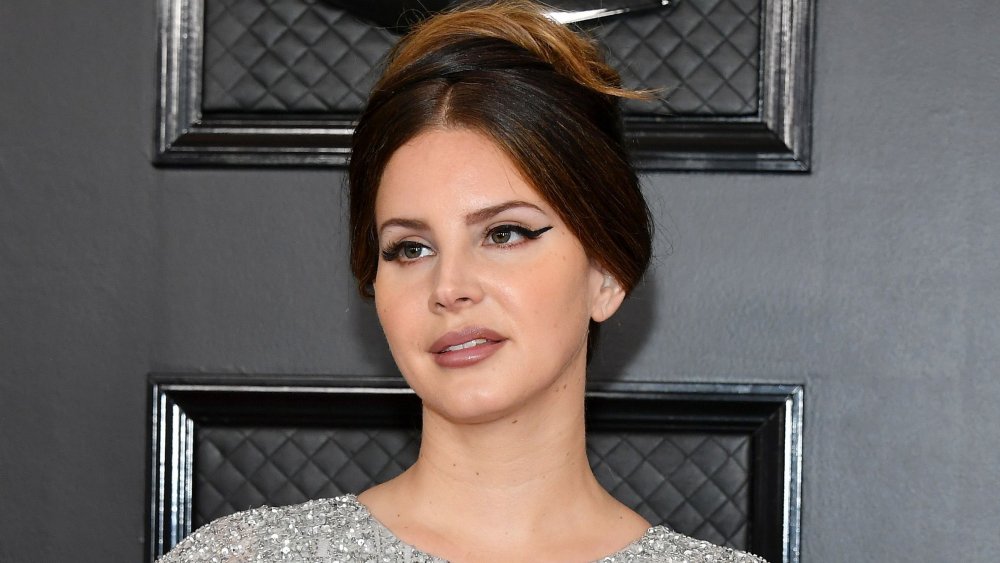 Amy Sussman/Getty Images
In October 2020, Lana Del Rey caught some heat for failing to abide by safety guidelines amid the coronavirus pandemic. Celebrities and influencers started being "cancelled" by fans in early 2020 because of how they were handling quarantine and other mandatory Covid-19 safety precautions, including wearing face masks and practicing social distancing.
In April 2020, Vox reported that "[c]elebrity quarantine posts [were] inflaming tensions between the haves and have-nots" and rounded up some fans' social media posts criticizing celebs for not prioritizing the public good. "This is not about you," one fan said on Instagram about an influencer's ill-advised actions. Another person wrote: "It's choices like these that will continue to cost other people their LIVES."
So why are people going after Del Rey? Well, the "Summertime Sadness" artist seemingly tried to keep up with the times at a spontaneous meet-and-greet in Los Angeles, but failed when it came to her face mask covering.
Why people are hating on Lana Del Rey's mesh face mask
Lana Del Rey came under fire in early October 2020 after showing up to a meet-and-greet in a face mask that didn't seem to serve its purpose. According to Page Six, the singer-songwriter surprised fans at a Barnes & Noble in Los Angeles to promote her new poetry book, but missed the mark on her choice of a facial covering.
Per the outlet, "Los Angeles County COVID-19 guidelines ask that everyone wear a cloth face covering," but Del Ray donned a mesh face mask covered in rhinestones. It appeared to be more of a fashion statement than a way for her to do her part in helping to prevent the spread of Covid-19. Page Six also noted, "[f]ans and critics were not impressed with the singer's use of the mesh mask, calling her 'irresponsible' and 'a danger to herself and others."
Del Ray's mesh mask can be seen on her Instagram account, where she posted several photos and a video from the meet-and-greet. In each post, fans commented their disapproval with one writing, "I love you sis but please wear a real mask, it's gives a bad message." Another wrote: "You make it so hard to stan you when you do s**t like this."
As of this writing, Del Ray has yet to address the controversy over her mesh mask. However, she did take to Instagram a few days after the meet-and-greet incident to post a video in which she sported a leopard cloth mask. It seems that her fans' comments just might have caught the artist's attention.