The Real Reason Billy Bush Felt Betrayed By Matt Lauer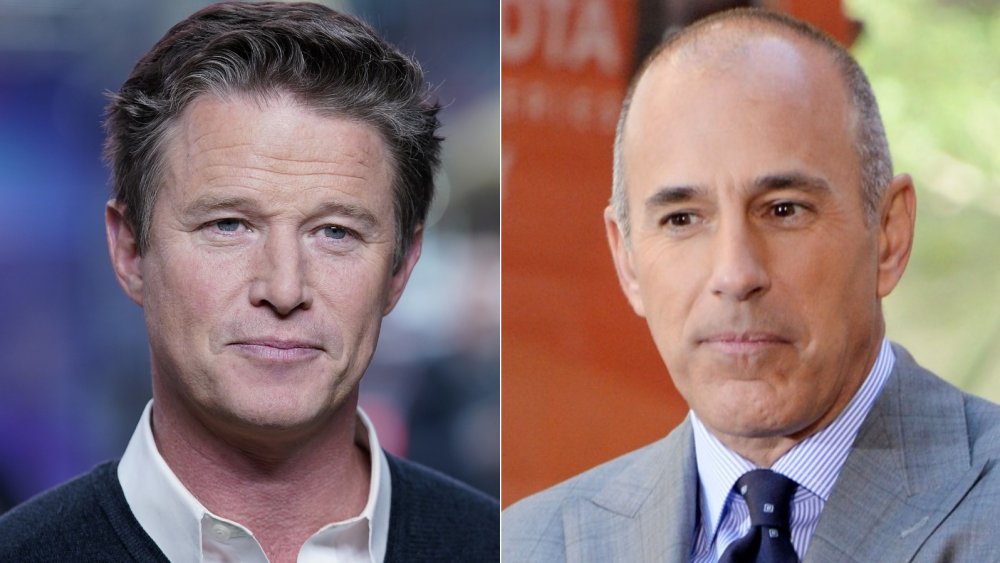 John Lamparski, Ben Gabbe/Getty Images
Disgraced news anchor vs. disgraced news anchor, or Billy Bush vs. Matt Lauer to be more exact. In case you've worked hard to forget who Bush and Lauer are, here's a quick refresher. Bush was a radio host turned news anchor. These days, he's known, in part, for his involvement with Donald Trump. In 2016, he spent about two months working on the Today show before he was abruptly fired when Trump's infamous Access Hollywood tape from 2005 leaked. Lauer was a longtime host of the Today show before he was fired in 2017 after years of sexual assault and rape allegations came to light, per Page Six.
It seems there's no love lost between the former co-workers. According to Men's Health, Lauer once confronted Bush on set about tabloid rumors that he was threatened by Bush's popularity. "The rumors about you and I and competition will stop immediately. Do you hear me?" Lauer reportedly said. Unfortunately for Bush, tabloid rumors of inter-office conflict were nothing compared to what he was about to face.
After Bush found himself at the center of the controversy surrounding "The Tape" and got canned from his job, he disappeared from the public eye. In October 2020, Bush finally opened up about what would become the most challenging days of his life and why he felt betrayed by Lauer. 
Matt Lauer didn't have Billy Bush's back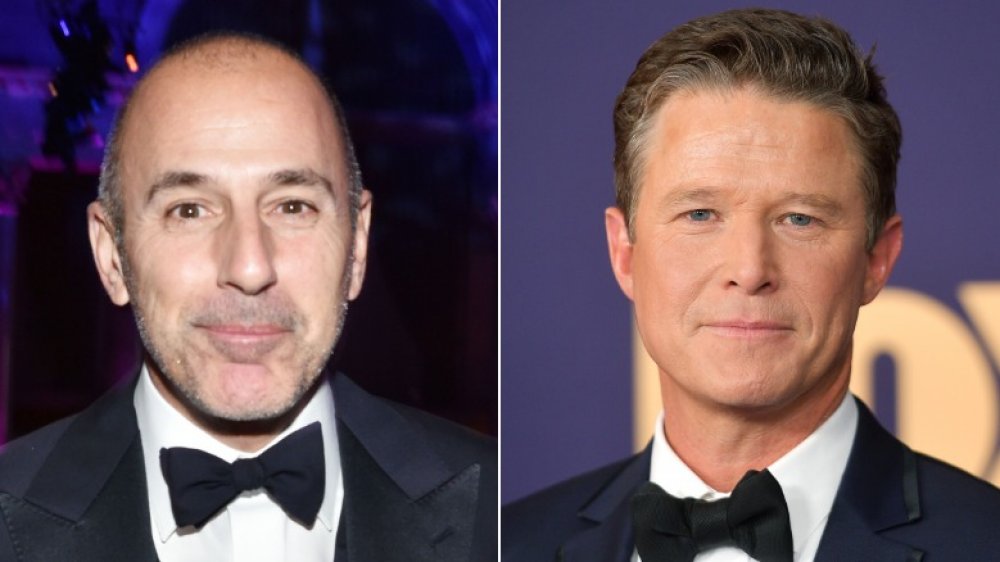 Mike Coppola, Matt Winkelmeyer/Getty Images
Speaking to Men's Health in October 2020, Billy Bush said that he felt that Matt Lauer betrayed him in his hour of need. Despite their differences, Bush believed Lauer would have his back as he prepared to publicly apologize for his involvement in the Access Hollywood scandal — he was wrong. "That [Lauer] didn't fight for me is so deeply hurtful because I've known him for absolutely ever," Bush said.
According to Bush, after the Access Hollywood tape went viral, he prepared to fly to New York to resume his job on the Today show. However, a driver sent by NBC informed him tthat his car had been canceled. Things went from bad to worse for Bush, who had also recently separated from his wife. He reportedly "spent months drinking heavily, too 'paralyzed' to get off his couch and unable to stop crying," per Page Six. Bush eventually pulled himself out of that dark hole. He attended intensive therapy and, these days, is back on television.
As for Lauer, he was booted from Today a year later when allegations about his workplace conduct came to light. As of this writing, he has not made his return to television, but after facing public shaming and losing his high-paying job, he seems to be humbled, too. According to Men's Health, Lauer and Bush shared a meal together in 2017.
If you or someone you know has been the victim of sexual assault, you can call the National Sexual Assault Hotline at 1-800-656-HOPE (4673) or visit RAINN.org for additional resources.