What Jill Biden And Kamala Harris' Relationship Is Really Like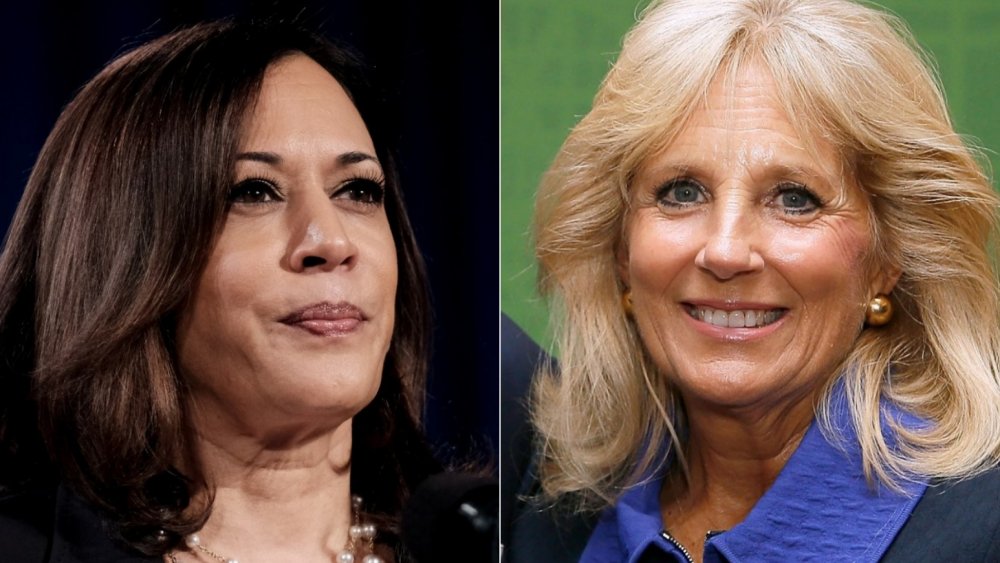 Michael A. Mccoy, Paul Morigi/Getty Image
Dr. Jill Biden has already spent eight years as the second lady of the United States, and there's a possibility that she could soon spend another term as the first lady. Should former Vice President Joe Biden win the 2020 election, Dr. Jill Biden would be back in the White House, as would California Sen. Kamala Harris. Speaking of the potential VP, Harris, who also served as attorney general of California and ran unsuccessfully for the Democratic nomination in 2020, would become the first female vice president of the United States if voters give the stamp of approval.
As for the relationship between Dr. Biden and Sen. Harris, it has not always been the best. However, it's important to note the consistent signs of mutual respect between them, which might be because they share far more similarities than differences. Some of these links include navigating the male-dominated world of politics as women and their relationship with the late Beau Biden, to name a few examples.
With all of this background info in mind, let's take a closer look at the unique friendship between Dr. Biden and Harris.
Kamala Harris' debate comment surprised Jill Biden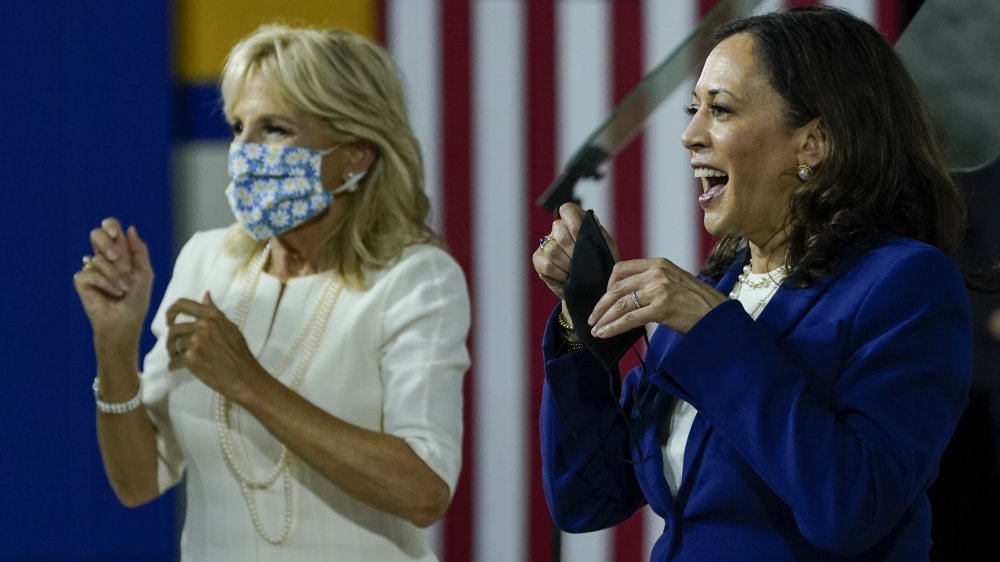 Drew Angerer/Getty Images
Before California Sen. Kamala Harris ran for president, she was good friends with Joe Biden's first son, Beau Biden. The bond formed because, at the time, Beau Biden was the Attorney General of Delaware, while Harris held the same position in California. The two also shared similar stances during the Great Recession, communicating frequently. "Our son, Beau, spoke so highly of her and how great she was," Dr. Jill Biden said about Beau and Harris during a fundraiser, according to The Daily Beast. Sadly, Beau died in 2015 at 46 due to brain cancer, per The New York Times.
Considering the shared history between the Harris and Biden families, it was notable when, in June 2019, Sen. Harris questioned former Vice President Joe Biden's record regarding bussing and his past work with segregationist senators. Dr. Biden described the moment as "a punch to the gut. It was a little unexpected," The New York Times noted.
However, Dr. Biden later came to see Harris' debate performance as an asset, telling MSNBC that Harris was her choice for Joe's VP. "I admire strong women, and Kamala's fierce and she's strong and she's tough," Dr. Biden said, adding, "She'll be a good debater, and more than that she'll be a good partner for Joe." If anyone could give the final word on that, it would be Dr. Jill Biden.
Kamala Harris and Jill Biden both value family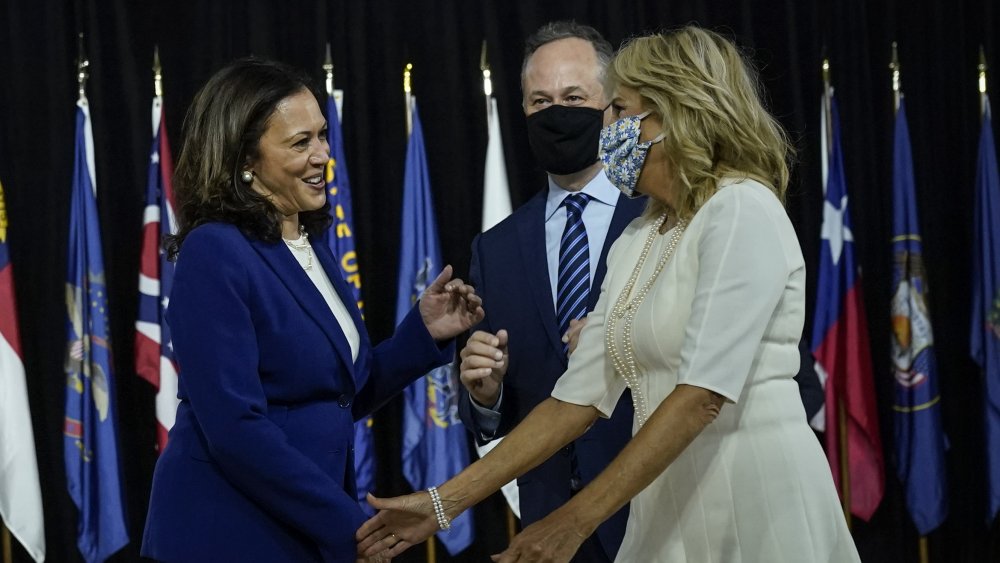 Drew Angerer/Getty Images
The friendship between California Sen. Kamala Harris and former Vice President Joe Biden does not just extend to Dr. Jill Biden, but to their entire families as well. In the wake of Beau Biden's death in 2015, for example, Harris took to Instagram to pay tribute, writing, "I feel fortunate to have known Beau as a friend and to have had the opportunity to work closely with him." Joe Biden also said in August 2020, "I know how much Beau respected Kamala and her work, and that mattered a lot to me."
For her part, Dr. Biden has also forged a friendship with Harris' husband, Douglas Emhoff. The two bonded on Twitter, tagging each other back and forth on posts, which culminated in a message from Dr. Biden. "Let's win this, together," she penned. Then in August 2020, Dr. Biden shared a selfie of her and Emhoff masked up and "ready to go." Joe Biden joined in on the lovefest, calling Harris and Emhoff "honorary Bidens" via Twitter. 
It seems that whatever clashes the Bidens have had with Kamala Harris in the past are just that — in the past. Dr. Biden and Harris seem to not just have a good professional relationship, but a friendship as well, choosing to focus on what unites them.